Partnerships for enhanced engagement in research (PEER) SCIENCE
Cycle 1 (2011 Deadline)
Discovering potential seismic sources in the Caucasus using virtual-reality based data analysis and development of a cyber-enabled geosciences workforce in Georgia
PI:
Mikheil Elashvili, Ilia State University
U.S. Partner:
Louise Kellogg, University of California Davis
Project Dates: June 2012 - May 2016
Project Overview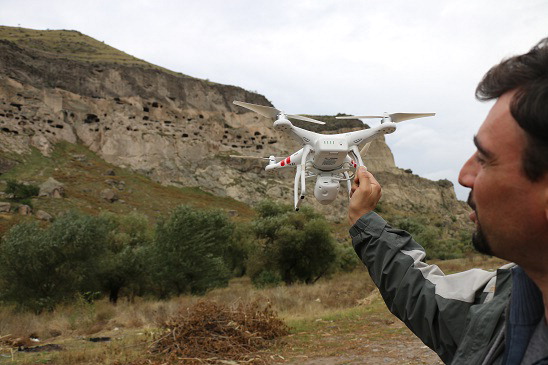 The UAV used by the team to survey and photograph the ancient city of Vardzia (photo courtesy of Dr. Elashvili).
In much of the developing world, including Georgia, active faults with the potential to produce devastating earthquakes have yet to be identified, as illustrated by the frequent occurrence of such events on previously unidentified faults. Discovering and characterizing these potential seismic sources is an essential first step towards increasing disaster resilience. In particular, planning for and managing the impact of earthquake disasters requires knowing the location and three-dimensional (3D) geometry of active faults that may rupture to produce an earthquake, as well as the type, magnitude, and frequency of ruptures they are likely to produce. This project aims to increase disaster resilience and thus promote sustainable development in Georgia by discovering potential seismic sources in the Caucasus through the use of new virtual-reality (VR) based methods of data analysis. In particular, these researchers will use the new virtual-globe application
Crusta
to map active faults and folds based on their distinctive expression in the landscape. Using the application
Visualizer
they will also determine the subsurface geometry of potential seismic sources by analyzing the 3D distribution of relocated earthquakes. They will subsequently test their VR-based observations by conducting pilot field studies of active faults near the capital city of Tbilisi to determine fault geometries and slip-directions, as well as preliminary slip rates and earthquake histories.
This project will enhance the skills of Georgian researchers and students through mentor-based education and research in collaboration with their U.S. partners. Faculty and students at Ilia State University will learn how to use the VR-based software tools by receiving training at KeckCAVES (the W.M. Keck Center for Active Visualization in the Earth Sciences) at the University of California, Davis. With this training, ISU faculty will incorporate advanced visualization tools in their undergraduate and graduate courses. The project should also facilitate disaster mitigation efforts by improving understanding of potential seismic sources in Georgia, an essential first step towards preparing for such events and reducing their possible impacts.
Summary of Recent Activities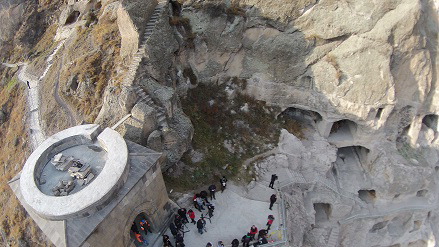 The ancient city of Vardzia photographed via drone (photo courtesy of Dr. Elashvili).
Two main events characterized the last quarter of 2014 for Dr. Elashvili and his team. The first was their participation in the "Science Picnic" annual event held by Ilia State University. This event is organized with the Copernicus Center (Warsaw, Poland) and aims to help popularize science among schoolchildren of all ages. Separate space at the event was dedicated to earth sciences, namely geology, geophysics, and seismology. Special attention was drawn to the "3D Virtual Reality Systems in Geosciences" booth, where a 3D monitor featuring interactive 3D earth model was presented by the team. This booth proved to be one of the most popular among visitors to the event.

The second recent accomplishment by the team was the successful 3D mapping of Vardzia. Vardzia is a medieval rock-cut city and a Georgian cultural heritage monument. It is cut about 100m into a high rock cliff, mainly represented by volcanic rocks of tuff and tuff-breccia types. Vardzia suffered a devastating earthquake in 1283, which destroyed more than half of the city. It was selected for 3D modeling to be later studied and reconstructed using 3D virtual reality systems. Various photogrammetry techniques were applied to construct the 3D model, including aerial photography using a quadcopter to help create a high resolution digital model of the top of the mountain. Land photography with a high resolution camera from the opposite hill was used to create 3D model of the vertical cliff face. Ground control points were also measured in high precision with a differential GPS system. The resulting 3D model was used for high resolution geological mapping and rain water flow modeling. In 2015, the team hopes to continue the 3D modeling project for Vardzia and to analyze the Okami scarp results with their UC Davis colleagues.