Partnerships for enhanced engagement in research (PEER) SCIENCE
Cycle 1 (2011 Deadline)
Impacts of climate change on tropical wetlands: tracking the evolution of two Andean lakes and a floodplain cienaga in Columbia
PI:
Julio Eduardo Cañón Barriga, Universidad de Antioquia
US Partner:
Francina Dominguez, University of Arizona
Project Dates: May 2012 - July 2015
Project Overview

Students and team members discuss the impact of climate change on natural reservoirs in Columbia (Spanish)
Communities in tropical regions along the Andean Cordillera in South America face an uncertain future, as mountain lakes and snow peaks exhibit receding trends and strong fluctuations associated with climatic drivers (i.e., climate change and El Niño) and local human activities. Such fluctuations are apparent in Colombia, where these changes will have direct impact on strategic ecosystems such as the Orinoco and Amazon basins and the highly populated Cauca and Magdalena River basins. Therefore, understanding how these water systems evolve in the near future is of critical importance for the communities that depend on them for their survival.
This project aims to develop long-term monitoring of the evolution of three natural water bodies: Colombia´s two main Andean lakes (Tota and Cocha) and the floodplain wetland of Ayapel. These natural reservoirs not only represent the accumulated effect of hydrological processes in their respective basins but also serve as examples of highly intervened environments from which several rural and urban communities derive their water resources and develop their economic activities. This project will gather data about the areas of interest by contacting local, national, and international agencies for technical reports, census information, hydrologic databases, and remote sensing imagery. The information gathered, as well as gauges installed at the lakes and visits to record geographical, geophysical, and socio-economic data, will be used to build models that describe the evolution of these bodies of water. The results of these studies will be available through technical and scientific papers as well as a website to be designed to offer easy access to geographically integrated and updated information useful for all interested parties locally and worldwide. The project should facilitate the development of improved models to determine the lake stage as a function of climate drivers and human uses to serve as a basis for future decision support for the communities involved.
Summary of Recent Activities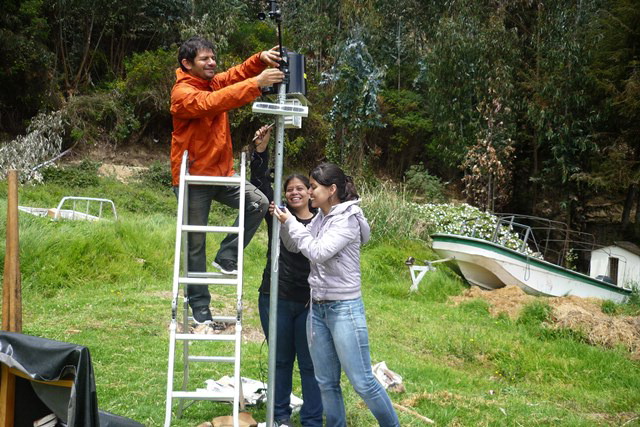 The group finishing their work on the digital station (Photo courtesy Dr. Cañón)
During the tenth quarter of the project, the team began to show signs of winding down their project. Doctoral student Isabel Hoyos continued her work on three research articles and an additional paper and poster from team members were submitted for review. The master's students continued the development of their research models and articles and performed the scenario analysis for each lake, worked on scientific papers, and prepared documents and visual material for the project's website. In particular, master's student Juan Pablo Serna traveled to Ayapel in November 10-15 to reinstall the station and conduct video interviews with community members for a possible short documentary about the cienaga. The PI also visited student Claudia Duque in Pasto in December to orient her research on the lake La Cocha.
Additionally, a workshop titled Primer Simposio Internacional de Humedales (First symposium on Wetlands) was held during this quarter in Sogamoso and Tunja (Boyacá, Colombia) on October 1-3. The event brought together university and high school students, school teachers, and government and community members for an oral presentation by the PI on research advances in Tota as part of a symposium on wetlands, organized by the Universidad de Boyacá.
In the beginning of 2015, Dr. Canon and the team expect to finish the models and analysis of future scenarios for the lakes and Cienaga. Students will continue working on their theses papers and research documents. The final set of workshops to be conducted at the sites to disseminate the final results of our research will be planned and run. The website will continue to be improved with new multimedia aids and materials as the June 2015 closeout approaches.
The project website continues to be updated and includes information from all the stations.
Article on project from Universidad de Antioquia newsletter Ingeniemos, August 2012