Partnerships for enhanced engagement in research (PEER) SCIENCE
Cycle 1 (2011 Deadline)
Long-term sustainability of water resources and biodiversity under scenarios of climate change in the Napo watershed, Ecuador
PIs: Juan Manuel Guayasamin
, Universidad Tecnologica Indoamerica, and Andrea Encalada, Universidad San Francisco de Quito
U.S. Partner:
LeRoy Poff, Colorado State University
Project Dates: June 2012 - May 2015
Project Overview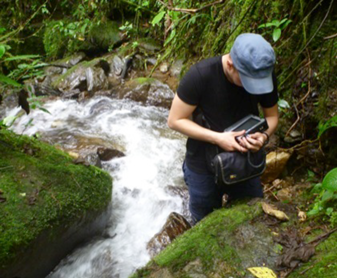 José Schrekinger gathering data at one of the field sites of the Napo watershed, Ecuador.
Some of the most critical challenges faced worldwide are related to the conservation of freshwater ecosystems and their biodiversity, especially under the prospect of rapid climate change. Although most water sources are intertwined with human life, most rivers are within watersheds that have suffered uncontrolled and unplanned anthropogenic disturbances, including pollution, in-stream constructions, invasive species, and extractive uses. Climate change has the potential to magnify the risks that are already present by altering patterns of temperature, precipitation, and runoff, thereby disrupting biological communities and ecosystem processes.
This project will gather physiological, genetic, and environmental data generated by the National Science Foundation-funded EVOTRAC project in Ecuador, which predicts the vulnerability of organisms to rapid climate change, and will combine it with new information to produce a set of recommendations intended to improve the conservation and management practices of aquatic ecosystems in the Napo basin. This effort will represent an important first contribution to the long-term sustainability of water resources and biodiversity in this region. More specifically, in the Napo basin, this project has several major objectives. It will determine and map ecological integrity of streams along an altitudinal gradient, using environmental (water quality and quantity) and biological data generated by the EVOTRAC project. Land use and land cover maps of the Napo watershed will also be developed to help understand the main anthropogenic threats along an altitudinal gradient. This new information will then be applied to identify and determine priority areas within the basin for management and conservation and to develop a conservation portfolio for freshwater ecosystems that includes representation of biodiversity, ecosystems, and ecological processes and their vulnerability to climate change. The research findings and conservation portfolio will be communicated to local communities, governments, NGOs, and the academic community by means of publications in scientific journals, on the Web, and as practical guides and workshops aimed at local communities and a general audience. The ultimate aim will be promotion of new management practices in the Napo basin to advance freshwater ecosystem sustainability.
Summary of Recent Activities

The first half of 2014 has been a busy period on this project, as heavy metal and nutrient content analyses were completed on many water and sediment samples previously collected in the Napo watershed. Analysis of mayfly samples down to the morphospecies level is still ongoing. Janeth Lessman, a GIS specialist hired as part of the project, is developing biodiversity maps of the Napo basin based on literature reviews and data on amphibians and invertebrates generated as part of the project. Working with USFQ professor Esteban Suárez and undergraduate student María José Troya, Janeth is also working on detailed land use and stream quality maps. These will be crucial for the large-scale planning aspects of the project and will be combined with the biodiversity maps to visualize and generate priority areas for conservation, restoration, and other purposes. In January 2014, María presented her Bachelor's honors thesis, "Human threats to the freshwater ecosystems in the Napo Watershed," incorporating work completed under the PEER project. She is continuing to work on the project this summer.

In March 2014, PIs Andrea Encalada and Juan Manuel Guayasamin and other members of their project team met with another USFQ-based PEER PI, Carlos Mena, and his research associate Alexandra Guevara to discuss their joint efforts to compile a water biomonitoring manual for the Amazonian streams. Designed for park rangers, water managers, and practitioners, the manual is expected to be completed by the end of this summer. Another key event this spring occurred when Dr. Encalada participated in the Third Urban Stream Symposium and the subsequent Joint Aquatic Sciences Meeting, both held in Portland, Oregon, May 18-23. Following those meetings, she spent another two weeks collaborating with EVOTRAC colleagues at Colorado State University.