Partnerships for enhanced engagement in research (PEER) SCIENCE
Cycle 1 (2011 Deadline)
REDD based forest expansion, food consumption, and reduced emissions agricultural policies (REAP) in the Ecuadorian Amazon
PI:
Carlos Mena, Universidad San Francisco de Quito (USFQ)
US Partner: Thomas
Rudel, Rutgers University
Project Dates: May 2012 - April 2015
Project Overview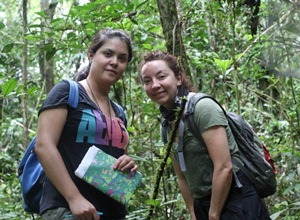 Project team members Carolina Sampedro and Alexandra Guevara during fieldwork (Photo courtesy of Carlos Mena).
In tropical forest frontiers, agricultural policies that encourage cultivation increase greenhouse gas emissions,while at the same time forest policies that encourage an expansion in forest cover reduce greenhouse gas emissions but can create risks for food security. Can these contrasting goals be reconciled? This project aims to inform the current debate by proving links between payments for ecosystems services (i.e., Reducing emissions from deforestation and forest degradation or "REDD+") and the production of foodstuffs using emergent silvopastoral landscapes (pasture land with increasing forestation) in the Ecuadorian Amazon. T
he emergence of these new forested landscapes is viewed by these researchers as
both an opportunity for REDD+ due the characteristics of these landscapes as a carbon
sink and as a natural experiment to explore the relationship between the expansions of forested
landscapes and the production of food.
This project has several interconnected objectives: (1) identifying the extent and drivers of silvopastoral landscapes; (2) identifying food consumption and production patterns and understanding how they are affected by the emergence of silvopastoral landscapes; and (3) developing an emissions profile of peri-urban and urban farmers with an eye towards providing them an equitable distribution from the benefits of REDD+ while providing food security to urban areas. This project will be developed in two main areas of the Ecuadorian Amazon--Coca and Macas--that share key characteristics, including high population growth, high urban expansion, and the emergence of silvopastoral landscapes. However, these two areas are different in several respects. Coca is the center of oil exploration and extraction in Ecuador, and this industry is an important driver of agricultural expansion or land abandonment. Macas, on the other hand, is undergoing agricultural change due to mechanisms of rural-to-urban and international outmigration from agricultural areas. The use of these two areas will provide the opportunity to study processes common to the entire Amazon, where urban growth and the emergence of silvopastoral landscapes occur but due to different factors. To achieve their objectives, the researchers on this project will use a number of methods and techniques, including remote sensing, household surveys, and complex systems modeling. The project should contribute to increasing understanding of the relationship between food production and consumption and should generate a package of recommendations on reduced-emissions agricultural policies for Ecuador and the Amazon in general.
Summary of Recent Activities
Following the success of last quarter's surveys in the provinces of Sucumbíos and Orellana, the team began processing the data and statistical analysis will soon begin. Statistical analysis includes descriptive statistics, multivariate analysis and spatial analysis. This data will provide a large amount of information, which will be used together with carbon emission estimations profiles.

To estimate carbon emissions in the Ecuadorian Amazon, the team has developed a multi-step methodology that begins with the use of three existing roads (Lumbaqui-Lago, Auca, and Maxus) to simulate road expansion based on scenarios of high, medium, and low road expansion rates. The team will then use LANDSAT images from 1986 - 2013 to estimate the average deforestation rate for the past 27 years in each of the three areas. This will be followed with the use of Dijkstra's algorithm to predict where new roads will be built. This criteria is based on the recently leased oil blocks (for exploration) assuming that each block will require its own access road. The results will be used to create a spatially explicit model of deforestation around the predicted construction of roads observing the three scenarios (high, medium and low deforestation rates). Finally, the maps for predicted deforestation will be combined with the carbon map developed by the MAE (Ecuadorian Ministry of Environment) to quantify the amount of carbon that would be released under scenarios of high, medium, and low deforestation rates.