Partnerships for enhanced engagement in research (PEER) SCIENCE
Cycle 1 (2011 Deadline)
Demonstrating the integration of ground-based monitoring and satellite remote sensing for forecasting landslides and flooding hazards in volcanic terrains
PI:
José Fredy Cruz, Universidad de El Salvador
US Partner: John S. Gierke
, Michigan Technological University
Project Dates: June 2012 - September 2014
Project Overview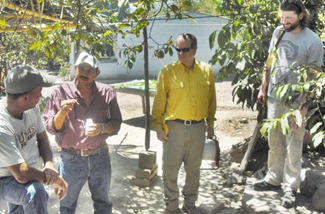 As U.S. partner John Gierke and colleague Luke Bowman (at right) look on, PI Jose Fredy Cruz (second from left) supervises a field visit to inspect sites suitable for placing pressure sensors in wells and to explain to the well owners the purpose of the monitoring (photo courtesy Fredy Cruz).
This project will couple long-term, ground-based monitoring of watershed hydrology with remote sensing data in developing computer models of watershed hydrology and risk maps for development institutions. These institutions will be able to use these tools to forecast and plan for rain-induced flood and landslide hazards in steep, partially developed (agricultural), populated volcanic slopes. Spatially comprehensive monitoring with near real-time access to precipitation amounts can be used to better understand the hydrology of large watersheds in steep terrain and the impacts of land use to allow for effective forecasting and communication of hazards posed by excessive rains.
This collaborative effort will take advantage of the different skills and strengths of each participating institution, including remote sensing, data processing, computer modeling, local knowledge of hazard risks and landscape, and hydrological monitoring to create and develop tools to use near real-time precipitation information with previously collected data. The principal investigator and his group at the Universidad de El Salvador (UES) will work with Michigan Tech researchers and students currently serving in the US Peace Corps to establish precipitation and stream/river flow monitoring. Topical workshops in remote sensing and image processing and computer modeling will be delivered by the Michigan Tech group to faculty and students at UES, who will share their understanding of how disaster plans and responses evolve before, during, and after a crisis. UES will also host workshops and a four-month-long diploma program based on the work conducted in this project. The data from this collaborative project will be archived and made public using Web pages and a Web-based database system that will be developed and hosted by the Michigan Tech group through their National Science Foundation-supported work. This project will also leverage ongoing work by a Salvadoran nongovernmental organization (NGO), CEPRODE, for establishing weather monitoring and an international NGO, Caritas, involved with developing hazard mitigation plans.
Summary of Recent Activities
During the last quarter of 2013, water pressure sensors were installed in the Acahuapa River basin. To start the process, a tour of the area was made by a joint team from Michigan Tech and the University of El Salvador to identify safe and technically feasible locations for the sensors. Agricultural engineering students were brought into the project in order to have the operation of the sensors and relevant data collection software explained to them. The sensors were installed in the middle and at the lower parts of the river basin, all the better to analyze the relationship between precipitation, groundwater, and water displacement during extreme events. The team also continued to monitor the soil stability around the Chichontepec volcano.
| | |
| --- | --- |
| A sensor is installed in the Acahuaba River (photo courtesy Fredy Cruz). | Installation of a mudslide sensor near the Cichontepec volcano (photo courtesy Fredy Cruz). |
Site visits were made to Tepetitan, San Cayetano Istepeque, and San Vicente, three communities that have been identified as vulnerable to flooding and mudslides. The team also met with civil protection authorities, local politicians, and staff from CEPRODE (Centro de Protección para Desastres) to brief them on progress. The project team also prepared a presentation for the conference titled "International Perspectives on Water Resources and the Environment" in Quito, Ecuador, which was held January 8-10, 2014.
In the future, the project team will continue monitoring the data coming through the sensors, analyze the data regarding the vulnerability of the communities in the study, and match the data to existing flood and landslide maps. In addition, they will conduct a workshop to disseminate results to the local government and the community and prepare the final project report.