DSC
The National Academies
500 5th St NW - KWS 502
Washington, DC 20001
USA

Tel: (202) 334-2800
Fax: (202) 334-2139

Partnerships for enhanced engagement in research (PEER) SCIENCE
Cycle 1 (2011 Deadline)
Investigation into persulfate/peroxymonosulfate oxidation of micro-contaminants towards water sustainability: mechanism, kenetics, and implementation
PI: Antoine Ghauch
, American University of Beirut
US Partner:
Richard Luthy, Stanford University

Project Dates: May 2012 - July 2015
Project Overview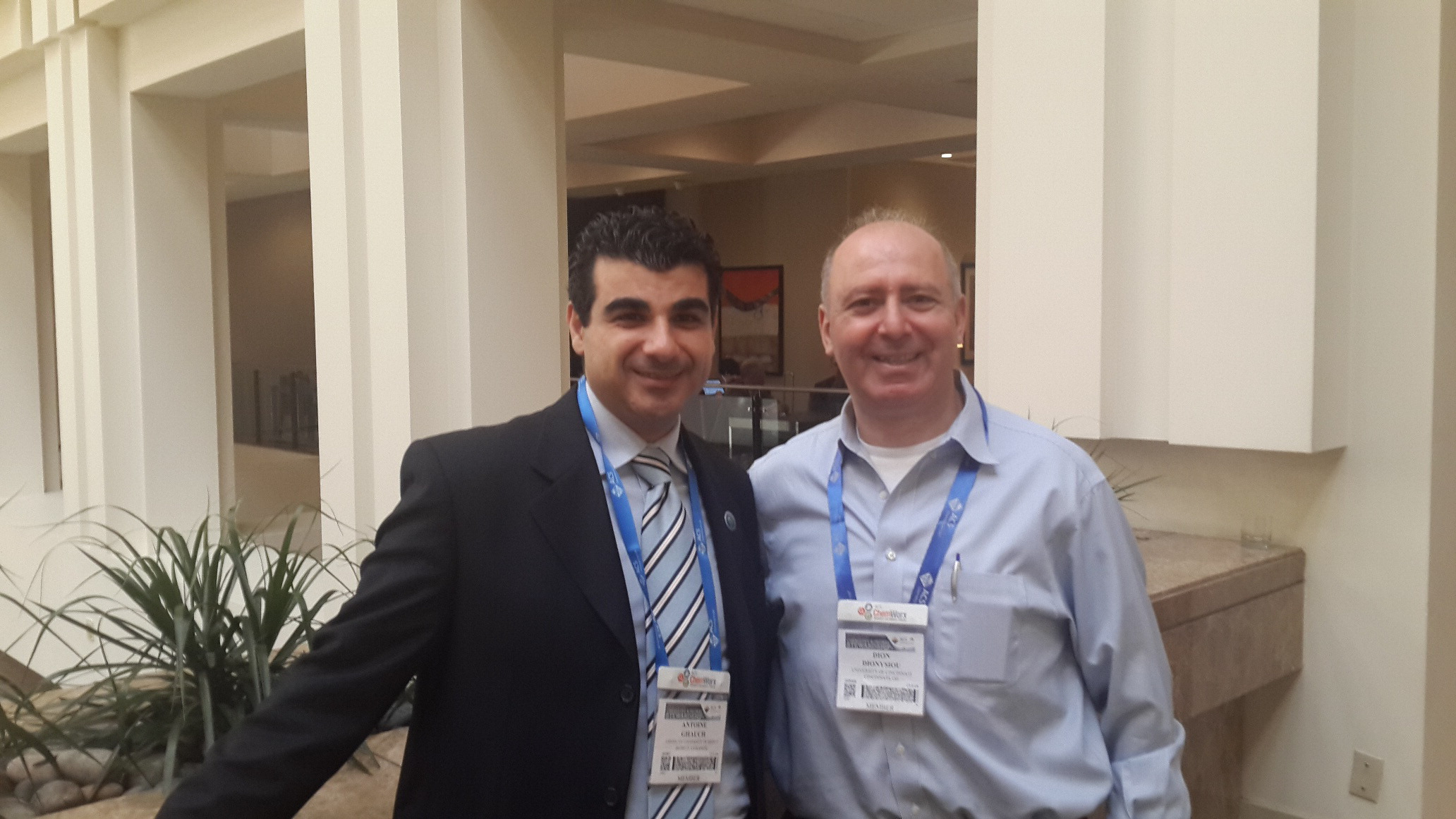 Prof. Antoine Ghauch with Dr. Dionysios (Dion) D. Dionysiou, Chair of the Environmental Division at ACS Conference in San Francisco, CA, August 14, 2014.
Persulfate activation has attracted great interest within the scientific community as a way of producing short-lived sulfate radicals. These radicals are powerful oxidants that are more selective toward organic contaminants than the hydroxyl radicals that are often used for water and waste treatment. Using this approach, it may be possible to remove recalcitrant organic contaminants from water that are difficult to oxidize with existing treatment methods. The development of novel approaches for contaminant oxidation is critical to future efforts to secure water supplies in rapidly growing countries in arid climates. The issue of water quality is particularly important to Lebanon, where water shortages strike the Lebanese capital during August through November each year.
In this study, organic compounds that pose risks to human health and aquatic systems will be subjected to treatment with persulfate activated in various ways: thermally, photochemically (via sunlight) and chemically. This project will take several variables into account, such as ionic strength, sunlight intensity, concentrations of organic compounds, and chemical activators. Catalysts for persulfate activation will be developed using various metals and minerals, including some collected from Lebanese soils and waterways. These new chemical activators should be able to progressively activate persulfate and peroxymonosulfate into sulfate radicals in order to destroy organic micro-contaminants. This project should not only contribute to Lebanon's interests in educating its population but also help promote economic development, environmental protectoin, and capacity building among Lebanese researchers.
Summary of Recent Activities
During July through September 2014, the PI prepared his research results for presentation at conferences held in the U.S and Turkey in August 2014. One oral presentation and one poster presentation was presented at the 248th American Chemical Society (ACS) conference in San Francisco, California, and two posters were presented at the 5th EuCheMS Chemistry Congress in Turkey. Dr. Ghauch presented the research results on the degradation of pharmaceutical compounds such as Ranitidine and Naproxen using persulfate technology. The research team considered two persulfate activation methods: thermal and chemical activations, and one of the most important outcomes was obtained after showing the effectiveness of the proposed technique in treating a hospital effluent collected from the main manhole of AUBMC before reaching the municipal sewer pipes. Total mineralization was reached under regular operational conditions. The conducted research results showed that the industrial iron waste from car workshops can be valorized by using it as the main persulfate activator material toward contaminants degradation. Thermal activation experiments have been successful for the degradation of a new pharmaceutical probe "Ketoprofen" – it showed more resistance than other pharmaceuticals previously tested, such as bisoprolol, ibuprofen, methylene blue, etc. Research work with the focus on instrumental development has been moving forward as well: a prototype was developed and tested on dyes and organic molecules used for the printing industry and security purposes. Additional steps are now being taken to improve the selectivity of the SS-RTP instrument by changing the specifications of the light transmission optical fibers, as well as the power of the excitation source. Some of these results were presented at NIDays 2014, and a
case study
is now published on the website of National Instruments. Preparation for degradation experiments using persulfate photo-activation has been launched as well, and a comparative study should be done in the near future.