Partnerships for enhanced engagement in research (PEER) SCIENCE
Cycle 1 (2011 Deadline)
Towards a better assessment and management of wildfire risk in the wildland-urban interface in Lebanon: gaining from US experience
PI: George Mitri
, University of Balamand
U.S. Partner:
David B. McWethy, Montana State University

Project Dates: August 2012 - August 2014
Project Overview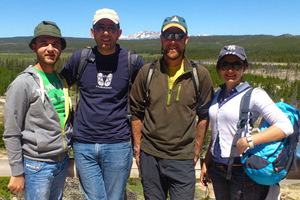 Edward Antoun, George Mitri, Dave McWethy, and Mireille Jazi during a field survey in the United States (Photo courtesy George Mitri).
Increasingly, Lebanon's forests are exposed to degradation due to urbanization, fires, climate change, human neglect, improper management, outdated laws, and poor law enforcement. During the last decades, changes in traditional land-use and lifestyles, depopulation of rural areas, decreases in grazing pressure and wood gathering, and increases in the urbanization of rural areas are leading to the recovery of vegetation and an increase in accumulated fuel. Land-use changes are occurring in parallel with increases in fires, which have gone from being few in number and affecting small areas to becoming numerous and affecting large areas yearly.
This project looks to develop the capacity of stakeholders in Lebanon to assess and manage wildfire risk in Lebanon's wildland-urban interface (WUI) in light of future climate change and human development in wildland areas. Another goal of the project is to improve knowledge and understanding among university students, local community groups, and municipalities about the nature and risks of wildfire in Lebanon's WUI. Specific project activities will include investigating the feasibility of developing a wildfire-climate model for Lebanon that simulates the interactions among climate change, expansion of human development into wildland areas, and wildfire risk. The researchers will identify data needs and partnerships necessary for future development of a wildfire-climate model for Lebanon and then develop materials that would demonstrate how such a model can be used by Lebanese stakeholders to adaptively manage wildfire risk in the WUI for future climate and land use changes. They will also develop the capacity of the community of interest (i.e., land and wildland fire management agencies, homeowners, and community and regional planners) to assess and manage wildfire risk and incorporate their research results into educational products to increase understanding of wildfire risk by the broader community.
Summary of Recent Activities
During the first quarter of 2014, Dr. Mitri and his colleagues on the project completed development of a web application as part of a decision framework that the community of interest can use to adaptively manage future wildfire risk in the wildland-urban interface (WUI). A trial version of the application is available at the following links: http://Ioe-firelab.balamand.edu.lb and http://home.balamand.edu.lb/wildfire. Ongoing research activities during the quarter included expanding the socioeconomic assessment portion of the project by addressing essential additional variables, as well as finishing the first draft of a handbook with practical guidelines on Managing Future Wildfire Risk in the WUI in Lebanon. The researchers also followed up on the agreement previously signed with the Ministry of Environment on collecting fire data from official field fire ID cards for data analysis and finalizing the state of Lebanon's fire report of 2009. They have recently submitted three joint papers with U.S. partner Dr. David McWethy for presentation at international conferences in 2014.

| | |
| --- | --- |
| Edward Antoun and Mireille Jazi during a field survey in North Lebanon (Photo courtesy George Mitri). | Discussion with Thomas Tidwell, Chief of the U.S. Forest Service (Photo courtesy George Mitri) |
During the spring and summer they plan to complete the expanded socioeconomic assessment and demonstrate how the model in their web application can be used by local stakeholders to make optimal wildfire-related decisions. The latter objective will be achieved through a national workshop to be organized around July-August, the beginning of the fire season in Lebanon. As part of the national workshop, they will organize a special training workshop for practitioners and individuals from the community in interdisciplinary modeling and analysis of a coupled natural-human system for managing future wildfire risk. Finally, they will publish their handbook comprising practical guidelines on Managing Wildfire Risk in the WUI in Lebanon and including success stories and will develop brochures and posters highlighting the main results of the project. A no-cost extension has been made on the project through August 31, 2014, to allow for these project completion and dissemination activities.