Cycle 2 (2012 Deadline)
Conservation genetics for improved biodiversity and resource management in a changing Mekong Delta
PI: Dang Thuy Binh (Nha Trang University)
U.S. Partner: Kent E. Carpenter (Old Dominion University)
Project Dates: August 2013 to January 2016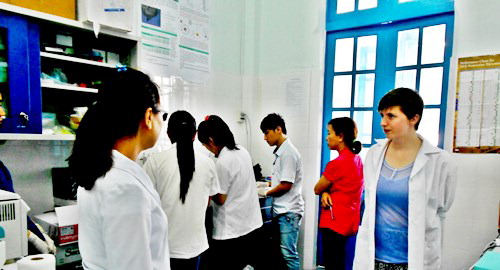 The project team commences its DNA labwork (Photo courtesy Dr. Binh).
The study of the genetics of populations is a valuable tool in investigating the origins of the extreme biodiversity of southeast Asia. The National Science Foundation (NSF) Partnerships for International Research and Education (PIRE) project "Origins of high marine biodiversity in the Indo-Malay-Philippine Archipelago" has extended phylogeographic studies to Vietnam and Thailand to better understand mechanisms of speciation in the marine realm of this region. This PEER Science project leverages and extends this investigation into the estuarine and freshwater biomes of the most prominent and extremely biodiverse hydrological feature of southeast Asia, the Mekong Delta. Connectivity of populations across and within the Mekong Delta is shaped by the complex and dynamic physical processes of the Mekong River Basin. The outflow of the basin will potentially serve as a barrier to gene flow of marine populations distributed along the coast of Vietnam similar to what has been observed for the Amazon River (Rocha et al. 2002). Also similar to the Amazon system, the complex branches and hydrography of the Mekong Delta provide both potential barriers and environmental gradients that would influence gene flow and natural selection of vertebrate populations (e.g. Cooke et al. 2012, Hollatz 2011) within the Mekong Delta. This PEER project aims to examine fine-scale population connectivity of three fish species (marine, estuarine, and freshwater) across the Mekong Delta using advanced genomic methodologies. This will initiate a long-term research program to investigate processes that promote lineage diversification across the delta and provide a basis to examine genetic adaptation of populations to the changing conditions of the delta caused by increasing effects of damming, development, agriculture and climate change.
This PEER Science project should produce valuable information about the connectivity of aquatic populations within and across the mouth of the Mekong Delta that can be used for improved environmental governance, such as delineating management zones and formulating strategies for biodiversity conservation. Furthermore, one species to be studied is considered Near Threatened on the International Union for Conservation of Nature Red List (IUCN 2012), and the population information gained in this study will be applicable to its conservation and biodiversity conservation in general in the Mekong Delta. As for capacity building, the project will provide training to Vietnamese researchers and give them a solid foundation for applying their new methods and skills to most pressing environmental concern in Vietnam: threats to the biodiversity and resources of the Mekong Delta.
Summary of Recent Activities
The project team at Nha Trang University (NTU) concentrated primarily on data analysis during the first quarter of 2015, applying techniques used at a training course they attended last summer in the Philippines. They also organized two sampling trips in January, traveling first to the Mekong Delta for freshwater fish collection at Dong Thap, An Giang, and Vinh Long, and later to the Dong Nai River for freshwater fish and Long Hai (Ba Ria - Vung Tau) for marine fish collection. As a follow-up to her PEER-supported visit to Mississippi State University in September 2014, which resulted in the signing of a memorandum of understanding between NTU and MSU, Dr. Dang Thuy Binh hosted Prof. Don Jackson from MSU for a visit in March 2015. During his stay, Prof. Jackson made a presentation at NTU's international conference and met with researchers from the Institute of Biotechnology and Environment and the Institute of Aquaculture to exchange knowledge and plan future collaborative activities.

Dr. Binh and her team are awaiting delivery of a new server purchased with PEER funds in April, which will help with their analytical work. They are also planning a two-week training course this fall on ezRad, a new technique for restriction site–associated DNA (RAD) analysis, which will be led by a trainer from Texas A&M University.
| | |
| --- | --- |
| Dr. Carpenter and students preparing for an expedition on the water (Photo courtesy Dr. Binh). | Dr. Carpenter at a fish market examining the local catch in search of species (Photo courtesy Dr. Binh). |