DSC
The National Academies
500 5th St NW - KWS 502
Washington, DC 20001
USA

Tel: (202) 334-2800
Fax: (202) 334-2139

Partnerships for enhanced engagement in research (PEER) SCIENCE
Cycle 2 (2012 Deadline)
Improving process-skills of STEM undergraduate students in Indonesia through Problem-Based Learning (PBL): faculty member development, student assessment, and curriculum adjustment
PI: Kamarza Mulia (Universitas Indonesia)
U.S. Partner: Lisa Hunter (University of California, Santa Cruz)
Project Dates: August 2013 to July 2016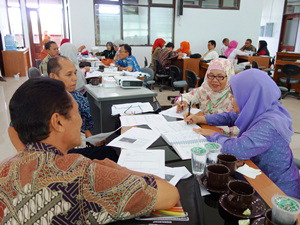 Participants in the two-day problem-based learning workshop at Universitas Andalas (Photo courtesy Dr. Mulia).
This project involves the assessment of problem-based learning (PBL) effectiveness in improving the process skills of chemical engineering students at Universitas Indonesia (ChE UI) while satisfying curriculum requirements. Improvement of process skills such as problem solving, working in groups, lifetime learning, and critical thinking will be assessed using a variety of instruments. Since the study will involve a large number of students and will last for three years, it will be possible carry out longitudinal assessment studies of PBL effectiveness in improving students' process skills. Documented evidence of a successful PBL implementation in a chemical engineering department will contribute to improving scholarship in teaching and encourage more STEM departments to adopt PBL into their programs. The lessons learned in this project will be disseminated through international seminars and peer-reviewed journals.
The main objective of the proposed project is the paradigm shift of STEM faculty members, from teacher-centered to student-centered learning (SCL), PBL in particular. Early in the project, invitations will be sent to faculty members of selected campuses throughout Indonesia to attend an introductory workshop on SCL and PBL at UI's Depok campus. In these workshops, participants will discuss the SCL paradigm in teaching and learning, process skills required for a successful PBL implementation, and ways of converting a lecture-based course into the PBL format. Participants with strong motivation to implement PBL will be invited to attend a facilitator workshop consisting of more practical topics such as how to conduct mini process skill workshops for students and PBL problems or case studies. Potential faculty members will receive teaching grants and continuing support from the project leaders, and if necessary, a visit to their institutions. Resources such as a PBL book to be authored by the project leaders in the Indonesian language, a database of problems and case studies, and a website written in both the Indonesian and English languages will be made available to assist project participants in implementing PBL. Early in the project, several mini process skill workshops will be integrated into the nine PBL-based courses available in the chemical engineering curriculum at UI so that students could continuously improve their process skills as they progress through the curriculum.
By the end of the project, it will have impacted 200 targeted workshop participants and will have produced 25 new PBL facilitators. The outcomes of the project are expected to contribute directly to the stated USAID Indonesia's higher education objectives, specifically to improving instructional delivery through better teaching methods and more relevant curricula in STEM fields.
Summary of Recent Activities
In late January and early February 2014, PI Kamarza Mulia and co-investigator Elsa Krisanti conducted a series of two-day problem-based learning (PBL) workshops at Universitas Indonesia. Participants discussed the student-centered learning paradigm in teaching and learning, process skills required for a successful PBL implementation, and methods for changing a lecture-based course into a PBL format. The three latest workshops had a total of 199 participants, bringing the total combined participation in the workshops held under this project to 339 faculty members from 50 higher-learning institutions across Indonesia. More workshops are scheduled to take place this spring and summer at Universitas Sriwijaya-Palembang, Universitas Kristen Krida Wacana-Jakarta, and Universitas Mercu Buana-Jakarta. As a means of promoting communications among their workshops participants and others interested in PBL, Dr. Mulia and Dr. Krisanti have established a blog at
pblkamarzaelsa.com
, and a private Yahoo!Group which has nearly 90 members. It features trigger problems prepared by the PI and co-PI, as well as short articles related to PBL.
The project will disburse around eight teaching grant awards in the amount of US$ 500 at the end of the current semester. The grants are designed to help facilitate the implementation of PBL, and applicants must submit a teaching plan and a letter from their department head. In addition to the cash awards, grant winners will also receive continuing support from the PI and co-PI and, if necessary, a visit to their institutions.
Dr. Mulia and Dr. Krisanti will be attending the 2014 American Society for Engineering Education Annual Conference and Exposition in Indianapolis, Indiana, in June 2014. They will present a paper entitled "Communication Skills Course: Enhancing Presentation and Proposal Writing Skills of Chemical Engineering Students" in the Liberal Education/ Engineering and Society Division. They will also be visiting the University of Missouri, Kansas City; the Colorado School of Mines; and U.S. partner Lisa Hunter at the University of California, Santa Cruz. It is hoped that lessons learned from these visits will help in the design and upgrading of a PBL classroom at UI.
Back to PEER Cycle 2 Grant Recipients