DSC
The National Academies
500 5th St NW - KWS 502
Washington, DC 20001
USA

Tel: (202) 334-2800
Fax: (202) 334-2139

Partnerships for enhanced engagement in research (PEER) SCIENCE
Cycle 2 (2012 Deadline)
Improving process-skills of STEM undergraduate students in Indonesia through Problem-Based Learning (PBL): faculty member development, student assessment, and curriculum adjustment
PI: Kamarza Mulia (Universitas Indonesia)
U.S. Partner: Lisa Hunter (University of California, Santa Cruz)
Project Dates: August 2013 to July 2016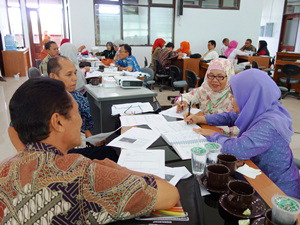 Participants in the two-day problem-based learning workshop at Universitas Andalas (Photo courtesy Dr. Mulia).
This project involves the assessment of problem-based learning (PBL) effectiveness in improving the process skills of chemical engineering students at Universitas Indonesia (ChE UI) while satisfying curriculum requirements. Improvement of process skills such as problem solving, working in groups, lifetime learning, and critical thinking will be assessed using a variety of instruments. Since the study will involve a large number of students and will last for three years, it will be possible carry out longitudinal assessment studies of PBL effectiveness in improving students' process skills. Documented evidence of a successful PBL implementation in a chemical engineering department will contribute to improving scholarship in teaching and encourage more STEM departments to adopt PBL into their programs. The lessons learned in this project will be disseminated through international seminars and peer-reviewed journals.
The main objective of the proposed project is the paradigm shift of STEM faculty members, from teacher-centered to student-centered learning (SCL), PBL in particular. Early in the project, invitations will be sent to faculty members of selected campuses throughout Indonesia to attend an introductory workshop on SCL and PBL at UI's Depok campus. In these workshops, participants will discuss the SCL paradigm in teaching and learning, process skills required for a successful PBL implementation, and ways of converting a lecture-based course into the PBL format. Participants with strong motivation to implement PBL will be invited to attend a facilitator workshop consisting of more practical topics such as how to conduct mini process skill workshops for students and PBL problems or case studies. Potential faculty members will receive teaching grants and continuing support from the project leaders, and if necessary, a visit to their institutions. Resources such as a PBL book to be authored by the project leaders in the Indonesian language, a database of problems and case studies, and a website written in both the Indonesian and English languages will be made available to assist project participants in implementing PBL. Early in the project, several mini process skill workshops will be integrated into the nine PBL-based courses available in the chemical engineering curriculum at UI so that students could continuously improve their process skills as they progress through the curriculum.
By the end of the project, it will have impacted 200 targeted workshop participants and will have produced 25 new PBL facilitators. The outcomes of the project are expected to contribute directly to the stated USAID Indonesia's higher education objectives, specifically to improving instructional delivery through better teaching methods and more relevant curricula in STEM fields.
Summary of Recent Activities
The third quarter of 2014 proved to be particularly fruitful for Dr. Mulia and his team. The team conducted two-day PBL STEM workshops at three new institutes in addition to the five campuses visited during the first year of the project. These visits also coincided with the release of PBL facilitating classroom layouts (available online) as well as awarding of faculties that successfully implemented the lessons learned from the workshops in their own classrooms. Furthermore, to gain new ideas on improved implementation, Dr. Mulia attended a three day problem-solving and decision making workshop hosted by Kepner and Tregoe in Kuala Lumpur on August 19.
On the backend, the team has made significant progress in updating the
PBL website
. The user interface and the website domain have been redone in order to address recurring problems and the PBL database has also been expanded with the aid of contributions from multiple STEM faculties. A student data and assessment program at UI has also been initiated to assess students' problem-solving skills with regard to the effectiveness of the PBL program. The team also continues to translate the PBL book into local languages and is currently at chapter 5.
In the coming months, the team will finish the translation of the PBL book and finish building an ideal PBL classroom. The team will also submit and paper on communication skills to a peer reviewed journal and will also continue to develop the problem-solving skills module.
Back to PEER Cycle 2 Grant Recipients