DSC
Keck Center
500 5th St NW - KWS 502
Washington, DC 20001
USA

Tel: (202) 334-2800
Fax: (202) 334-2139

Partnerships for enhanced engagement in research (PEER) SCIENCE
Cycle 2 (2012 Deadline)
Improving process-skills of STEM undergraduate students in Indonesia through Problem-Based Learning (PBL): faculty member development, student assessment, and curriculum adjustment
PI: Kamarza Mulia (Universitas Indonesia)
U.S. Partner: Lisa Hunter (University of California, Santa Cruz)
Project Dates: August 2013 to July 2016
Project Website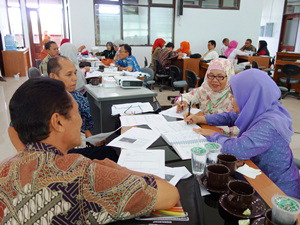 Participants in the two-day problem-based learning workshop at Universitas Andalas (Photo courtesy Dr. Mulia).
This project involves the assessment of problem-based learning (PBL) effectiveness in improving the process skills of chemical engineering students at Universitas Indonesia (ChE UI) while satisfying curriculum requirements. Improvement of process skills such as problem solving, working in groups, lifetime learning, and critical thinking will be assessed using a variety of instruments. Since the study will involve a large number of students and will last for three years, it will be possible carry out longitudinal assessment studies of PBL effectiveness in improving students' process skills. Documented evidence of a successful PBL implementation in a chemical engineering department will contribute to improving scholarship in teaching and encourage more STEM departments to adopt PBL into their programs. The lessons learned in this project will be disseminated through international seminars and peer-reviewed journals.
The main objective of the proposed project is the paradigm shift of STEM faculty members, from teacher-centered to student-centered learning (SCL), PBL in particular. Early in the project, invitations will be sent to faculty members of selected campuses throughout Indonesia to attend an introductory workshop on SCL and PBL at UI's Depok campus. In these workshops, participants will discuss the SCL paradigm in teaching and learning, process skills required for a successful PBL implementation, and ways of converting a lecture-based course into the PBL format. Participants with strong motivation to implement PBL will be invited to attend a facilitator workshop consisting of more practical topics such as how to conduct mini process skill workshops for students and PBL problems or case studies. Potential faculty members will receive teaching grants and continuing support from the project leaders, and if necessary, a visit to their institutions. Resources such as a PBL book to be authored by the project leaders in the Indonesian language, a database of problems and case studies, and a website written in both the Indonesian and English languages will be made available to assist project participants in implementing PBL. Early in the project, several mini process skill workshops will be integrated into the nine PBL-based courses available in the chemical engineering curriculum at UI so that students could continuously improve their process skills as they progress through the curriculum.
By the end of the project, it will have impacted 200 targeted workshop participants and will have produced 25 new PBL facilitators. The outcomes of the project are expected to contribute directly to the stated USAID Indonesia's higher education objectives, specifically to improving instructional delivery through better teaching methods and more relevant curricula in STEM fields.
Summary of Recent Activities
Several problem-based learning (PBL) workshops were conducted during the first quarter of 2015. Participants from invited higher education institutions in Indonesia attended two separate workshops conducted at UI's Depok campus January 21-22 (68 participants) and January 26-27 (53 participants), and March 17-28, 54 participants gathered for a longer workshop at Parahyangan University. By the end of March 2015, Dr. Mulia, co-PI Dr. Elsa Krisanti, and their colleagues had conducted 16 workshops attended by 693 faculty members from various higher institutions across Indonesia. Additional PBL workshops are tentatively planned for the coming months, including one at Universitas Hasanuddin at Makassar June 3-4, 2015 and one at the Bandung Institute of Technology August 12. In addition, the project team has granted faculty awards to eight recipients after a review and selection process. The awardees have implemented PBL in their courses in the first semester of academic year 2014-2015 or previously. The award is a show of appreciation for faculty members who had implemented PBL successfully, and each grantee received 5 million Indonesia rupiahs (about U.S. $380). The grantees are: Drh. Sulistiyani, M.Sc., Ph.D. (Institut Pertanian Bogor); Dr.-Ing Anton Irawan, ST, MT (Universitas Sultan Ageng Tirtayasa); Fajar Susilowati, ST, MT (Politeknik Negeri Jakarta); Wina Libyawati, ST, MM, MT (Universitas Pancasila); Nuraini Budi Astuti, SP, MSi (Universitas Andalas); Ir. Dede Lia Zariatin, ST, MT (Universitas Pancasila); Albert Gifson, ST, MT (Universitas Budi Luhur); and Dyah Nurwidyaningrum, ST, MM, M.Ars; (Politeknik Negeri Jakarta).

Dr. Mulia and his team have collected additional data on the problem solving skills of UI's chemical engineering students, and based on these data they have prepared a manuscript that has been accepted to the EAIR 37th Annual Forum "From Here To There: Positioning Higher Education Institutions" at Krems, Austria, August 30 – September 2, 2015. The title of the presentation will be "Improving and assessing students' problem-solving skills through problem-based learning approach will be disseminated."

On the infrastructure side, the Faculty of Engineering at UI is arranging for one classroom to be renovated for subsequent use by all faculties, with priority to be given to those who implement student-centered learning teaching/learning methodologies such as PBL. The layout and facilities of the classroom and the specifications of the IT facilities have recently been completed and renovation work will start in June 2015. In addition, the project team has completed the first draft of their PBL book in Bahasa Indonesian, presently consisting of six chapters and more than 100 pages. Negotiations for publication are under way with several companies.
Back to PEER Cycle 2 Grant Recipients