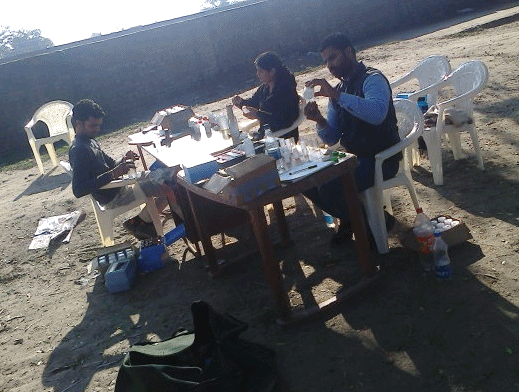 A research team tests water from a local well for arsenic and other contaminants (Photo courtesy Dr. Singh)
Groundwater drawn by millions of handpumps in several regions of India, including Punjab state, causes serious health problems due to elevated concentrations of arsenic (As) and fluoride (F). Rocks and sediments are the natural source of As and F entering groundwater, although the buildup of concentrations in certain areas could have been enhanced by human modification of the hydrological cycle. A key feature of the distribution of As and F in handpump water is that it is spatially highly variable but relatively stable through time. Many rural households of Punjab with an unsafe handpump live within walking distance of a safe handpump, but the vast majority of handpumps have never been tested. This project seeks to assess the extent to which the spatial distribution of As and F in groundwater of the affected region of Punjab can be predicted and the temporal scale on which groundwater As and F concentrations are likely to vary, if at all. The approach relies on (1) testing a large number of handpumps in villages distributed along two representative transects and (2) using this unique data set to target more detailed process studies based on drilling and installation of monitoring wells at two geological transitions. The new field data will make it possible to test several hypotheses regarding the impact of various factors and processes on the local hydraulic regime and groundwater As and F concentrations.
The lack of testing of handpumps in this region has led people to drink their groundwater without knowing whether it is safe or unsafe. Besides its other research aspects, this project will test approximately 20,000 handpumps for As and F in alluvial aquifers of this region of India. Measurements in the field using field kits, with quality control provided by measurements in the laboratory, will demonstrate to local authorities that a blanket testing campaign is warranted and feasible using current technology. Assuming that 10 people are dependent on each handpump for their daily water needs, that half of the wells tested turn out to be unsafe, and half of the population with unsafe water would switch to a neighboring safe well, then testing alone will cause a marked reduction in exposure and improved health for around 50,000 people. This extensive data set, complemented with process studies at two geological transitions, will yield predictions that will help identify thousands of specific villages where future testing should be prioritized.
Summary of Recent Activities
Field testing for arsenic and fluoride has reached 43 villages and some 3,300 wells in Punjab by early April 2014. At the recommendation of U.S. collaborator Alexander van Geen, testing for nitrate was added to the regimen. With the additional costs involved and in view of the time pressure to complete testing before the monsoon season begins in earnest, the overall number of wells to be tested has been reduced from 20,000 to 15,000. PI Chander Kumar Singh currently has five three-person teams in the field testing and tagging wells.
The lab work scheduled to be carried out by Dr. Singh and PhD scholar Anand Kumar at Columbia University has been postponed to August-September 2014. Their visit to the Lamont-Doherty laboratory will be coupled with participation in a drilling program in Illinois supported by the International Scientific Continental Drilling Program. The PEER-supported collaboration is linked with Dr. van Geen's broader efforts aimed at deploying a dedicated drilling platform for arsenic research in South and Southeast Asia over a period of 10 years. By the end of the summer of 2014, Dr. Singh and his team are planning to complete and transfer their entire Punjab dataset to a Geographical Information System platform. The co-PIs at Jawaharlal Nehru University and Guru Nanak Dev University will also be testing some 1,500 water samples for cation, anion, and heavy metal content.