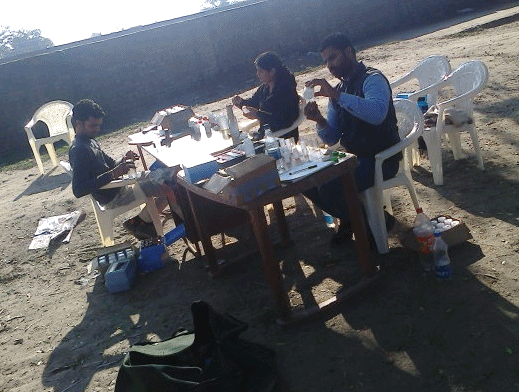 A research team tests water from a local well for arsenic and other contaminants (Photo courtesy Dr. Singh)
Groundwater drawn by millions of handpumps in several regions of India, including Punjab state, causes serious health problems due to elevated concentrations of arsenic (As) and fluoride (F). Rocks and sediments are the natural source of As and F entering groundwater, although the buildup of concentrations in certain areas could have been enhanced by human modification of the hydrological cycle. A key feature of the distribution of As and F in handpump water is that it is spatially highly variable but relatively stable through time. Many rural households of Punjab with an unsafe handpump live within walking distance of a safe handpump, but the vast majority of handpumps have never been tested. This project seeks to assess the extent to which the spatial distribution of As and F in groundwater of the affected region of Punjab can be predicted and the temporal scale on which groundwater As and F concentrations are likely to vary, if at all. The approach relies on (1) testing a large number of handpumps in villages distributed along two representative transects and (2) using this unique data set to target more detailed process studies based on drilling and installation of monitoring wells at two geological transitions. The new field data will make it possible to test several hypotheses regarding the impact of various factors and processes on the local hydraulic regime and groundwater As and F concentrations.
The lack of testing of handpumps in this region has led people to drink their groundwater without knowing whether it is safe or unsafe. Besides its other research aspects, this project will test approximately 20,000 handpumps for As and F in alluvial aquifers of this region of India. Measurements in the field using field kits, with quality control provided by measurements in the laboratory, will demonstrate to local authorities that a blanket testing campaign is warranted and feasible using current technology. Assuming that 10 people are dependent on each handpump for their daily water needs, that half of the wells tested turn out to be unsafe, and half of the population with unsafe water would switch to a neighboring safe well, then testing alone will cause a marked reduction in exposure and improved health for around 50,000 people. This extensive data set, complemented with process studies at two geological transitions, will yield predictions that will help identify thousands of specific villages where future testing should be prioritized.
Summary of Recent Activities
The testing for all three indicators of potential health concern--arsenic, fluoride, and nitrate--was completed for 11,500 wells distributed across 182 villages by the end of the summer of 2014. However, further testing had to be halted temporarily because of political tensions on the Indo-Pakistani border. The project team intends to test the remaining 1,500 wells along with community and household water filters as soon as the situation has stabilized. The data from the testing of 9,931 tubewells and ongoing data compilation for an additional 1,569 wells indicate that the arsenic, fluoride, and nitrate contained in tubewell water are a concern in three different portions of the area covered.
On the basis of a preliminary analysis, the team attributes elevated arsenic levels to reductive dissolution of iron oxyhydroxides in anoxic aquifers characteristic of low-lying floodplain environments along the border with Pakistan. There is a relationship between EC and fluoride occurrence with samples with high EC values also having a high fluoride concentration. The problem of EC and fluoride is confined to Southern region which is in accordance with evaporative mechanism being dominant in this semi-arid area. Elevated nitrate levels were found primarily in the north-eastern portion of the sampled area, presumably because heavy fertilizer use.
Doctoral student Anand Kumar and Dr. Singh were hosted by U.S. partner Dr. Alexander van Geen from the Lamont-Doherty Earth Observatory of Columbia University October 14-31, 2014. The PI and his doctoral student gained valuable experience using the instrumentation facilities at Lamont-Doherty, and further instruction on techniques such as ion chromatography was provided at Barnard College by Dr. Brian Mailloux. The data from field tests were also discussed with Dr. van Geen and a future course of action for predictive modelling was charted. A collaborative scientific paper resulting from the project is planned. Additionally, a manuscript is being prepared comparing the geochemical conditions on the two sides of the Indo-Pakistani border with help from Dr. Abida Farooqi of Quaid-i-Azam University in Islamabad, who is assisting on predictive modeling using a smaller number of topographic and hydrological variables.