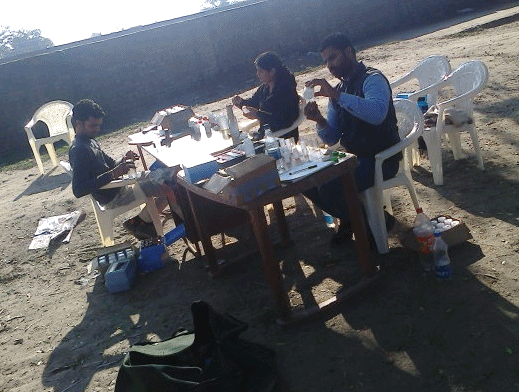 A research team tests water from a local well for arsenic and other contaminants (Photo courtesy Dr. Singh)
Groundwater drawn by millions of handpumps in several regions of India, including Punjab state, causes serious health problems due to elevated concentrations of arsenic (As) and fluoride (F). Rocks and sediments are the natural source of As and F entering groundwater, although the buildup of concentrations in certain areas could have been enhanced by human modification of the hydrological cycle. A key feature of the distribution of As and F in handpump water is that it is spatially highly variable but relatively stable through time. Many rural households of Punjab with an unsafe handpump live within walking distance of a safe handpump, but the vast majority of handpumps have never been tested. This project seeks to assess the extent to which the spatial distribution of As and F in groundwater of the affected region of Punjab can be predicted and the temporal scale on which groundwater As and F concentrations are likely to vary, if at all. The approach relies on (1) testing a large number of handpumps in villages distributed along two representative transects and (2) using this unique data set to target more detailed process studies based on drilling and installation of monitoring wells at two geological transitions. The new field data will make it possible to test several hypotheses regarding the impact of various factors and processes on the local hydraulic regime and groundwater As and F concentrations.
The lack of testing of handpumps in this region has led people to drink their groundwater without knowing whether it is safe or unsafe. Besides its other research aspects, this project will test approximately 20,000 handpumps for As and F in alluvial aquifers of this region of India. Measurements in the field using field kits, with quality control provided by measurements in the laboratory, will demonstrate to local authorities that a blanket testing campaign is warranted and feasible using current technology. Assuming that 10 people are dependent on each handpump for their daily water needs, that half of the wells tested turn out to be unsafe, and half of the population with unsafe water would switch to a neighboring safe well, then testing alone will cause a marked reduction in exposure and improved health for around 50,000 people. This extensive data set, complemented with process studies at two geological transitions, will yield predictions that will help identify thousands of specific villages where future testing should be prioritized.
Summary of Recent Activities
The last quarter of 2014 saw Dr. Singh and his team complete a majority of their scheduled fieldwork and the intended testing of 13,000 wells will be finished by the end of January 2015. Preliminary results of the testing showed that fluoride contamination is not a major issue in the study region as only 3% of the samples analyzed exceeded WHO limits. Arsenic and nitrates on the other hand, are a major concern with 22.5% and 17.5%, respectively, exceeding WHO limits but only 74 out of the 11,274 untreated groundwater samples tested caused similar concern.
While it is lucky that 72% of households in the study region use untreated groundwater, the findings raise concerns that will need to be addressed on a broad scale. The team collected 500 groundwater samples from villages that were high arsenic, fluoride, nitrate, and electrical conductivity to be analyzed in the lab of US partner Alexander van Geen at the Lamont Observatory of Columbia University. The team has also observed that most of the community and household Reverse Osmosis (RO) systems installed in the villages and individual households are not being maintained properly and therefore, are a poor option for use by households.
Dr. Singh's team continues to work on predictive modelling using satellite data derived parameters and ancillary data. Well sampling in the Punjab province of Pakistan by Dr. Abida Farooqi (Quaid-i-Azam University, Islamabad) is ongoing and will also be used as to validate final model output. The team also plans to host a workshop for individuals in similar research areas from the government, NGO's, and community to discuss outreach and policy recommendations for areas with similar issues.