PI: Willis Owino (Kenyatta University of Agriculture & Technology), with co-PI Jane Ambuko (University of Nairobi)
U.S. Partner: James Giovannoni (Cornell University)
Project Dates: August 2013 to January 2016
The primary goal of this project is to use existing
Solanaceae
genome resources and state-of-the-art technologies in the Western world to characterize genetic diversity and nutrient/non-nutrient metabolite compounds in
Solanaceae
crops of importance to smallholder farmers and consumers. The project team aims to provide a foundation of plant genomics useful for improvement of indigenous African fruits and vegetables. The project team will engage local breeders to identify
Solanaceae
germplasm representing a spectrum of genetic diversity to be used in agronomic improvement programs targeting sustainability, nutrition, and food security. The resulting resources will aid in (1) variety identification, (2) assessment of genetic diversity, (3) development of genetic linkage maps, (4) marker-assisted selection of yield and nutritional traits, and (5) linkage to fruit nutrient and performance quality traits and postharvest loss relevant to local food security. Results obtained through this project will also be incorporated into the Solanaceae(SOL) Genomics Network Database, the NSF-funded project of the U.S. partner, which constitutes one of the main meeting, data storage, and data enabling resource for the
Solanaceae
community worldwide.
Summary of Recent Activities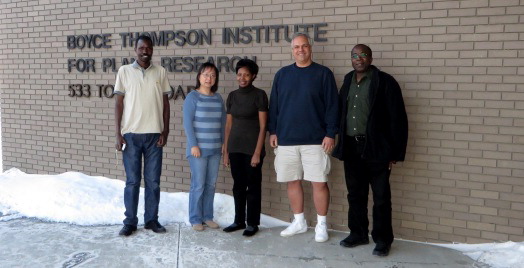 The project team and US partner during a visit to BTI in the first half of 2015 (photo courtesy of Dr. Owino).
The PhD students finalized their Student exchange and research internship at Boyce Thompson Institute at Cornell University and came back to Kenya in July 2015.
The LC-MS metabolomic analysis of the the African eggplant and tomato tissues were sent to Max Planck Institute, Germany for analyses.
The tomato and eggplant genome sequences were analyzed by the bioinformatics team at BTI. The tomato sequences were compared to the Heinz genome and the expression values (RPKM) derived. The students are preparing manuscripts for publication.
Back to PEER Cycle 2 Grant Recipients