Partnerships for enhanced engagement in research (PEER) SCIENCE
Cycle 2 (2012 Deadline)
Ecosystem carbon analytical laboratory
PI: Salomao Bandeira (Universidade Eduardo Mondlane)
U.S. Partner: Ilka C. Feller (Smithsonian Environmental Research Center)
Project Dates: August 2013 to November 2014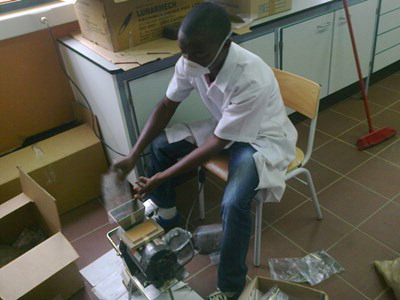 A student at the soil lab at Universidade Eduardo Mondlane operates a grinder(Photo courtesy Dr. Bandeira).
The proposal aims to develop an Ecosystem Carbon Analytical Laboratory (ECAL) at Universidade Eduardo Mondlane. The lab would allow for quantitative analyses of carbon content of vegetation, soil, and sediment, supporting therefore a range of complex issues associated with climate change, sustainable agriculture and forestry, and bioenergy. The ECAL is expected to enhance institutional capacity and provide also a facility for education and training, as well as enhance opportunities for collaboration. It is the intent that the ECAL will provide the foundation for subsequent work to assess fluxes of carbon in upland and wetland ecosystems in Mozambique and other east-African countries.
The laboratory is expected to contribute to the development of pilot Mangrove REDD+ projects in Mozambique, an initiative that would simultaneously address climate change mitigation and mangrove conservation. It will also be of use for other blue and green carbon-related initiatives, developed by various research institutions in the country and in the region (southern Africa and the western Indian Ocean). With the aid of this enhanced infrastructure, Mozambique will be able to produce more competitive research results on carbon issues at the regional level and beyond.
Summary of Recent Activities
In November, the project finally received the CHNSO automatic analyzer and began the installation process for it and the accompanying equipment. The analyzer should be installed by the end of February which will be followed by the training of two lab technicians and two researchers. The coming months will also see more collaboration with US partner Dr. Ilka Feller to develop the lab curricula in Mozambique and may involve an exchange visit. The university has already begun discussion on the curricula, but input from Dr. Feller will be very beneficial for the team in the areas of carbon issues and conservation practices vs. REDD issues.
Back to PEER Cycle 2 Grant Recipients