DSC
Keck Center
500 5th St NW - KWS 502
Washington, DC 20001
USA

Tel: (202) 334-2800
Fax: (202) 334-2139

Partnerships for enhanced engagement in research (PEER) SCIENCE
Cycle 2 (2012 Deadline)
Evolution, diversification, and biogeography of Cicadas (Insecta: Hemiptera: Cicadidae) on the Indian Subcontinent
PI: Krushnamegh Kunte (National Center for Biological Sciences)
U.S. Partner: Chris Simon (University of Connecticut)
Project Dates: August 2013 to December 2015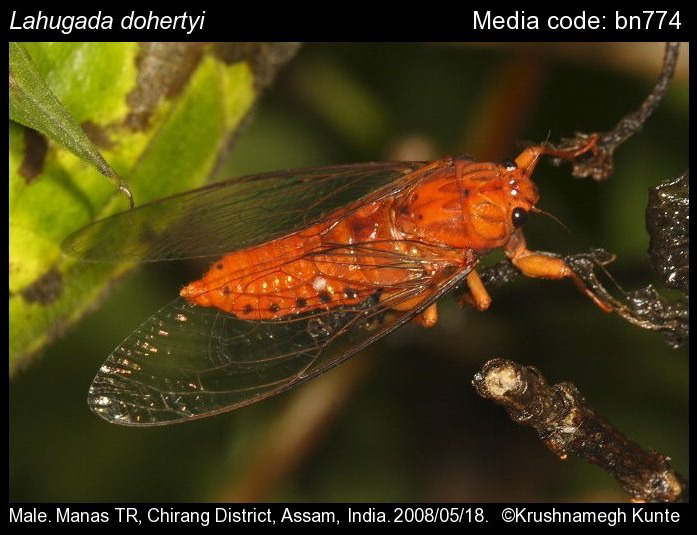 Most of the scientific knowledge on Indian biodiversity is 60 to 100 years old, dating back to the pre-independence era. During this time, there have been tremendous scientific developments in areas such as evolution, molecular phylogenetics, biogeography, and conservation genetics. This has substantially advanced our understanding of the evolution and dispersion of biodiversity on Earth. Unfortunately, much of this development has largely excluded India, which is unfortunate considering the crucial biogeographic role that the Indian Subcontinent plays. India is at the junction of the Palearctic and Oriental zoogeographic regions, and is believed to have been critical in the evolution and exchange of many important faunal elements across these regions. Thus, understanding the evolution and biogeography of Indian faunas is important in constructing a more complete picture of biological diversification in the Palearctic and Indo-Australian Regions. Using cicadas as a tractable invertebrate group, this project aims to: (1) study the origin and diversification of cicadas in India in relation to neighboring regions, (2) generate a higher-level phylogeny of Indian cicadas that will form a backbone of all subsequent studies, and (3) help inventory cicada diversity, including cryptic species, with the help of molecular data. The researchers involved will intensively sample cicadas across the length and breadth of India and will apply DNA sequencing, phylogenetic methods, and recently developed genomic methods. This work should generate valuable new information on the taxonomy, diversity and endemism, biogeography, and conservation needs of cicadas and other invertebrates.
With its burgeoning industries, a high gross domestic product, and an already considerable and yet ever-increasing population of technically and technologically well-trained youth, India is poised to become a significant scientific and technological power in the near future. However, the country is struggling to meet the demand for ecologists and conservation biologists. This project will help by supporting two Master's-level students to study the diversity, taxonomy and biogeography of Indian cicadas, with the aim of promoting the development of indigenous biological expertise and local involvement in documenting and conserving biodiversity in India. Improvements are also needed in the local infrastructure that will complement research in frontier areas of biology. Currently, the best reference research collections on Indian fauna are outside the country, thus keeping certain kinds of research such as species discovery and evolution of biodiversity out of reach for most Indian biologists. The research collection that Prof. Kunte is building at his institution will begin to tackle this issue. This collection already has more than 3,000 specimens, including several dozen cicada specimens, which are well-curated, with geo-referenced data and a DNA library associated with each specimen. The collection is set to have space and instruments for microscopy, high-resolution close-up photography, sound recording, and electronic data archival and retrieval systems. This collection, which is freely accessible to Indian and foreign scientists, will form a major infrastructural resource especially for Indian biologists, boosting the breadth and depth of biological research in India.
Summary of Recent Activities
In the spring and summer of 2015, Dr. Kunte and his group concluded the field work for the project. They surveyed cicadas in western parts of Arunachal Pradesh, which they had not surveyed before. This was an especially productive field season, as they collected more than 40 species of cicadas, representing nearly 20% of the total known Indian cicada diversity. Nearly all the species that they have collected during the past three years have now been curated and photographed, and the data have been shared with their American collaborator, Prof. Chris Simon, thus accomplishing the major goal of this PEER project. The team has launched a website on Indian cicadas, a citizen-science project (
http://www.indiancicadas.org/
), through which they hope to compile information on Indian cicadas, make it freely available to all, and help popularize this group in India. This fulfills the second-most important goal of this PEER award. They have written a manuscript jointly with Prof. Simon's lab, which is being internally reviewed before being submitted to a journal. This manuscript is an updated systematic catalogue of Indian cicadas, which will be useful for all modern taxonomic and systematic studies of Indian cicadas. This satisfies the third goal of this collaborative grant.
On September 8, 2015, Dr. Kunte conducted a day-long workshop, "Ecological Monitoring of Tropical Insect Diversity: Field and Lab Techniques," at the Student Conference on Conservation Science—Bangalore 2015 (SCCS), at the Indian Institute of Science, Bangalore. He taught a group of 15 students field and lab techniques for studying ecological and conservation aspects of tropical insects, including cicadas. On September 10, he held a two-hour workshop on "Ecological Monitoring and Conservation of Tropical Insect Biodiversity" at the same conference. Approximately 100 students took part, discussing ways in which insect populations and diversity may be monitored in tropical areas, as well as how these studies may instruct us on ecological processes and conservation policy. This workshop especially focused on cicadas, butterflies, and dragonflies as flagship insect groups and discussed interesting aspects of their biology and conservation. Dr. Kunte and his colleagues have recently met with state forest department officials in three states and shared information and news about their ongoing work on Indian cicadas. As a result of these meetings, the team will be working with one state forest department to develop posters and other educational materials highlighting the biodiversity of cicadas and other insects in India. They also met with local World Wildlife Fund members and exchanged news about their surveys and major findings, especially in Arunachal Pradesh.
Dr. Kunte will visit the Natural History Museum, London (NHM) from November 1 to December 15, 2015. NHM has a significant collection of Indian cicadas that he will use as a reference too in his ongoing taxonomic work on Indian cicadas. He and his team believe they have discovered a few new species of cicadas as a result of their surveys, which they will describe after the PI gathers the necessary background information at the NHM. In addition to the London visit, the team will tie up remaining loose ends on the project in the coming months before its conclusion as of December 31, 2015.
Back to PEER Cycle 2 Grant Recipients