DSC
Keck Center
500 5th St NW - KWS 502
Washington, DC 20001
USA

Tel: (202) 334-2800
Fax: (202) 334-2139

Cycle 2 (2012 Deadline)
Biodiversity and conservation in the Lower Mekong: empowering female herpetologists through capacity building and regional networking
PI: Anchalee Aowphol (Kasetsart University), with co-PIs Niane Sivongxay (Wildlife Conservation Society Laos and National University of Laos) and Huy Duc Hoang (University of Science Ho Chi Minh City)
U.S. Partner: Bryan L. Stuart (North Carolina Museum of Natural Sciences)
Project Dates: August 2013 to July 2016
The Lower Mekong harbors a rich diversity of amphibian and reptile, most of which are found only in the region. Amphibians and reptiles play essential roles in intact ecosystems, serving as predators and prey. However, very little is known on the biology of most species of amphibians and reptiles in the region, and many new species of amphibians and reptiles continue to be discovered. Many of these species are considered to be threatened with extinction because of rapid deforestation and overharvesting for food, traditional medicine, and the international pet trade. Information on which species occur where, and their basic biology, is needed so that these species can be effectively conserved.
| | |
| --- | --- |
| | |
| Ms. Seateun and the team being trained by Dr. Karraker on the turtle ecology at the Sakaerat Environmental Research Station (Photo courtesy Dr. Aowphol). | Le Thi Thuy Duong testing water in a stream (Photo courtesy Dr. Aowphol). |

This project proposes to address the lack of knowledge on amphibians and reptiles in the Lower Mekong by supporting the research programs of nine female scientists who study amphibians and reptiles (herpetologists) at three universities in Thailand, Laos, and Vietnam. The project will also help by creating a research network among the participants and their institutions through field research exchanges among these countries and a study tour on amphibian and reptile biodiversity research in the United States.
Summary of Recent Activities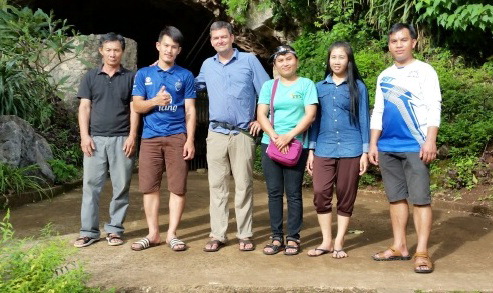 The Laos team assembles traps and pitfalls for amphibians (Photo courtesy of Dr. Aowphol).
In January, the Thailand team met with the US Science Envoy, Dr. Richmond and senior representatives from USAID as part of an effort to promote the ASEAN-US Science & Technology Fellows Program. Members of the team also conducted fieldwork on the ecology of the Asian turtle (cyclemys oldhamii) during this time, but found few turtles due to the dry season. Another field expedition was conducted in March under Dr. Aowphol to collect specimens for molecular analysis in the Chaing Mai Province of northern Thailand. Lastly, Dr. Aowphol and US partner Dr. Stuart submitted a manuscript to Zootaxa which was accepted and will be published by May, 2015.
The project teams in Cambodia and Vietnam focused on field excursions during this period. Dr. Sivongxay and two graduate students, Ms. Monekham Davanhkham and Ms. Keochay Phoumixay, conducted two fieldtrips in the month of March to research the ecology of geckos (Cyrtodaactylus) and the species diversity of amphibians and reptiles in Lao. Additionally, Cambodian team member Ms. Phimmachak became a Collaborative Research Associate at the WCS-National University of Laos for the spring and summer months. She will continue her research on biodiversity of amphibians in Laos and participate in all aspects of the project. In Vietnam, Dr. Huy Duc Hoang and Ms. Le Thi Thuy Duong conducted two field trips to the Bidoup-Nui Ba National Park where they continued their research and expanded their survey sites.
USAID Interview with Dr. Aowphol on Women Leaders

USAID Women Leaders article featuring Dr. Aowphol

Back to PEER Cycle 2 Grant Recipients