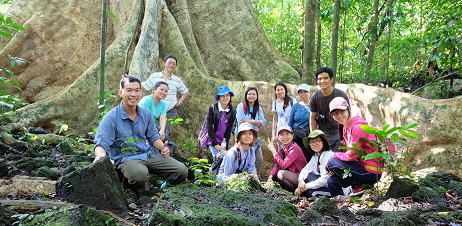 A group photo of the team at Cat Tien Park (Photo courtesy of Dr. Aowphol).
Thirteen members of this multinational PEER team, including the PI, co-PIs, and students from Thailand, Laos, and Vietnam conducted field surveys at Cat Tien and Bidoup-Nui Ba national parks in Vietnam November 16-25, 2015. In addition, faculty members and students in all three nations have been busy with research and outreach. In Thailand, PhD student Ms. Siriporn Yodthong has been working in the molecular laboratory on her preliminary study of genetic variation of some amphibians from Thai islands. In October-December 2015, PhD student Ms. Seateun and her field assistants, Mr. Attapol Rujirawan and Ms. Korkhwan Termprayoon, also collected data for her PhD research project on ecology of the Asian leaf turtle
Cyclemys oldhamii
at Sakaerat Environmental Research Station, Nakhon Ractchasima Province. The PI Dr. Anchalee Aowphol and Ms. Seateun attended the 5th International Symposium on Vertebrate Species Diversity in Asia, which was held December 16-18, 2015, at Chulalongkorn University, Thailand. Ms. Seateun gave a poster presentation at the conference on her research on "Population structure of the Asian Leaf Turtle,
Cyclemys oldhamii
, from lentic habitats in Sakaerat Reserve areas, Nakhon Ratchasima (Thailand)."
In Laos, co-PI Dr. Niane Sivongxay and two graduate students, Ms. Monekham Davanhkham and Ms. Keochay Phoumixay, conducted two field trips of the research on ecology of the gecko in genus
Cyrtodaactylus
and species diversity of amphibians and reptiles in Laos. Their first trip (October 1-7) was in Vientiane Province and the second (November 27-December 3) was in Khammouane Province. In Vietnam, co-PI Dr. Huy Duc Hoang and his team at the University of Science, Ho Chi Minh City worked during October to analyze data in their lab. In December, Ms. Le Thi Thuy Duong also prepared a draft of a manuscript on work carried out for her thesis.
Plans call for the third joint field campaign to be carried out in Laos between March 19-27, 2016. Ms. Le Thi Thuy Duong, Ms. Sengvilay Seateun, and Ms. Korkhwan Termprayoon also expect to finish their manuscripts and submit them to journals for publication. A no-cost extension has been issued on this project through August 2017 to allow the group additional time to complete their complex set of collaborative activities.
USAID Interview with Dr. Aowphol on Women Leaders

USAID Women Leaders article featuring Dr. Aowphol

Back to PEER Cycle 2 Grant Recipients