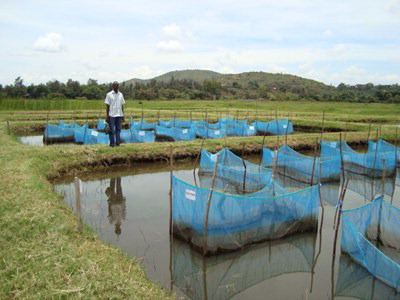 An example of a Kenyan fish farm (Photo courtesy Dr. Maina)
During the summer, Dr. Maina and her colleagues conducted a series of data gathering excursions as well as multiple workshops for sustainable aquaculture. The team evaluated the quality of water used in fish farming, determined the amount and types of pollutants in the water, and studied the pathology of fish parasites associated with the fish farms. This data gathering was conducted based on a preliminary visit on July 24, 2014 when the team met with government officials including county fisheries officers, and the Minister for Agriculture, Livestock, and Fisheries and mapped out the most efficient areas for intervention.
On July 27 and August 2, the team trained enumerators to conduct surveys to gather information on fish farming practices in Nyeri County in order to determine areas of intervention through training and research. 118 fish were sampled by four graduate students who also used the time to practice engaging farmers in the area. A follow up survey was conducted between August 10 and 13 in which both fish and water samples were collected. All samples were analyzed for pesticides, herbicides, other pollutants and parasites.
The team, led by graduate student Anne Chepkoech, conducted a survey to assess food safety issues of the aquaculture value chain. The results showed a distinct lack of regulation and understanding of fish related issues concerning habitat, health, and market standards. The team formulated research and training interventions on food safety aspects along the farmed fish value chain. Baseline data was collected using questionnaires, personal interviews and focus group discussions among 130 fish farmers, 25 fish retailers, three feed manufacturers, and three fish processors in Kisumu County between July 28 and August 2, 2014.
The project team conducted a two day training on August 24 for hatchery managers in Kisumu County. The event was facilitated by Paul Orina, a Senior Fisheries Officer at the Kenya Marine and Fisheries Research Institute who is also a collaborator on this project. A total of 10 fish hatchery managers were trained. Ten fish hatchery managers drawn from Kisumu County were trained in production and water management strategies. A second training is scheduled for the end of October for students on data management.
In the coming months, the team will continue with project work focusing on the following areas: the use of molecular tools to identify catfish strains most suitable for harvesting in Kenya, advising fish hatchery managers based on the evaluation of the levels of inbreeding in tilapia, the evaluation of factors influencing profitability of fish farming, and the evaluation of food safety issues along the farmed fish value chain.