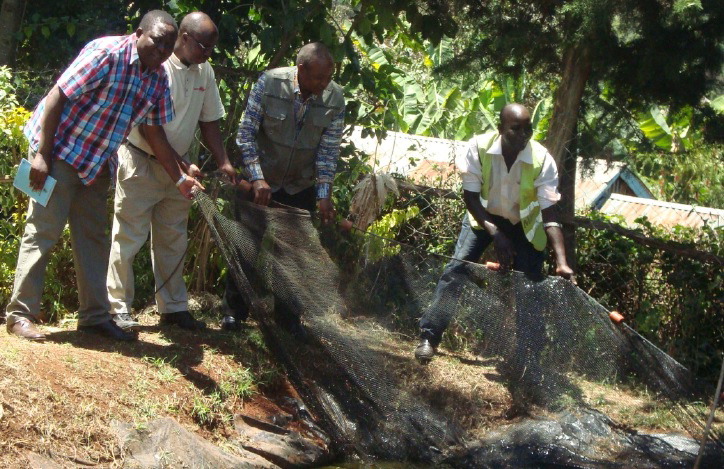 The team assists in harvesting local fish for examination (Photo courtesy Dr. Maina)

The overall objective of this project is
to use the Action Research paradigm to develop, validate and disseminate new technologies to enhance development and sustainability of a vibrant fish farming sector in in Kenya. Four main objectives are involved. The first is to build capacity for Participatory Action Research among the selected graduate students and teaching staff in the Faculty of Agriculture at the University of Nairobi and other participating institutions. Some of the students and staff will subsequently be used in carrying out research in fish farming in Kenya. The second objective is to do a baseline survey to establish the main socioeconomic, gender, and technological factors that influence fish farming. This will be done using a semi-structured questionnaire targeting the main actors in the farmed fish value chain. The third objective is to develop and validate models for integrating fish farming into crop and livestock farming. In this component of the project, models for efficient use of water for crop irrigation and rice farming and use of livestock manures as fertilizers for fish ponds will be evaluated. The fourth objective involves evaluating the environmental effects of fish farming on the water systems. This part of the research will be done in collaboration with the U.S. partner, leveraging her expertise in environmental chemistry. Water will be collected from fish ponds and adjacent water bodies and analyzed for chemical pollutants at different seasons of the year. Farmed fish will also be evaluated for their safety for human consumption by testing them for residual pesticides and other chemicals.
The project is expected to strengthen a core team of researchers and train graduate students in participatory action research. The project will also evaluate the reasons that led to failure of past fish farming projects that were mainly funded by development partners. This will be done for purposes of sustainability of this project and future projects. Appropriate exit strategies will be evaluated and documented and information will be shared with the relevant authorities. As for other development impacts, the project will continuously engage stakeholders in the fish aquaculture value chain, particularly focusing on women and youth, who have been disadvantages in the allocation of resources in the past. The formation of a multi-stakeholder platform will be facilitated so that participants can more easily share information and experiences useful for upgrading the value chain. New linkages will be also be created in the region by helping selected stakeholders to take part in regional initiatives.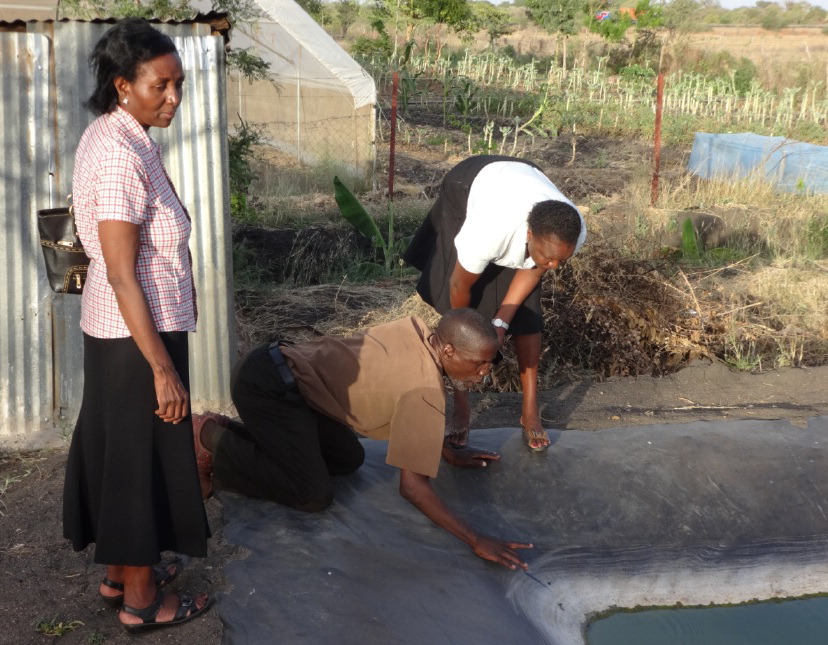 Dr. Maina and Paul Wesonga (PhD student) assessing water levels in a fish pond (Photo courtesy Dr. Maina)
The project team collected and analyzed more than 30 samples of fish from different counties in the Western part of Kenya to determine what the fish are eating. They looked for heavy metals, particularly lead and mercury. The results showed that fish samples taken from Migori and Homa-Bay had higher levels of lead and mercury than that stipulated by the World Health Organization (WHO) for tilapia fish. Recommendations were made on information to be conveyed to Kenya Women's Holdings (KWH), a local NGO supporting fish farming in Kenya, and other funding agencies. Buy-ins by KWH and other funding agencies would create sustainability when the project ends in July 2016.
The U.S. collaborator, Dr. Irene Kimaru, visited the project team in Kenya in the early summer of 2015, during which she interacted and had discussions with students working in the project. They did some field work, which gave them the opportunity to evaluate the methods the team is using in analysis of water quality.
The PI Dr. Maina also visited the United States in August 2015, with the main objective being to continue discussions relating to evaluation of water quality. They discussed, among other issues, the various challenges associated with analysis of mercury and how these challenges were addressed in her laboratory. The PI was also invited to tour and give a presentation at Diamond V, an animal nutrition company in Cedar Rapids, Iowa. Discussions were held on potential areas of collaboration.