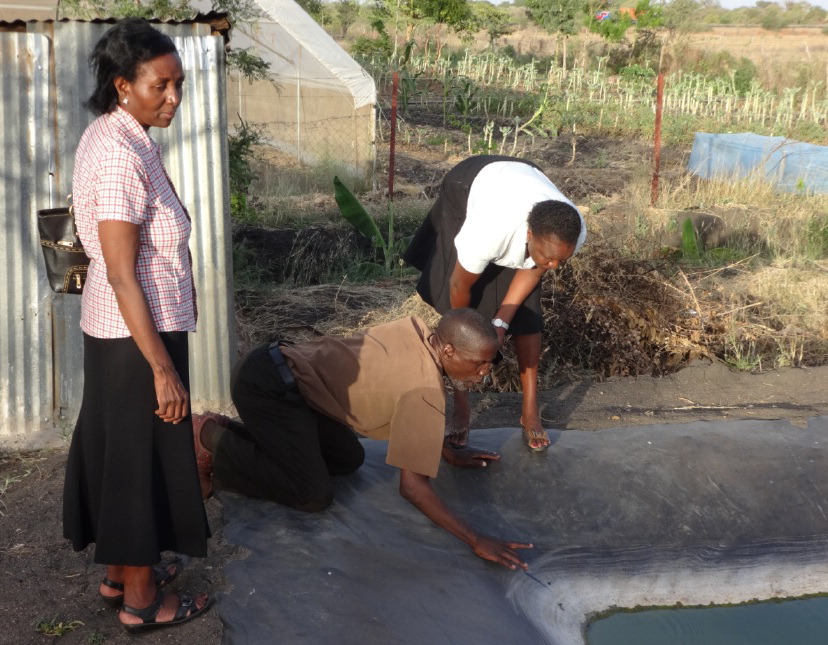 Dr. Maina and Paul Wesonga (PhD student) assessing water levels in a fish pond (Photo courtesy Dr. Maina)
In January, the project team held a two day workshop for all students whose projects are funded under the PEER project, their supervisors, and collaborators from other institutions. The workshop was held on January 18 and 19 at the College of Agriculture and Veterinary Sciences, University of Nairobi. The aim of the workshop was to evaluate and review the status of ongoing activities in the project and to give students a briefing of financial requirements and their obligations to do prompt and proper financial accounting for funds advanced them for their projects.
The team completed their sampling of fish for parasites, pathology and chemical residues, and water quality. This was done in Nyeri County between February 22 and 25 and is the third sampling to assess the seasonal variation in fish parasites and water quality. A total of 109 fish samples were purchased from ten fish farmers for this assessment. The team also measured the genetic variability of African catfish in wild and farmed populations with the aim of improving brood stock populations in fish hatcheries country-wide. During the first part of the year, farmed fish samples were sampled from Athi River, Kiambu, and Meru Counties, while wild fish were sampled from Lake Naivasha. Interviews were held with hatchery managers and morphometric measurements evaluated. Lastly, the team completed a study into value chain factors that influence the sustainability of fish projects in Kenya. The study is part of the research work being conducted by PhD student Paul Wesonga in Makueni County.
The coming months will be busy for the project. The University will be closed for most of the regular students and the project team will take this opportunity to do most of the activities scheduled for this year. They will establish a network and collaboration between this project and the Kenya Women Holdings, so that they may help farmers with funds, particularly in the area of marketing. Based on the work the team has done, they were approached by the Kenya Women Holdings in Kenya to do a study on fish marketing and identify the opportunities and constraints that exist for women. They will work with stake-holders and identify the areas where they can be funded to open up new local, regional and export markets for farmed fish. It will involve field surveys in four counties, analysis of feeds and fish samples, and meetings with stake-holders.