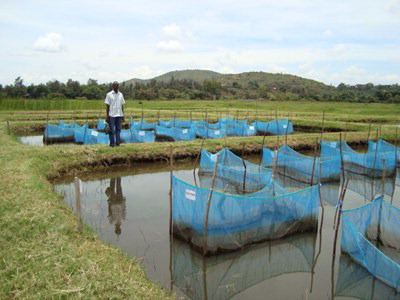 An example of a Kenyan fish farm (Photo courtesy Dr. Maina)
Dr. Maina and her colleagues held a workshop at the Kenya Agricultural Research Institute headquarters February 17-20, 2014, to train students and researchers in participatory action research (PAR) techniques. The 21 participants, representing such institutions the University of Nairobi, the Kenya Marine and Fisheries Research Institute, and the Kenya Agricultural Research Institute, had physical and biological science backgrounds and knowledge of quantitative research methods, but little expertise in qualitative research methods. After the workshop, most participants said the knowledge would help them to work with stakeholders in their research. They felt that follow-up was needed, however, and the project team is going to take up this issue in meetings with stakeholders during the summer of 2014.
Two study activities commenced in the first quarter of 2014. One is a baseline survey to establish the main factors that influence fish farming. The project team designed an experiment to evaluate various diets for catfish containing different levels of protein and using locally-sourced ingredients. The team also carried out an exercise to determine the optimal balance between quality and price of fish feed. Results will be disseminated to farmers in the project area by means of women's and youth groups.
The other study activity evaluated the factors influencing the quality of farmed fish. In Kenyan agricultural areas, fish are farmed in close proximity to land used for grains, flowers, and other plants. Most are grown using various herbicides, pesticides, and chemicals that may be released into the farmed fish habitat. This study will assess the pollutants in the natural water bodies, fish ponds, and farmed fish. Closely related is the issue of parasites that influence the quality of farmed fish. The two students working on this study have already mapped out the study area in terms of prevailing agricultural and industrial activities.
Future plans include the ongoing evaluation of study results. The farmed fish study group will collect fish and water samples for chemical analysis. The catfish feeding trials should be completed by the end of June 2014. Other baseline studies will be ongoing. Meanwhile, the project team will be collaborating with students to plan summer stakeholder meetings.