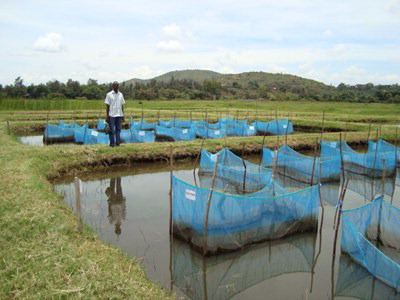 An example of a Kenyan fish farm (Photo courtesy Dr. Maina)
During the last quarter Dr. Maina and her colleagues conducted a series of data gathering excursions as well as workshops for sustainable aquaculture.
The research team visited private and government owned fish hatcheries in order to engage hatchery managers in evaluation of their breeding practices, assess the quality of fish stock sold to farmers, and evaluate their knowledge, attitudes, and skills. A semi-structured questionnaire was used to collect data.

The evaluation of the effects of physical-chemical properties of water, pollution and parasites found in farmed fish has been ongoing as well. During the reporting period, the team conducted analysis of water and fish samples. The team also analyzed factors that influence food safety and quality issues in the farmed fish value chain. A study was done in Kisumu County in Kenya where fish, water, and feed samples were collected from five sub-counties in Kisumu. Analysis was conducted to determine potential microbiological hazards associated with farmed Fish in Kisumu County and country as a whole. Graduate student training on management of data from qualitative studies has been ongoing. A total of 6 women and 9 men were trained on development of survey tools, analysis of data from qualitative studies and interpretation of data.
Going forward a study will be conducted in Makueni County on factors that influence profitability and sustainability of fish farming. A two day long stakeholder workshop in Nyeri County is being planned where farmers, fish hatchery managers, feed suppliers, extension agents, researchers within the county will have the opportunity to engage and discuss the opportunities and challenges. In this forum, research and training needs in the County will be prioritized. In May 2015, a general baseline study on factors that influence fish farming in Kisumu County will be conducted. U.S. partner Dr. Irene Kimaru from St. John Fisher College is anticipated to visit the research team in Kenya to discuss the ongoing research specifically on fish and water quality. Dr. Maina, in turn, is planning to visit her U.S. partner in July 2015 to discuss and plan the schedule and work for at least one graduate student who will travel to the U.S. to conduct research on environmental quality management in partnership with the collaborator at St John Fisher College.