Partnerships for enhanced engagement in research (PEER) SCIENCE
Cycle 2 (2012 Deadline)
Impact of transboundary biomass burning pollution transport over the Central Andes of Peru
PI: Luis Suárez (Instituto Geofisico del Peru, formerly at Universidad Continental)
U.S. Partner: Detlev Helmig (University of Colorado at Boulder)
Project Dates: June 2013 to November 2015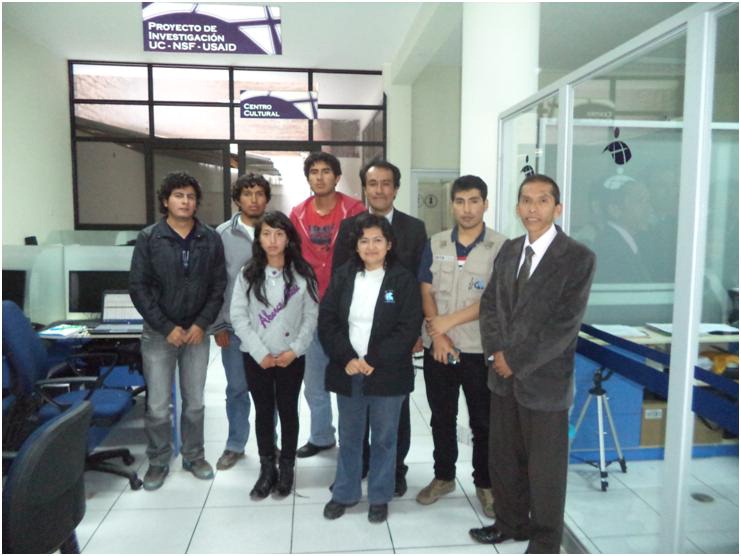 Ing. Suárez (back row, center), his students, and Universidad Continental Institute of Research Director Wilfredo Bulege (right) (Photo courtesy Ing. Suárez).
B
iomass burning is the main source of air pollutants in tropical regions, and researchers worldwide have worked to determine its possible effects on air quality and climate. The Amazon basin is among the regions with the greatest need to better understand the effects of the transport of pollutants on air quality, radiative forcing, and precipitation patterns.
This PEER Science project will focus on monitoring forest fires and evaluating the adverse effects of the resulting smoke and ash on climate change. Ing. Suárez and his research collaborators will conduct field work at two contrasting sites in the Andean and Amazon regions of Peru. These activities will not only promote intensive cooperation among representatives of the three major Peruvian universities involved but will also give them new opportunities for collaborating with U.S. counterparts.
The project will train and provide support for six Peruvian undergraduates and three Master's-level students as they work on their theses. Local laboratories will be upgraded with new equipment to facilitate a new long-term program for monitoring tropospheric ozone, aerosol optical depth, and ultraviolet spectral solar radiation at the Observatory at Huancayo. The researchers will make a detailed evaluation of tropospheric ozone and aerosol pollutants and will report to local policymakers on the these findings, particularly as they relate to the impacts of deforestation in the Amazon. A planning workshop will also be held to discuss the creation of a new Institute of Antarctic and Andean Research (INSTAAR) Peru, which will serve to promote the sustainability of research and policy studies on these topics even after the PEER Science project is completed.
Summary of Recent Activities
PI Luis Suárez welcomed his U.S. partner Dr. Detlev Helmig to Peru in April 2014 to oversee the installation of the donated tropospheric ozone instruments at the Observatory of Huancayo. Another highlight of the visit was a conference on ozone held at Universidad Continental on April 14 at which Dr. Helmig was the keynote speaker. He and Ing. Suárez subsequently traveled to Puerto Maldonado in the Peruvian Amazon to examine two observation tower sites, with the aim of selecting the one with the best logistical support for a tropospheric ozone monitoring station.
| | |
| --- | --- |
| PI Luis Suárez and U.S. partner Detlev Helmid making final preparations to install of the ozone monitors at the Huancayo Observatory (Photo courtesy Ing. Suárez). | A visit to one of the 60-meter tower sites at Rio Los Amigos Biological Research Station. (photo courtesy Ing. Suárez). |
In addition to hosting the visit and handling the many technical details involved in installing and calibrating instruments, Ing. Suárez has also been leading monthly scientific writing workshops to help his students on the project develop not only their grammatical skills but also their conceptual abilities to develop their theses or research articles. While his research project continued, the PI took the "Online Integrated Modelling of Meteorological and Chemical Transport Processes" course at the Young Scientist Summer School at the University of Aveiro in Portugal July 6-11. He also participated in the Baseline Surface Radiation Network Scientific Review and Workshop in Bologna, Italy in September.

In view of Ing. Suárez's acceptance of a position at the IGP Observatory of Huancayo early in 2014, the PEER grant was transferred to that institution beginning in December 2014. As of February 2015, the PI reports that his new tropospheric ozone monitoring station installed at the Observatory under the PEER grant is nearing its first anniversary. In the coming months he and his team will complete installation of the aerosol sensors, including an aerosol profiler for evaluating up to eight sizes of atmospheric particles and an aethelometer for monitoring the content of black carbon related to biomass burning. Formal procedures have recently been completed to add the Observatory of Huancayo as a site for NASA's AERONET program for stuyding the optical and radiative properties of atmospheric aerosols. Thanks to science and innovation funding provided by the Peruvian government, the Observatory expects some additional equipment to be installed soon that will further leverage the items purchased with PEER support. The expected instruments include a disdrometer for complete and reliable measurement of all types of precipitation (solid and liquid particles), a KH20 Krypton Hygrometer for atmospheric heat flux measurements, and Scanning Cloud Radar for cloud and storm studies.

Back to PEER Cycle 2 Grant Recipients