DSC
The National Academies
500 5th St NW - KWS 502
Washington, DC 20001
USA

Tel: (202) 334-2800
Fax: (202) 334-2139

Partnerships for enhanced engagement in research (PEER) SCIENCE
Cycle 2 (2012 Deadline)
Development of edible and medicinal mushrooms as functional foods in Ghana
PI: Mary Baaru Obodai (Council for Scientific and Industrial Research, Food Research Institute)
U.S. Partner: Steven J. Schwartz (The Ohio State University)
Project Dates: August 2013 to March 2016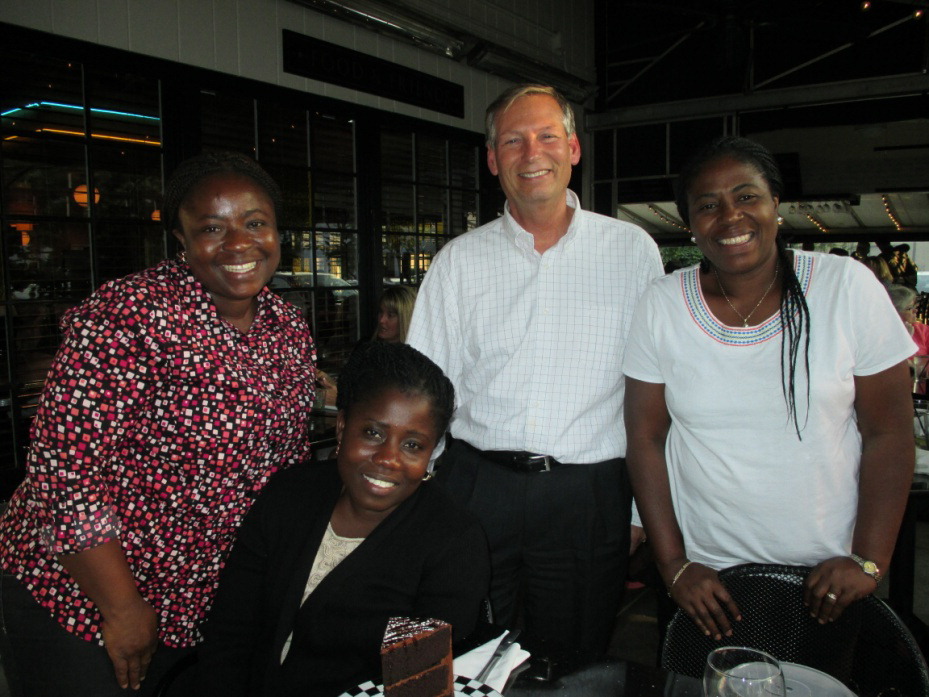 Team researchers with US partner Dr. Schwartz (Photo courtesy Dr. Obodai).
Across the world, including Ghana, edible wild mushrooms are commonly collected when in season. Mushrooms are low in fat and sugars, a good source of protein, vitamins and minerals and most importantly, are the only vegetable that contains all nine essential amino acids. Edible mushrooms have attracted much interest as functional foods due to their antimutagenic, anti-tumor and anti-viral properties. Food product development must address these changing consumer demands; the development of a convenient mushroom-based functional food is one example. Thus, the goals of this project are to (1) develop methods to cultivate different mushrooms in Ghana and assess nutritional quality, (2) develop a mushroom-based infant functional food and (3) assess the consumer acceptability of the new mushroom product. Four species of mushrooms?two oyster mushrooms, monkey seat, and termite mushrooms?will be cultivated as part of the project, using agricultural residues and tissue culture methods to transform organic waste into food. Product development will initially focus on infant food, guided by the needs of consumers and considering both technical feasibility and profitability.
The U.S. partner will provide technical training to Dr. Obodai and a member of her group, and unemployed women and rural groups will be targeted as the workforce for production of the food products to be developed. The anticipated outcomes of the project include four mushroom species available for use and further product development, a new market-tested mushroom-based product ready for commercialization, and a trained workforce to grow and produce the initial mushroom product. Ultimately, the project researchers hope that expanding children's diets to include mushroom products will reduce the burden of malnutrition and improve food security in Ghana and throughout Africa.
Summary of Recent Activities
During the fall quarter of 2014, Ms. Matilda Dzomeku attended lectures at the Agilent Technologies Emerging Omics Research Seminar, Advances in Metabolomics and Lipidomics on 7th October 2014. Additionally, Dr. Mary Obodai (PI) presented a poster on "Mushroom Germplasm Diversity in Two Forests in Ghana" at the 8th International conference on Mushroom Biology and Mushroom products (ICMBMP8) held in New Delhi, India in November. At the meeting of the World Society for Mushroom Biology and Mushroom Products (WSMBMP) which was held during the conference she was elected as a Council Member to represent Africa at the Society.
In addition to conferences, the team analyzed 19 indigenous mushrooms in the US which indicated the presence of vitamin D2 and beta-glucans in some of the mushrooms. Proximate composition and mineral content of these mushrooms were carried out as well. The team also harvested and milled two cultivated mushrooms
In the beginning of 2015 the team will conduct sensory evaluations to select the six best mushroom based weanimixs from the 24 mushroom based formulated samples for a consumer acceptability test. This process will then be submitted for ethical clearance to the Institutional Review Board of the Council for Scientific and Industrial Research (CSIR), Ghana before a consumer acceptability test is conducted at a community child health center in Madina, Accra. In this test, fifty caregivers with two to five year old children will be the best mushroom based weanimix. Additionally, the team will collect more samples of edible and medicinal fungi from two forest reserves each within the Brong Ahafo and Western Regions of Ghana. Tissue cultures of the collected samples will be made and stored at the National Mycelium bank, CSIR Food Research Institute Accra, Ghana and samples from the wild as well as those cultivated will be dried, milled, and further analyzed at the Ohio State University.