DSC
The National Academies
500 5th St NW - KWS 502
Washington, DC 20001
USA

Tel: (202) 334-2800
Fax: (202) 334-2139

Partnerships for enhanced engagement in research (PEER) SCIENCE
Cycle 2 (2012 Deadline)
Development of edible and medicinal mushrooms as functional foods in Ghana
PI: Mary Baaru Obodai (Council for Scientific and Industrial Research, Food Research Institute)
U.S. Partner: Steven J. Schwartz (The Ohio State University)
Project Dates: August 2013 to March 2016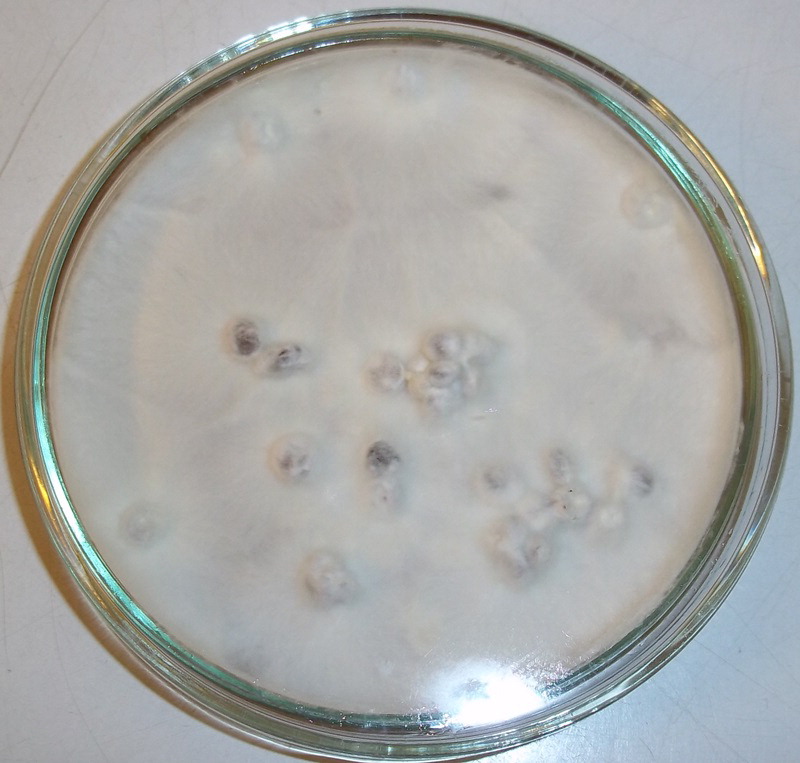 Ganoderma lucidum grains are cultured on malt extract agar (Photo courtesy Dr. Obodai).
Across the world, including Ghana, edible wild mushrooms are commonly collected when in season. Mushrooms are low in fat and sugars, a good source of protein, vitamins and minerals and most importantly, are the only vegetable that contains all nine essential amino acids. Edible mushrooms have attracted much interest as functional foods due to their antimutagenic, anti-tumor and anti-viral properties. Food product development must address these changing consumer demands; the development of a convenient mushroom-based functional food is one example. Thus, the goals of this project are to (1) develop methods to cultivate different mushrooms in Ghana and assess nutritional quality, (2) develop a mushroom-based infant functional food and (3) assess the consumer acceptability of the new mushroom product. Four species of mushrooms?two oyster mushrooms, monkey seat, and termite mushrooms?will be cultivated as part of the project, using agricultural residues and tissue culture methods to transform organic waste into food. Product development will initially focus on infant food, guided by the needs of consumers and considering both technical feasibility and profitability.
The U.S. partner will provide technical training to Dr. Obodai and a member of her group, and unemployed women and rural groups will be targeted as the workforce for production of the food products to be developed. The anticipated outcomes of the project include four mushroom species available for use and further product development, a new market-tested mushroom-based product ready for commercialization, and a trained workforce to grow and produce the initial mushroom product. Ultimately, the project researchers hope that expanding children's diets to include mushroom products will reduce the burden of malnutrition and improve food security in Ghana and throughout Africa.
Summary of Recent Activities
Project team members Matilda Dzomeku and Richard Takli embarked on a trip to the Atiwa Forest Region in eastern Ghana March 19-22, 2014, to collect mushroom samples for nutrient analysis. Back at the lab, progress continued on the cultivation of four varieties of mushrooms on agricultural residues using the plastic-bag method.
The harvested lab-grown mushrooms, as well as the collected Atiwa Forest Region mushrooms, will be dried and analyzed for nutrient and phytochemical content at Ohio State University between July and October 2014. In addition, PI Mary Obodai and her team will begin cultivating Termitomyces shimperi using tissue culture methods. Besides this labwork, the team will make a field trip to the Brong Ahafo Region of Ghana in May-June 2014 to collect mushroom germplasm from Ayum Forest. The researchers are also preparing a manuscript titled "Mushrooms as functional foods in Ghana," which will be submitted to a journal this quarter for possible publication. In July, Dr. Obodai and two students hope to visit The Ohio State University for training in phytochemical and functional food research and methodologies for product development and consumer studies.