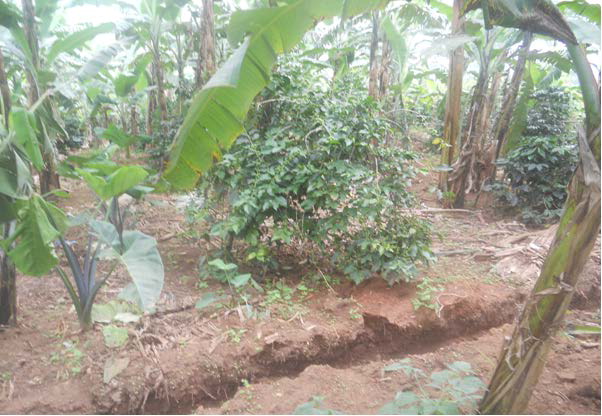 An example of coffee plants and banana trees being grown together on the same land; an irrigation trench is in the foreground (Photo courtesy Dr. Kazegi).
Coffee and bananas are key crops in eradicating extreme poverty and hunger as well as ensuring environmental sustainability in Uganda. However, production of both crops is far below the attainable yields, mainly due to abiotic (soil, water, temperature) and biotic (pests, diseases, weeds) stresses. Modern research has identified integrating shade trees in coffee-banana systems as the entry point for re-establishing productivity of both crops. However, these systems have not yet been fully quantified and there are no recommendations on how (or if) to intercrop with regard to optimal planting arrangements; shade management regimes; and best soil, water, and crop management options. This study will explore the best coffee-banana agroforestry combinations to achieve the best trade-offs in food, income, risks, and environmental sustainability. Specifically, it will (1) characterize existing coffee-banana agroforestry systems; (2) identify biotic and abiotic constraints including farmers' coping strategies; (3) generate an improved Integrated Crop Management package; (4) develop advocacy and lobby tools that can strengthen the value chain; and (5) develop capacity for research and promote synergies among actors along the value chain. A questionnaire will be administered to 500 randomly selected households in the five major coffee growing regions of Uganda to gather data on various socioeconomic and agricultural topics. Another questionnaire will be administered to various value chain actors to elicit information on perceptions on improvements in the input/output markets and potential for premium prices for shade-grown coffee. Field diagnostic studies will also be conducted, and extension and training materials on best practices will be developed for farmers, extension, students, researchers and other stakeholders.
The ultimate development impact of this project is to improve agriculture and sustainable environmental management in Uganda. Managing the abiotic, biotic, and socioeconomics constraints will result in improved production and profitability of both bananas and coffee, which should lead to improved income at the household and national levels through increased sales of the crops. Ecologically, the project will promote environmental sustainability through conservation of biodiversity and mitigation of microclimatic extremes, thus aiding in adaptation to climatic change. In the long run, this information could be scaled up to other farmers in Lake Victoria region with similar farming systems. In addition, the project will contribute to building and improving research capacity for the Coffee Research Center through training of two Master's-level students and provision of short-term courses to students, research technicians, and other COREC staff.
Summary of Recent Activities
In the first quarter of the project, two MSc students from Uganda Martyrs University were added to the research team. The students have developed concept notes with the intention of turning them into full thesis research proposals. A questionnaire capturing socioeconomic and biological data was developed and pre-tested in the Lwengo district. Upon receiving feedback, the team distributed a revised questionnaire to 100 households in 10 districts in the southwestern region of Uganda.
In the next project phase, the questionnaire will be administered to 400 more households in four more regions, with data to be entered for preliminary analysis. The project staff, including the two MSc students, is expected to undergo training in data management, statistical analysis, and modeling. The PI expects to meet with U.S. partner Ivette Perfecto in Ann Arbor, Michigan.
Back to PEER Cycle 2 Grant Recipients