DSC
The National Academies
500 5th St NW - KWS 502
Washington, DC 20001
USA

Tel: (202) 334-2800
Fax: (202) 334-2139

Partnerships for enhanced engagement in research (PEER) SCIENCE
Cycle 2 (2012 Deadline)
Temperature profile of the ocean seabed from the city of Puerto Plata, Dominican Republic, and preliminary design for a commercial exploitation of cold water to supply for a central air conditioning system
PI: Eduardo David Sagredo Robles (Universidad Tecnologica Santiago)
U.S. Partner: Naphtali David Rishe (Florida International University)
Project Dates: August 2013 to July 2016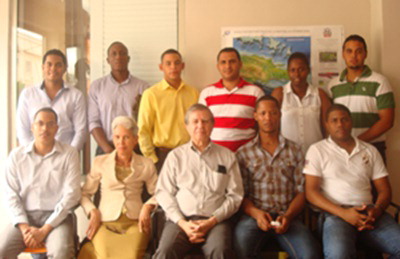 The project team meets December 20, 2013 at the new computer lab at Universidad Tecnologica Santiago, where the research and computational work will be done (Photo courtesy Dr. Sagredo)
Electricity shortages represent one of the major problems facing the Dominican Republic. For more than 50 years, the country has experienced daily electric power blackouts lasting some four to five hours. The cost of electricity in the Dominican Republic is more than 2.5 times the average cost worldwide, which causes financial hardships not only for the general public but also for operators of the large hotels that contribute substantially to the country's economy. Air conditioning uses approximately 60% of the electricity consumed in tourist areas of the Dominican. Given the high cost of electricity and frequent power outages, implementation of a reliable, renewable, and nonpolluting energy source that can supply air conditioning to these hotels would represent the difference between economic survival versus bankruptcy, with its associated severe impacts on local employment.
This PEER Science project is designed to develop a model for how such an energy system could be designed and implemented. Dr. Sagredo and his team will place remote sensors at regular intervals along the sea bed to gather data to create an Ocean Temperature Profile from the city of Puerto Plata extending eight miles north until a depth of 1,000 meters is reached. The data collected will provide input to the design of a pipe along the sea floor that would extract the cold bearing water to the surface at Puerto Plata to provide a cold-water supply for air conditioning. Besides designing the pipe, the researchers will also study potential environmental impacts of their system, as well as optimization of the energy that would be needed to pump the seawater. Once their designs and models are complete, they will share their findings with local stakeholders, including hotel operators and entrepreneurs who might be interested in supporting implementation of the system after the PEER Science project is complete.
Summary of Recent Activities
Prof. Sagredo spent January 21-24, 2014, visiting South Florida for a series of meeting related to his PEER project. He consulted with his U.S. partner Naphtali Rishe at Florida International University regarding mapping strategies and discussed other operational parameters regarding data collection. He also met with several colleagues at Florida Atlantic University, including faculty from the Southeast National Marine Renewable Energy Center and SeaTech, the Institute for Ocean and Systems Engineering. After returning home, he and his colleagues and students continued working on designs for various elements of their system, including the winch, the nautical lead system, and the turbine. By the end of March, the 1000-meter winch had been built and was ready for installation on the project's seagoing boat. The buoy and newly purchased temperature-pressure sensor are working and ready for field operations, and new 1000-meter-depth sonar was also installed on the boat. This instrument will permit an exact detail mapping of the ocean bed along the test axis. The first experimental cruise is planned for April 21, 2014, beginning with several trials no more than 100 meters from shore before eventually reaching about 8 kilometers from the Puerto Plata shore. A presentation on the project is also scheduled to be made to stakeholders at the Puerto Plata Chamber of Commerce in the last week of April.
The quality of the electricity supply to the sophisticated electronic equipment being used presented a significant challenge for this project. Blackouts of four hours or more are frequent in the area and high voltage spikes are very common. In order to overcome this problem, Prof. Sagredo and his team chose to install a solar photovoltaic system as part of their PEER project. Now they are practically working off grid from the electric public utility system. The economic advantage of using PV solar energy in their Design Station and Research Lab another plus, as their electric utility bill went from US $441 in December 2013 to US $74 in February 2014. Their larger aim is to create a sort of independent (off grid) pilot plant that serves not only as a power supply but also as a training station for student research assistants in the operation of a PV system. According to Prof. Sagredo, the value of the hands-on training they have received by directly working on these renewable energy research activities cannot be overemphasized.
Project website
Back to PEER Cycle 2 Grant Recipients