DSC
The National Academies
500 5th St NW - KWS 502
Washington, DC 20001
USA

Tel: (202) 334-2800
Fax: (202) 334-2139

Partnerships for enhanced engagement in research (PEER) SCIENCE
Cycle 2 (2012 Deadline)
Volcanic hazard assessment of the Ararat Valley, Armenia
PI: Khachatur Meliksetian (Institute of Geological Sciences, Armenian National Academy of Sciences)
U.S. Partner: Charles Connor (University of South Florida)
Project Dates: August 2013 to April 2016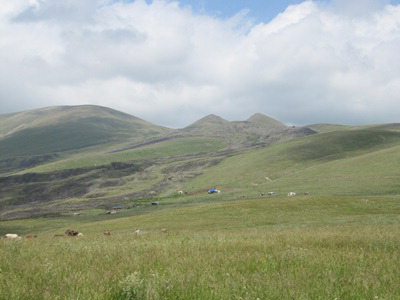 A look at the Vayk region adjacent to the Ararat Valley. The Smbatasar volcano (rear) dates back to the Holocene Age. A lava flow is present in the left front (Photo courtesy Dr. Meliksetian).
Armenia is situated in a region of copious Quaternary-Holocene-Historical volcanism, and its capital, Yerevan, the capital, is located in the Ararat Valley, adjacent to the foothills of the Gegham upland and the Aragats and Ararat volcanoes. Geologic evidence indicates the possibility of future volcanic eruptions from one or more of these volcanic systems. When such eruptions occur, Yerevan and surrounding areas will be at significant risk from a variety of volcanic phenomena and accompanying seismic activity, yet to date there have been no analyses of this risk. This project aims to undertake systematic geological and probabilistic studies developed with U.S. colleagues. The scientific goal is to link geologic observations of the products of volcanic eruptions (volcanic ash deposits, lava flows, and pyroclastic density currents) with numerical simulations of volcanic eruptions. The previous work of the Armenian researchers involved has shown that magmas in this region erupt at higher temperature and with fewer volatiles than most magmas on Earth, due to the plate tectonic setting. This means that the rheology of the magma is significantly different and these differences must be accounted for in hazard models. Their research will therefore not only result in a robust hazard assessment for the Ararat Valley, including Yerevan, but will also be a significant test of hazard models used around the world.
The ultimate aim of this project is to improve all natural hazard assessment in Armenia, and make Armenia a regional locus for this type of natural hazard assessment, which is critical to virtually every nation in the region. One of the major tasks for this project is to involve the Armenian research team in a currently active cyberinfrastructure project (VHub.org, funded by NSF award number 0940839) related to volcanic hazard code development. The idea is to incorporate Armenian volcanism into the VHub project, share volcanic hazard modelling codes with the Armenian team, and train personnel, including young scientists, to use and apply the codes for assessing volcanic hazards in Armenia. VHub.org resources will be utilized and additional VHub tools developed to simulate specific phenomena, such as volcanic ash fallout and lava flows, used to estimate the probability that such phenomena would affect the Ararat Valley. The team will also develop recommendations for policymakers concerning volcanic hazards in the region. These recommendations may include topics of public education and outreach based on project results, recommendations about volcano monitoring, including the need for international collaborative efforts to monitor the Ararat volcano system, development of guidelines for development of emergency response to volcano crises, and dissemination of results in the peer-reviewed scientific literature.
Summary of Recent Activities
From late March to mid-April 2014, the project team studied and sampled lava flows within the Ararat Valley, Yerevan, and adjacent volcanic systems. Lava flow thicknesses were measured, detailed maps were made to calculate volume estimates, and individual shape files were created for each individual flow. These and other data were entered into a GIS database. To prepare for this work, junior members of this project team had completed three months of GIS and Linux operating system training. During April, the team collected seven samples for Ar-Ar dating of lava flows and 30 samples for geochemistry testing. These samples will be used to calculate the recurrence rates of volcanism and to build a conceptual model of volcanism around the Ararat Valley.
| | |
| --- | --- |
| An outcrop of argavand lava in the Hrazdan River Gorge near Yerevan (Photo courtesy Dr. Meliksetian) | An outcrop of Yerevan-leninakan ignimbrite covered by young Tirinkatar lava in vicinity of the village of Nor Edessia (Photo courtesy Dr. Meliksetian) |
To share initial results and reach out to new potential collaborators, PI Dr. Khachatur Meliksetian participated in the European Geophysical Union general assembly meeting in Vienna April 27-May 2, co-convening the session entitled "Interactions of magmatism and tectonics in collision zone settings." While at the EGU meeting, he had the opportunity to meet with U.S. partner Dr. Charles Connor and discuss current and future activities. Researchers Gevorg Navasardyan and Davit Manucharyan will visit Dr. Connor's lab at the University of South Florida June 1-16. The project team is also organizing a volcanic hazards workshop at the Armenian National Academy of Sciences June 21-24, 2014. The workshop is aimed at students, but colleagues from other countries have also been invited. It will consist of two days of presentations and discussions followed by two days of fieldwork. The PI and his U.S. partner are planning a larger international workshop in Yerevan in April 2015, with the aim of inviting 15 to 20 scientists from various countries representing different areas of volcanology and volcanic hazards related research. Additional support is being sought to leverage the funds available through the PEER project.
Back to PEER Cycle 2 Grant Recipients