DSC
Keck Center
500 5th St NW - KWS 502
Washington, DC 20001
USA

Tel: (202) 334-2800
Fax: (202) 334-2139

Partnerships for enhanced engagement in research (PEER) SCIENCE
Cycle 2 (2012 Deadline)
Connecting science and management through biodiversity research and collaboration
PI: Made Pharmawati (Universitas Udayana)
U.S. Partners: Forest Rohwer (San Diego State University) and Paul H. Barber (University of California, Los Angeles)
Project Dates: August 2013 to July 2016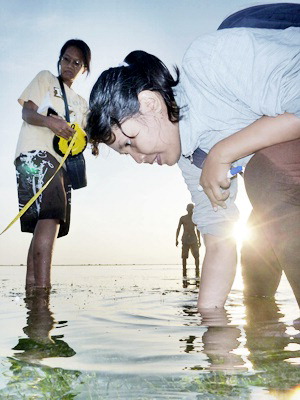 Eka Fibayani Imaniar, a fourth-year undergraduate student, harvests seagrasses at Sindhu Beach, Bali, under the supervision of I Made Pharmawati, left (Photo courtesy Dr. Pharmawati).
Indonesia has almost 80,000 km of coastline surrounded by human development; almost 50 percent of Indonesia's 240 million inhabitants rely heavily on coastal areas for their livelihood and as source of protein. More than 60 percent of the population's protein intake is derived from fish and other ocean-related products. Despite an increasing conservation focus throughout Indonesia, coastal environmental degradation is still growing exponentially and fisheries are still not properly managed. Addressing degradation of key coastal habitats and achieving proper fisheries management are essential in reducing pressures on marine ecosystems and threats to coral reef fish. This project has two primary focus areas. The first is coastal sea grass, a coastal ecosystem that receives little attention but is a critical nursery ground for economically important coastal fisheries. The second is humphead wrasse fisheries, the habitats of an extremely valuable reef fish that is being rapidly depleted throughout Indonesia and the Coral Triangle.
Using genetic methods, the researchers will describe sea grass genetic diversity throughout Indonesia and identify those regions of the country most susceptible to environmental threats, including climate change. The result will be useful in helping marine managers determine which areas need to be prioritized for conservation efforts. The scientists will also investigate humphead wrasse fisheries in western Indonesia, supplementing fisheries data with information on habitat community connectivity and parentage analysis that could aid the Indonesian government in effectively managing these fisheries. This information is particularly important in assuring that the fisheries activities sustainable while at the same time assuring a reliable basis for livelihoods in this area. While many universities and research institutions have started using genetics techniques, Indonesian research capacity in genetics is still relatively small. A key goal of this project is to promote genetic methods, which will provide significant training opportunities to the broader Indonesian scientific community by involving more than 10 universities across the country. By increasing their technical capabilities, Indonesian scientists will be able to increase their involvement in the global scientific community. Thus, this project should help to advance the Indonesian science community while producing scientifically reliable data that will promote the better management of marine environments by conservationists.
Summary of Recent Activities
During the period of January to March 2015, Dr. Made Pharmawati and her group focused on data analysis of Enhalus acoroides diversity from Western and Eastern Indonesia. A master's student from Bogor Agricultural University is writing up his thesis and preparing a manuscript for publication. His study is on the phylogeography of E. acoroides from Java and Sumatra, with his study sites including Aceh, Bangka, Batam, Riau, Seribu Island, Banten, and Karimun Jawa. He found significant genetic differentiation among the 202 samples, which after analysis of their genetic relationships
were classified into three groupings. Meanwhile, two fourth-year students from Udayana University have finished their study on E. acoroides diversity from Sulawesi and Ambon. One of them completed her final year project defense on April 20, 2015, and the other conducted her final project seminar on April 30. A fourth-year student from Gajah Mada University has also finished his lab work on barcoding of seagrass species from Lombok Island and is now writing his final report.

Dr. Pharmawati and her colleagues are organizing a two-week workshop on seagrass ecology and genetic analysis that will be held in July-August 2015, including both lecture and laboratory components. The invited participants include a student and lecturer from each of 10 Indonesian universities. Following this workshop, they are planning another workshop on advanced phylogenetic analysis, which will be a collaborative activity with Bogor Agricultural University and Bio DipNET.


| | |
| --- | --- |
| | |
| Dr. Made Pharmawati explains how to prepare reaction mixture for PCR reaction (Photo courtesy of Dr. Pharmawati) | Yunita and Maliza, undergraduate students of Udayana University, doing agarose gel electrophoresis of Enhalus acoroides PCR products of microsatellite DNA (Photo courtesy of Dr. Pharmawati). |
Back to PEER Cycle 2 Grant Recipients