DSC
Keck Center
500 5th St NW - KWS 502
Washington, DC 20001
USA

Tel: (202) 334-2800
Fax: (202) 334-2139

Partnerships for enhanced engagement in research (PEER) SCIENCE
Cycle 2 (2012 Deadline)
Development and field testing of high performance aluminium oxide-based technologies for fluoride removal in the Ethiopian Rift Valley
PI: Feleke Beshah (Addis Ababa University)
U.S. Partner: David Sabatini (University of Oklahoma)
Project Dates: August 2013 to January 2016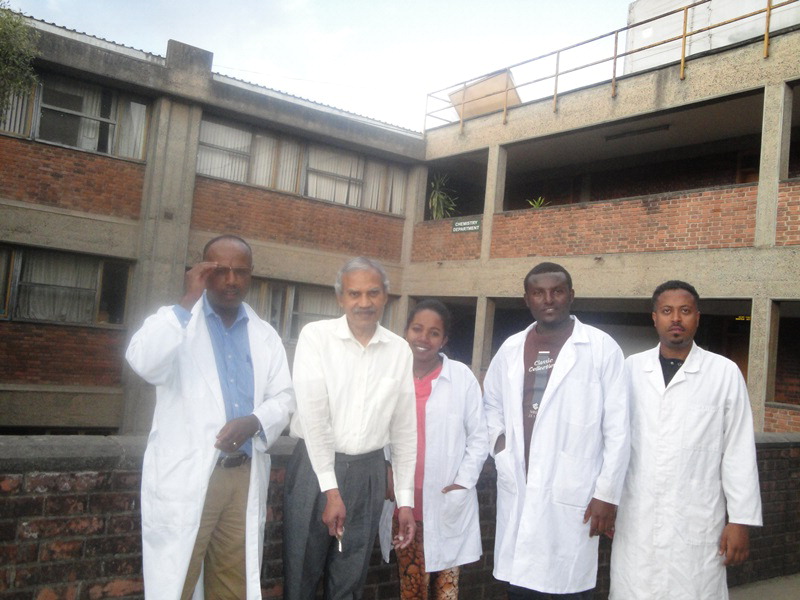 The Ethiopian research team at Addis Ababa University (Photo courtesy Dr. Beshah).
The available technologies used for removing fluoride from water such as reverse osmosis, activated alumina, and synthetic resins are difficult to implement in Ethiopia due to their high cost, the need for skilled manpower for system operation and maintenance, and the challenges of ensuring a continuous supply chain for the required chemicals and materials. Relatively simple and low-cost technologies such as the Nalgonda technique and bone char have been tried in Ethiopia, but they have proven inefficient under the prevailing water quality conditions. The objective of this study is to develop, characterize, and evaluate the effectiveness and sustainability of innovative high-capacity aluminum oxide-based materials, composite oxides, and impregnated high surface area adsorbent based technologies for fluoride removal in rural villages of Ethiopia. The project will also look at socioeconomic and entrepreneurial aspects to find ways to make the technologies sustainable in the Ethiopian context. Besides laboratory-based synthesis and characterization of adsorbents, the project will include preliminary field testing of the new materials, as well as assessment of socioeconomic and social entrepreneurship factors and presentation of findings in workshops and training sessions.
According to a recent estimate of the Ethiopian Ministry of Water and Energy, more than 11 million people in Ethiopia are at risk of high fluoride in drinking water in the Rift Valley region. More than 80% of children in the country suffer various degrees of dental fluorosis, and skeletal fluorosis is increasing among adults and the elderly. Thus, there is a pressing need for low-cost, high-capacity, and sustainable water treatment technologies for fluoride removal. For these technologies to be sustainable, they must be efficient, locally available, economically and socially viable, and simple to operate and maintain. While motivated by challenges in rural villages of Ethiopia, the results of this project will also benefit those living in rural communities of other East African countries impacted by fluoride. This project also has an important goal of capacity and human resource development for fluorosis mitigation in Ethiopia. The participation of the Ministry of Water Engineering and relevant NGOs will help to consolidate ties between research and implementation. The results will be disseminated to the scientific community through publications in reviewed journals, and a national workshop is planned to communicate the results to various stakeholders involved.
Summary of Recent Activities
During this period, Dr. Beshah and the research team focused on fluoride removal by hydrotalcite/Layered Double Hydroxides (LDH) and aluminium -ammended oxides and composites. The team tested the theory that LDHs have high affinity towards carbonates in addition to other anions and discovered that the presence of carbonate has significant effect on fluoride adsorption of non-calcined LDHs. The team is currently conducting further analysis with a variety of techniques to verify this result.
The team also compared the fluoride adsorption capacity and characteristics of materials amended with metals that have high affinity for fluoride. Both aluminum and zirconium have a high affinity for fluoride and were included in ongoing absorption studies. Further analysis of amended materials have shown promising results, particularly Aluminium-Amended Bamboo Activated Charcoal (AABAC) which was demonstrated to be highly competitive when compared to commercially available adsorbents that remove fluoride from drinking water. One master's student, Gizachew Wondimu, used this work in his thesis entitled "Aluminum Amended Bamboo Activated Coal floor Fluoride Removal from Drinking Water." The team also investigated other Aluminium-amended low cost materials including cement, mortar, concrete, and red ash and discovered that not only are they effective at removing fluoride, but also have the potential to remove other contaminants such as arsenic, uranium, and selenium.
The team will continue their studies in the coming months and compare the defluroidation performance of the amended materials with those that are commercially available. The most promising materials will go through preliminary field testing before the team holds a national workshop and technical training for professionals from the health and water sectors. The results will be published in at least five articles in international peer-reviewed journals.
Back to PEER Cycle 2 Grant Recipients