Partnerships for enhanced engagement in research (PEER) SCIENCE
Cycle 2 (2012 Deadline)
Unlocking agricultural potential in drylands: enhancing efficient utilization of soil moisture for improved smallholder farm productivity in ASALs of Kenya
PI: Mary Baaru (Kenyatta University)
U.S. Partner: Ethan Allen (Pacific Resources for Education and Learning)
Project Dates: August 2013 to July 2016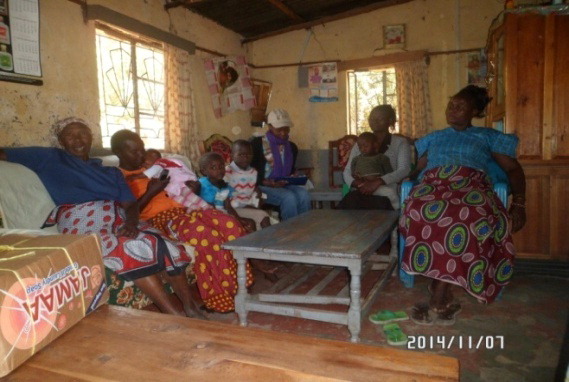 Team Members engage local stakeholders concerning current soil conditions. (Photo: Dr. Baaru)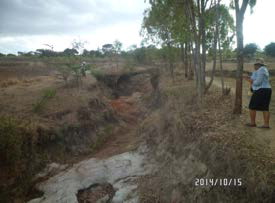 Team members assess soil erosion in the local area. (Photo: Dr. Baaru)
The amount of land devoted to agricultural uses has been reduced as a result of rising population and associated growing demands for land resources. This has resulted in increased exploitation of drylands. In view of this situation, utilization of the resource base in drylands areas can no longer proceed on a "business as usual" basis. This PEER Science project aims to address issues of water scarcity, deforestation, insufficient extension services, and lack of appropriate cropping systems in Kenya. Beyond its research components, the project also includes capacity-building activities designed for farmers in drylands areas. Groups of farmers will be trained on how to implement soil and water conservation measures and will be given kits to assist them in putting these measures in place, first on the farms of group members and later on non-member farms.
Trained farmers will fill in the gap left by the shrinking extension service and ensure that information passed from farmer to farmer is reliable. The research to be carried out under the project will also provide in-depth understanding on moisture distribution and soil properties, as well as optimal cropping systems to utilize moisture for maximum land productivity. The project should result in improved landscapes on conserved farms, leading to reduced land and water degradation. Food security will be enhanced due to improved land productivity. Farmers will also be economically empowered and obtain improved living standards from increased sales of crops and livestock products.
Summary of Recent Activities
This period marks the short rain season in Kenya which has continued to receive rain below average rainfall. To ensure maximum water utilization, dry planting was completed in early September. However, the rain began later than expected and this necessitated replanting the fields beginning of October. Crop development data was collected (germination, height and crop cover) and two soil samplings were completed in November and December when the crops showed stress. Laboratory analysis for soil and last season crop data is underway. Data collected in September was analyzed to assess erosion risks in the project area in terms of the following: causes and factors contributing to soil erosion, observable erosion indicators (rills, gullies, stoniness, sedimentation,), stabilization materials used in soil and water conservation, slope gradients and land-use patterns (dominant slopes and niches of crops and trees), general land-husbandry practices and institutions promoting soil and water and water conservation, and areas of operations and conservation activities. Unmeasurable data was collected through questionnaires and focus group discussions.
In the coming months, the team hopes to finalize the data mentioned previously and author a paper with the results. The results will also be shown to farmers at a farmers' field day in which the team will also showcase new technologies to enhance productivity and sustainability. The PI plans visit the US partner to learn more about water harvesting techniques as well as effective outreach programs to better engage the regions stakeholders.
Back to PEER Cycle 2 Grant Recipients