Partnerships for enhanced engagement in research (PEER) SCIENCE
Cycle 2 (2012 Deadline)
Unlocking agricultural potential in drylands: enhancing efficient utilization of soil moisture for improved smallholder farm productivity in ASALs of Kenya
PI: Mary Baaru (Kenyatta University)
U.S. Partner: Ethan Allen (Pacific Resources for Education and Learning)
Project Dates: August 2013 to July 2016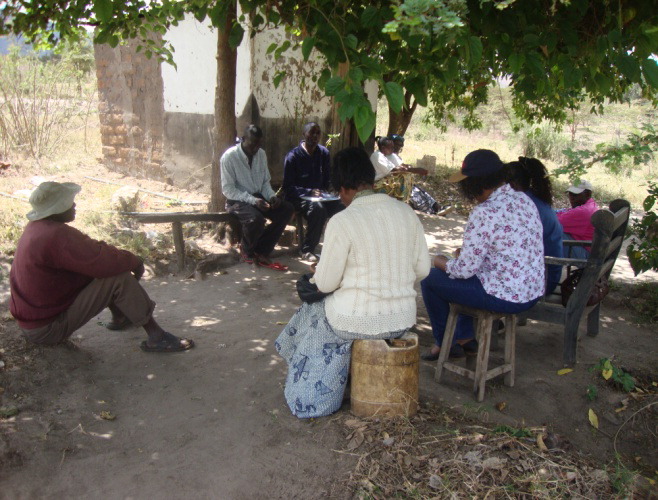 A planning meeting bringing together many different stakeholders in the PEER project (Photo courtesy Dr. Baaru)
The amount of land devoted to agricultural uses has been reduced as a result of rising population and associated growing demands for land resources. This has resulted in increased exploitation of drylands. In view of this situation, utilization of the resource base in drylands areas can no longer proceed on a "business as usual" basis. This PEER Science project aims to address issues of water scarcity, deforestation, insufficient extension services, and lack of appropriate cropping systems in Kenya. Beyond its research components, the project also includes capacity-building activities designed for farmers in drylands areas. Groups of farmers will be trained on how to implement soil and water conservation measures and will be given kits to assist them in putting these measures in place, first on the farms of group members and later on non-member farms.
Trained farmers will fill in the gap left by the shrinking extension service and ensure that information passed from farmer to farmer is reliable. The research to be carried out under the project will also provide in-depth understanding on moisture distribution and soil properties, as well as optimal cropping systems to utilize moisture for maximum land productivity. The project should result in improved landscapes on conserved farms, leading to reduced land and water degradation. Food security will be enhanced due to improved land productivity. Farmers will also be economically empowered and obtain improved living standards from increased sales of crops and livestock products.
Summary of Recent Activities
In the first quarter of 2014, Dr. Mary Baaru and her project team harvested the first season's crops from their test fields and embarked on a second crop season. Although the first growing season did not give good data, field observations showed good yields in project sites compared to the average farmer's field, a situation attributed to improved water and soil conservation methods. The preparation for the second growing season started in early February to avoid crop failure. The same farms selected during the first season are to remain as project sites. Data collection is ongoing to monitor soil moisture and crop growth to determine the degree to which the improved water and soil conservation methods improves crop yield.
On March 19, 2014, 35 farmers attended a training session led by the PEER project team, assisted by staff from the Kenya Agricultural Research Institute and the Ministry of Agriculture. Through hands-on demonstrations and presentations, the participants were trained on the importance and benefits of soil and water conservation measures.
The next phase of the project will involve further collection and laboratory analysis of plant data from both the control and the project sites. A training session involving stakeholders is to be scheduled.
Back to PEER Cycle 2 Grant Recipients