Partnerships for enhanced engagement in research (PEER) SCIENCE
Cycle 2 (2012 Deadline)
Impact of climate change on freshwater availability for Senegal: modeling future changes in
hydroclimatology of the Lake of Guiers
PI: Mouhamadou Sylla (Laboratoire de Physique de l'Atmosphere et de l'Ocean)
U.S. Partner: Jeremy Pal (Loyola Marymount University)
Project Dates: August 2013 to December 2015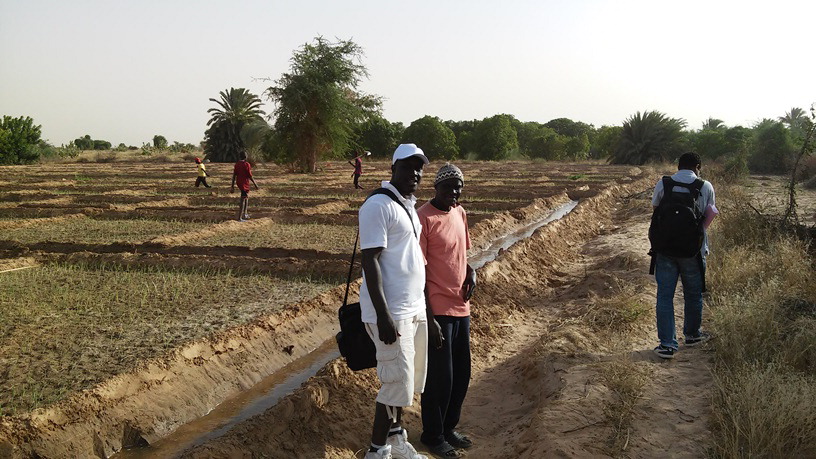 The project team visits local farming communities near the Lake of Guiers (Photo: Dr. Sylla).
This project aims to study climate change effects on the Lake of Guiers, the main freshwater reservoir for Senegal. The water is mostly used for irrigated cropping in the basin and domestic use in Dakar. It is unknown how its hydroclimatology might evolve in the future, but changes in surface runoff over the basin and in the amount of water in the lake could produce significant disturbances for end-users. The researcher in this project will analyze past and present-day climate and water resources, elaborate climate change projections over the lake basin, and produce future scenarios of water resources for the lake. A series of three workshops will be organized at the end of each task to engage, inform, and exchange information with the end-users
As for development impacts, this project will generate a unique dataset in the field of climate change modeling over Senegal. This dataset can serve as input for more high-impact studies beyond the activities included in the project, for example in the fields of health and ecosystems. Policy makers could also use the datasets generated to develop adaptation and mitigation strategies. Thanks to the project's expected results, Senegal's government will for the first time possess robust short-term (2021-2050) and long-term (2071-2100) projections of the amounts of freshwater available in the lake and thus potable water for domestic use in Dakar. In addition, production of future estimates of surface runoff in the lake basin is a great asset for agricultural policy makers, as these conditions can either depress or favor irrigated cropping. This study will raise awareness for an improved water resources management and stimulate the elaboration of more appropriate adaptation strategies to secure sustainable irrigated agriculture and potable water distribution in the future.
Summary of Recent Activities
In this third quarter, the team are still working on the datasets (climate and hydroclimatological data), writing publications for our new results and waiting to get feedback for those publications that are already under review. The team has a clear idea on how climate change impacts the lake water content and the runoff over its basin.

Two students doing a Ph.D. and MSc have defended their projects, leading to two papers being published and 3 manuscripts which are under review.

The team plans on organizing an in-farm workshop to share the results with the users of the Lake Basin.

Back to PEER Cycle 2 Grant Recipients