DSC
Keck Center
500 5th St NW - KWS 502
Washington, DC 20001
USA

Tel: (202) 334-2800
Fax: (202) 334-2139

Partnerships for enhanced engagement in research (PEER) SCIENCE
Cycle 2 (2012 Deadline)
Biodiversity of Cambodian leaf- and treehoppers: scientific training and education through development of bioindicators and agricultural pest control
PI: Sophany Phauk (Royal University of Phnom Penh)
U.S. Partner: Kevin Johnson (Illinois Natural History Survey)
Project Dates: August 2013 to July 2016

A brief project documentary produced by Dr. Phauk and the project team.
The Cambodian insect fauna is virtually unstudied, especially compared to the extensive work done on vertebrate biodiversity and management. This poses a problem because insects, comprising a much higher total biomass than vertebrates, constitute irreplaceable components of ecosystem processes and are thus vital for ecosystem health and function. This project is designed to address this shortcoming by inventorying the biodiversity of leaf- and treehoppers (Membracoidea) across space (i.e., all major habitat types and varying degrees of disturbance) and time (i.e., dry-/wet season over three consecutive years). Genetic and morphological characteristics will be used to identify species and allow further basic and applied research into membracoid biology and control. The collected samples will form the nucleus for a growing entomology collection at the National Cambodian Specimen Repository (NCSP) at the Royal University of Phnom Penh (RUPP), which will be developed into an active research collection to support the study of systematics, biodiversity, and natural history of the insect fauna of the Lower Mekong. Assessing membracoid biodiversity will lay the baseline for continued biodiversity monitoring under climate change and help inform conservation decisions by allowing rapid and efficient appraisal of ecosystem health. The study of membracoid biodiversity will also provide the framework for the identification of pest species in Cambodia and thus will provide the basis for applied entomological research of national and international importance.
Membracoids include several important agricultural pests affecting rice, mango, and citrus, so the project will be critically important for Cambodian agriculture and food security by building the basis for development of sustainable pest control practices. The use of genetic markers will allow an in-depth understanding of pest population genetics and dynamics, which are important considerations when developing and applying control and management plans. Membracoids are ideal bioindicators since they are highly host specific and more rapidly respond to habitat or climate changes than vertebrate bioindicators. Identifying and using insect bioindicators thus allows a different and potentially much more sensitive insight into rapid changes in habitat health, biodiversity, or ecosystem function. The development of cheap and rapid genetic and morphological identification tools is expected to have immediate and lasting influences on biodiversity assessment and conservation practices in the Lower Mekong by improving economic valuation of ecosystems. This will strengthen environmental governance and improve sustainable management of natural resources and biodiversity conservation in the face of environmental and global climate change.
Summary of Recent Activities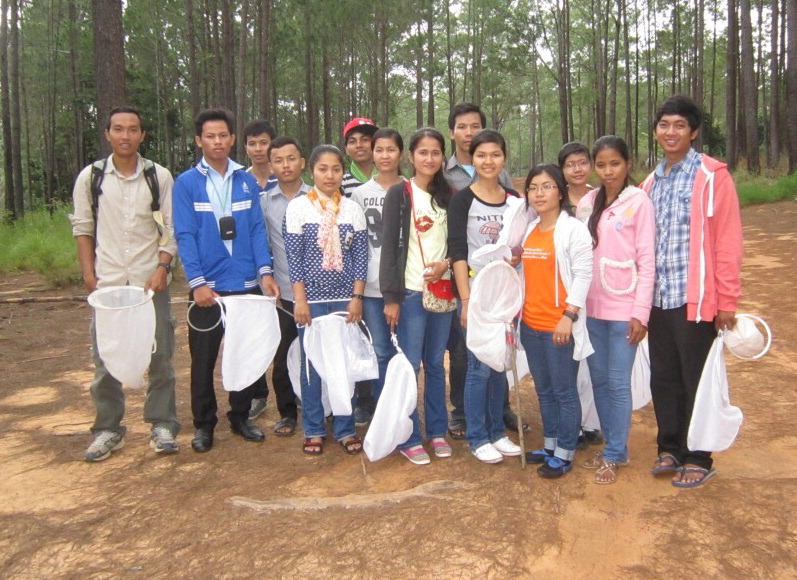 A dozen undergraduates from the Royal University of Phnom Penh join the project team on a field trip to collect leaf- and tree-hopper samples at Kirirom National Park. (Photo courtesy Dr. Phauk).
By the end of March 2015, this team had surveyed 68 sites across Cambodia and pinned more than 4,500 insect specimens, with additional wet specimens being preserved in alcohol for later DNA barcoding. The latter work will be carried out in cooperation with the Cambodian Molecular Genetics Group, based at the RUPP Department of Biology. In addition, Dr. Phauk and his group continued their very active program of training for undergraduate and graduate students. On January 26-28, about 150 undergraduates took part in training on entomology fieldwork techniques at Koh Takiev Island. On March 11-14, a group of project members attended the event "Science, Technology, Engineering and Math (STEM)," which was held at RUPP and organized by the Cambodian Ministry of Education Youth and Sport to promote scientific research, engage students, and interest the public in learning more about the sciences in Cambodia. The team displayed the entomology collection and promoted entomology education in Cambodia to visitors at the event, including K-12 students and interested citizens.
In April 2015, Dr. Phauk will be visiting the Royal Belgian Institution of Natural Science to discuss a new memorandum of understanding with RUPP on collaboration on entomological training and research. He and some of his team will also attend the 15th Science Council of Asia Conference and International Symposium on the Role of SCA: "Science and Technology for Culture," May 15-16, 2015, in Siem Reap. Meanwhile, additional fieldwork is planned to collect specimens at agricultural sites and a national park in northern Cambodia. Dr. Phauk will also be working with students at the RUPP Department of Media and Community to produce a short film aimed at promoting awareness of his Cambodian Entomology Initiatives.
Cambodian Entomology Initiatives flyer
Rice-Field Experiment flyer
Genetics Experiment flyer
(Khmer)
Facebook

Back to PEER Cycle 2 Grant Recipients