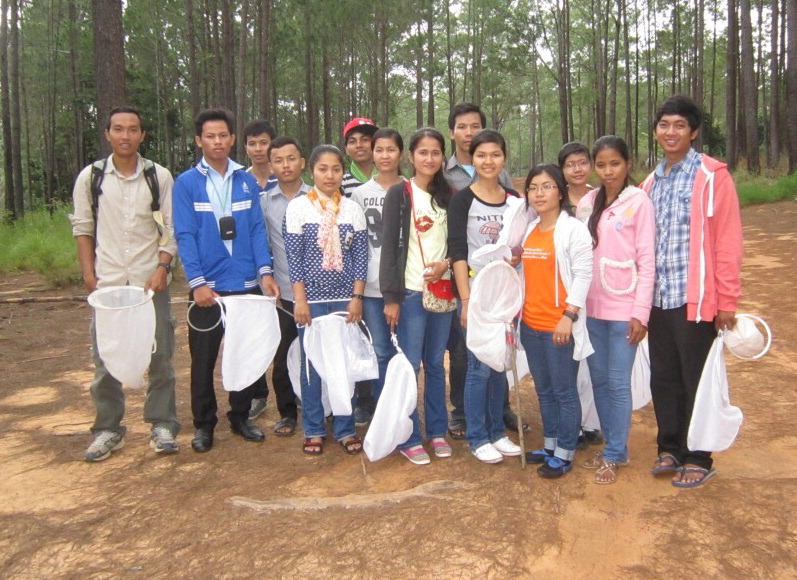 A dozen undergraduates from the Royal University of Phnom Penh join the project team on a field trip to collect leaf- and tree-hopper samples at Kirirom National Park. (Photo courtesy Dr. Phauk).
By the end of September 2015, Dr. Phauk and his team had conducted insect inventories and surveys at 101 sampling sites in various habitat types ranging from evergreen forests to agricultural sites. Two new intensive study sites have been added. One is located in Phnom Kulen National Park (N13° 32.150', E104° 07.061') in Siem Reap Province and the other is in Tatai Commune (N11° 35.374', E103° 19.066´) in Koh Kong Province. To date on the project, more than 70,000 wet and dried prepared specimens and more than 7,000 dried specimens of
Membracoidea
and other insect groups have been mounted and stored at the Entomological Collection in the Department of Biology at RUPP. Morphological identification is being conducted using 31 interactive keys and a taxonomic database from the lab of the U.S. co-partner, Dr. Christopher Dietrich, as well as various web-based insect taxonomy databases and social entomology groups. In addition, specific group of insects were categorized by the Cambodian Entomology Initiatives (CEI) team, including
Membracidae, Cicallelidae, Formicidae
, and
Fulgoridae
. Due to the increasing number of specimens in the collection, 140 handmade insect drawers have been built for storage.
On the outreach and education front, 10 to 15 undergraduate students from the RUPP Department of Biology and others took part in the insect field collection training efforts every month. The
CEI Facebook page
has reached more than 1000 fans in the past six months, and the activities of this project were also promoted by a September 2015 posting on the Facebook page of the U.S. Embassy in Cambodia. Moreover, CEI filmed a short documentary entitled "Building Research Capacity of Cambodian Entomology" (
https://www.youtube.com/watch?v=LVQSoANP92g
) to encourage and promote entomological research in Cambodia. The team was also honored to receive a visit by officials from the Cambodian Ministry of Education, Youth and Sport. In addition, a news article entitled "Cambodian Entomology Initiatives: Development of Scientific Training and Education" will be published in the next issue of the
Cambodian Journal of Natural History
.
CEI currently has 12 staff, 9 of whom are undergraduate and graduate students who provide research assistance on a volunteer basis. Two graduate students are working on their theses related to the
Cicadellidae
in agriculture and forestry under the supervision of the PI, co-PI, and U.S. collaborators. In addition, two third-year undergraduate students will be selected to volunteer with CEI every year. To improve entomology research capacity in Cambodia, five students from CEI's team were selected to participate in a short training visit July 31 to August 20, 2015, at the Faculty of Forestry at Kasetsart University, Thailand. The objectives of the training were to learn methods of collecting of other insect groups, to carry out collaborative research, and to exchange experience with Thai student counterparts.
The PI, Dr. Sophany Phauk, won a fellowship to spend three months (October through December 2015) as a research scholar with Dr. Christopher H. Dietrich at the Illinois Natural History Survey. This opportunity is supported by the ASEAN – United States mission, through the
Fulbright Visiting Scholar program
. Although Dr. Phauk is away from Cambodia on his research visit, the team back at RUPP will continue working on insect collection and identification manuals and checklists, and at least two manuscripts on project results are expected to be submitted for publication. The students will continue working on collection and identification activities, and the team may also organize a national entomology training workshop after Dr. Phauk's return (tentatively in February 2016).
Cambodian Entomology Initiatives flyer
Rice-Field Experiment flyer
Genetics Experiment flyer
(Khmer)
Facebook