DSC
The National Academies
500 5th St NW - KWS 502
Washington, DC 20001
USA

Tel: (202) 334-2800
Fax: (202) 334-2139

Partnerships for enhanced engagement in research (PEER) SCIENCE
Cycle 2 (2012 Deadline)
Biodiversity of Cambodian leaf- and treehoppers: scientific training and education through development of bioindicators and agricultural pest control
PI: Sophany Phauk (Royal University of Phnom Penh)
U.S. Partner: Kevin Johnson (Illinois Natural History Survey)
Project Dates: August 2013 to July 2016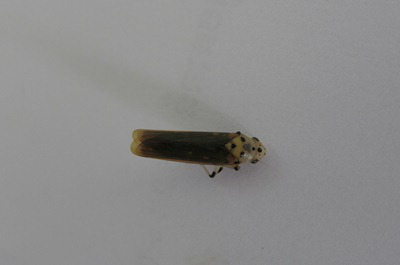 A tree-hopper (Photo courtesy Dr. Phauk).
The Cambodian insect fauna is virtually unstudied, especially compared to the extensive work done on vertebrate biodiversity and management. This poses a problem because insects, comprising a much higher total biomass than vertebrates, constitute irreplaceable components of ecosystem processes and are thus vital for ecosystem health and function. This project is designed to address this shortcoming by inventorying the biodiversity of leaf- and treehoppers (Membracoidea) across space (i.e., all major habitat types and varying degrees of disturbance) and time (i.e., dry-/wet season over three consecutive years). Genetic and morphological characteristics will be used to identify species and allow further basic and applied research into membracoid biology and control. The collected samples will form the nucleus for a growing entomology collection at the National Cambodian Specimen Repository (NCSP) at the Royal University of Phnom Penh (RUPP), which will be developed into an active research collection to support the study of systematics, biodiversity, and natural history of the insect fauna of the Lower Mekong. Assessing membracoid biodiversity will lay the baseline for continued biodiversity monitoring under climate change and help inform conservation decisions by allowing rapid and efficient appraisal of ecosystem health. The study of membracoid biodiversity will also provide the framework for the identification of pest species in Cambodia and thus will provide the basis for applied entomological research of national and international importance.
Membracoids include several important agricultural pests affecting rice, mango, and citrus, so the project will be critically important for Cambodian agriculture and food security by building the basis for development of sustainable pest control practices. The use of genetic markers will allow an in-depth understanding of pest population genetics and dynamics, which are important considerations when developing and applying control and management plans. Membracoids are ideal bioindicators since they are highly host specific and more rapidly respond to habitat or climate changes than vertebrate bioindicators. Identifying and using insect bioindicators thus allows a different and potentially much more sensitive insight into rapid changes in habitat health, biodiversity, or ecosystem function. The development of cheap and rapid genetic and morphological identification tools is expected to have immediate and lasting influences on biodiversity assessment and conservation practices in the Lower Mekong by improving economic valuation of ecosystems. This will strengthen environmental governance and improve sustainable management of natural resources and biodiversity conservation in the face of environmental and global climate change.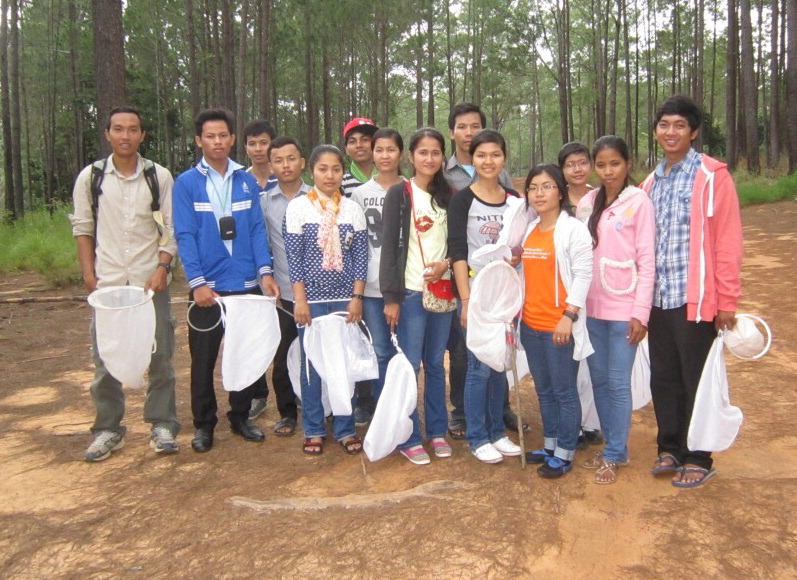 A dozen undergraduates from the Royal University of Phnom Penh join the project team on a field trip to collect leaf- and tree-hopper samples at Kirirom National Park. (Photo courtesy Dr. Phauk).
Summary of Recent Activities
PI Sophany Phauk and his team have launched a
Facebook page
about their Entomology Collection in order to spread the word about their work and increase interest in the study of insects in Cambodia. The new page allows scientists and students who are interested in insects to share their information regarding various research topics in entomology. The team will also be adding items to the page to promote their research activities and educate the public about the insect diversity of Cambodia and the benefits insects bring to the ecosystem. Four biology students, two graduates and two undergraduates (Mr. Chhum Moeun, Mr. Sour Kimhour, Mr. Ly Kang and Ms. Heang Phallin), have now been officially selected to work with the entomology collection. As part of this PEER project they are training to become entomology researchers, and they could in the future become a significant resource in building Cambodia's research capacity in this field.
On August 17-22 2014, Sophany Phauk and student/research assistant Chhum Moeun visited the Faculty of Forestry at Kasetsart University (KU) in Bangkok, Thailand, for entomology training and exchange of research experiences with their Thai counterparts. In addition, they visited the Ant Museum, which is managed by Dr. Decha Wiwatwitaya of the KU Faculty of Forestry. During their visit to Thailand, Dr. Phauk and Mr. Moeun made a presentation about their PEER project to KU MSc. students. In return, they learned new techniques for sample preservation and collection management. After returning home, on September 21, 2014, Dr. Phauk and his group participated in a one-day training session on insect photography led by Stephane De Greef, an expert photographer from Siem Reap, Cambodia. During the course, which was held at the Angkor natural area near Siem Reap, he taught them special technical methods for taking photographs of small insects. In late November, Dr. Phauk and three students will return to KU for an entomological symposium and additional training with Dr. Wiwatwitaya. They will also be continuing their field work and specimen categorization efforts through the coming months.
Back to PEER Cycle 2 Grant Recipients