Partnerships for enhanced engagement in research (PEER) SCIENCE
Cycle 2 (2012 Deadline)
Tree isotope records of past rainfall variability in the Indonesian maritime region
PI: Sri Yudawati Cahyarini (Indonesian Institute of Science - Lembaga Ilmu Pengetahuan Indonesia), with co-PI Intan Suci Nurhati, Surya University
U.S. Partner: Mike Evans (University of Maryland, College Park)
Project Dates: August 2013 to October 2014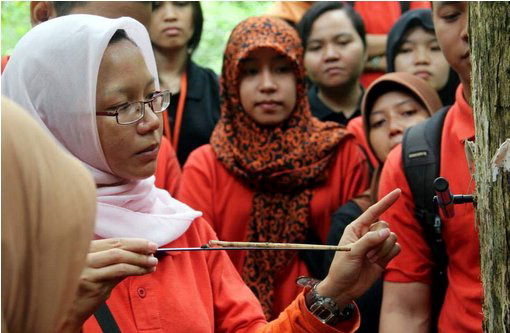 Co-PI Dr. Intan Suci Nurhati explaining tree sampling method
This project focuses on applying techniques for tree isotope analysis to Indonesian trees in order to generate rainfall records over the past 300 years. These data would advance scientific understanding in two major areas of research. The first is the evolution of the El Niño-Southern Oscillation (ENSO) over the past centuries. As the strongest natural variability factor affecting our climate, ENSO modulates monsoonal rainfall variability in Indonesia, causing climate-related disasters. The effects of global warming on ENSO characteristics are still uncertain, and a 300-year high-resolution rainfall record from Indonesia, a region of strong ENSO impacts, is a key in better understanding ENSO. The second research area involved in this project is tropical dendroclimatology, or the reconstruction of climate records using trees, a field that has faced several challenges in the tropics. The inference of past rainfall variability via tree-ring widths has been hampered in the region due to indistinct annual growth rings in tropical trees. The majority of dendroclimate studies in Indonesia conducted by one of the research group's collaborators at the Lamont-Doherty Earth Observatory have relied on teaks as semi-deciduous ring-producing trees, with the oldest sample retrieved from Muna (Sulawesi) extending back to 1565 AD. Recent works by the U.S. collaborator reveal the ability of the stable oxygen isotopic (δ
18
O) composition in tropical trees to capture wet-dry seasonality, implying the potential to improve the coverage of tropical dendroclimatology.

Carrying out this project will not only add to the scientific knowledge base shared by researchers worldwide but also improve the infrastructure at Indonesian institutions and build the skills of the project participants. New lab equipment will be purchased and installed at the Indonesian Institute of Science (LIPI) to allow the researchers and their students to conduct sample preparation work and basic analysis on the tree samples collected. As a state research institution, LIPI also regularly reaches out to universities across Indonesia. Through this project, it will expand these outreach activities on tropical dendrochronology and expand them to include a university in Sulawesi near where their Muna tree sampling site is located. Selected scientists and students from LIPI will have the opportunity to receive training at the University of Maryland, and the U.S. collaborators based there will contribute to the development of a teaching workshop based on active-learning methods to be presented in Indonesia.
Summary of Recent Activities
In February 2014 Dr. Cahyarini and her co-PI Dr. Intan Suci Nurhati of Surya University met with counterparts at Mulawarman University in East Kalimantan to plan a capacity building workshop on dendroclimatology. The workshop will be held at Mulawarman University May 24 to June 2, 2014. One day of lectures and one day of technical training in the university's forest lab will be followed by a week of field work for selected participants to collect tree samples for further tree ring analysis. The goals of the event are (1) to build linkages among Indonesian paleoclimatologists and stakeholders in the local forestry sector to initiate dendroclimate studies at the university and (2) to create interest in paleoclimate studies among forestry undergraduates. The PI and co-PI will present lectures on paleoclimate and lecturers from Mulawarman University will provide training on tree physiology and conservation aspects of the local forests.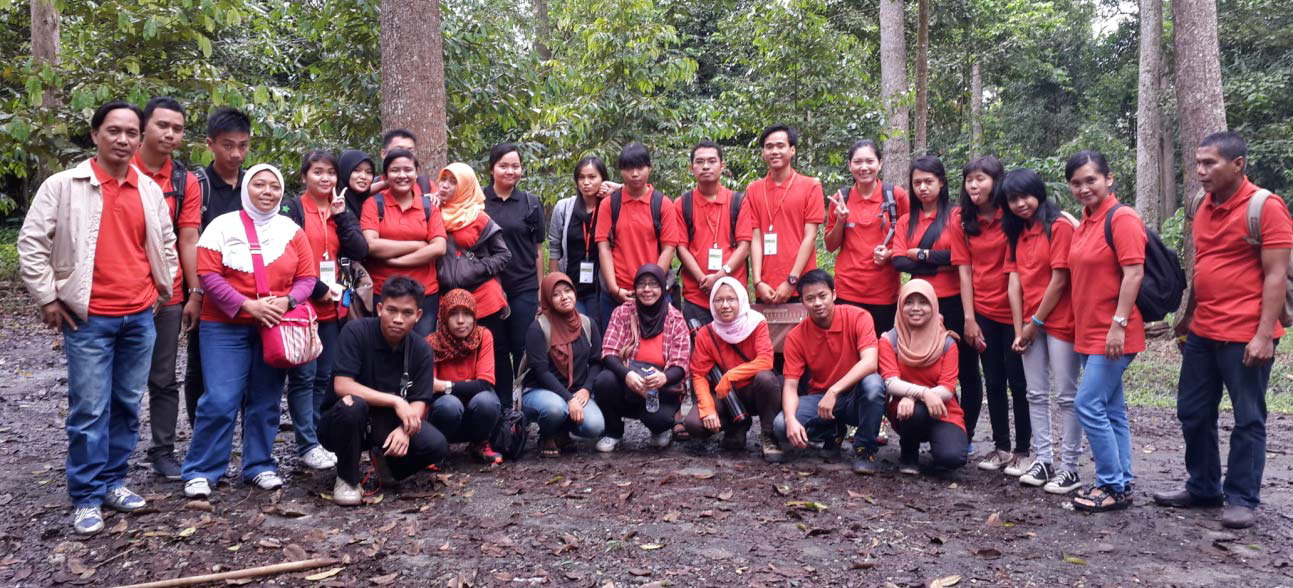 PEER Workshop on Dendroclimatology at the University of Mulawarman, May 24-25, 2014 - Practical training session.
Back to PEER Cycle 2 Grant Recipients