Application of cosmic ray probes for the validation of hydrometeorolgical and remote sensing models
PI: Colin Everson (University of KwaZulu-Natal)
U.S. Partner: Marek Zreda (University of Arizona)
Project Dates: August 2013 to October 2014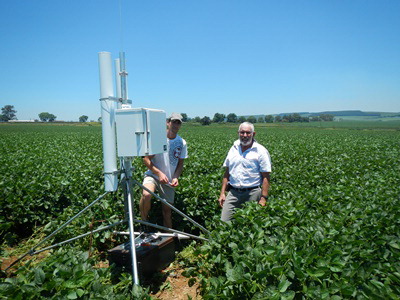 Dr. Colin Everson (right) and a student with the cosmic ray probe at the Baynesfield Estate in KwaZulu-Natal (Photo courtesy Dr. Everson).
This PEER Science project leverages the recent development of the Cosmic Ray Probe (CRP) as part of a National Science Foundation-supported project. The CRP uses cosmic-ray neutrons to measure soil moisture content over an area of tens of hectares. Dr. Colin Everson and his research team will test the suitability of a cosmic ray moisture probe in providing data for the continued support of soil moisture modeling of South Africa using a hydrologically consistent land surface model, accurate field and satellite-scale estimates of soil moisture for the calibration of hydrometeorogical models, and estimation of the spatial variability of soil moisture at catchment scale.
The researchers plan to build capacity in South Africa by developing a network to extend the cosmic ray moisture probes to multiple applications. Measurements using the probe at area scales of up to 34 hectares have the potential to provide hydrometeorologists with an entirely new way of evaluating surface soil water at spatial scales never achieved with ground-based techniques. This will provide water resource managers, engineers, and agriculturalists with an invaluable but economical new tool to monitor the critical interface between the ground and atmosphere. This new technology can be employed in water demand forecasting and promises to improve the utilization of irrigation water, especially in water scarce regions like South Africa. The probe can also be used for predictive weather and climate models by measuring soil water content. This is currently a major source of uncertainty in weather and climate forecasts, due largely to a lack of suitable observations. The project should also improve the quality of soil moisture data that feed into the South African Flash Flood Guidance System, which provides alerts to the public based on current and predicted rainfall. The system currently uses a relatively crude evaporation model. Therefore, the application of CRP data should help in validating evaporation estimates with better temporal and spatial resolution, thus improving the accuracy of flash flood predictions.
Summary of Recent Activities
As of April 2014, the study has succeeded in building a small network of cosmic ray probes in various locations within South Africa. Three cosmic ray sites are operational at Baynesfield Estate in KwaZulu Natal, Cathedral Peak in the Giants Castle Game Reserve, and Lichtenburg, and they are providing data to a worldwide network of probes through the Cosmic-ray Soil Moisture Observing System (COSMOS) at the University of Arizona. The data and installation dates can be viewed at: http://cosmos.hwr.arizona.edu/Probes/probemap.php. Working closely with colleagues at the University of Pretoria, Dr. Everson and his group have built productive linkages with the South African Environmental Observation Network (SAEON), the company HydroInnova, and the South African Potato Institute to expand the scope of their research efforts. In particular, successful joint proposals to the South African Water Research Commission have provided support for additional operations, equipment, and student stipends.
Dr. Everson also received a recent grant from the South African National Research Foundation to host Dr. Trenton Franz of the University of Nebraska for a three-week exchange visit June 15-July 5, 2014. Dr. Franz is one of the world's leading experts in novel cosmic-ray neutron probe technology for measuring soil moisture at large scales. He is expected to train students at the Cathedral Peak site in the use of modern research techniques in the areas of land/atmosphere interactions, ecophysiology and micrometeorology. He will also be installing new cosmic ray probes, while the project team will continue testing the accuracy of installed probes by comparing data against a network of point-based soil water sensors. The research team is also planning to attend the 4th COSMOS workshop in Leipzig, Germany, in early May 2014 and to present an abstract on developments surrounding this project.
Article from website of the University of KwaZulu-Natal (December 2013)
Article from South African Environmental Observation Network newsletter (December 2013)