DSC
Keck Center
500 5th St NW - KWS 502
Washington, DC 20001
USA

Tel: (202) 334-2800
Fax: (202) 334-2139

Partnerships for enhanced engagement in research (PEER) SCIENCE
Cycle 2 (2012 Deadline)
Fecal sludge and urine reuse in agriculture: opportunities for addressing phosphorus needs in India
PI: Pay Drechsel (International Water Management Institute), with co-PI P. Sudhakar (Haritha Association for Learning from Environment) (Years 1 and 2 co-PI Dr. Vijayaraghavan Chariar, Indian Institute of Technology-Delhi)
U.S. Partner: James Elser (Arizona State University)
Project Dates: August 2013 to November 2016


Focus group discussion with farmers. (Photo courtesy Dr. Drechsel).
India's rapid urbanization and population growth have made food security a high policy priority and is putting significant pressure on the agriculture sector, where poor and marginal farmers especially suffer from high fertilizer prices. It is therefore imperative for India like other developing countries to explore alternative nutrient sources. With changing resource flows to cities, urban waste offers a variety of options for resource recovery. While closed-loop processes are promoted across the globe, farmers in the states of Karnataka and Andhra Pradesh, as well as other parts of Southern India, are already using fecal sludge from urban on-site sanitation facilities (Verhagen et al., 2012; Srikantaiah, 2012). The informal sector has turned widespread lack of treatment facilities for sludge derived from septic tanks (CSE, 2011, 2012) from a serious
environmental burden into an agricultural asset. The sludge comes straight from the septic tanks, and instead of being dumped into rivers, is dried ("treated") on farms before use, mostly on plantation crops. Considering the declining global phosphorus reserves (Cordell et al., 2009), treated fecal sludge, and in particular urine, can constitute a significant sources of phosphorus for crops. However, the practice is not without environmental risks. To advise authorities on options for how to safeguard human and environmental health (Drechsel et al., 2010) while also looking at the potential benefits, data are needed to understand the current scale of reuse, its potential benefit, environmental tradeoffs and limitations, and a sensitive approach for moving an informal sector activity into the formal sector.
The latter challenge is currently being addressed by an already-funded IWMI project in Karnataka, in close collaboration with WHO, which will support the establishment of business models for sludge reuse, safe reuse guidelines, and Sanitation Safety Plans through stakeholder dialogues. This PEER Science project will feed data into the dialogue and contribute at the international level to the National Science Foundation (NSF)-funded network on "Coordinating phosphorus research to create a sustainable food system" (NSF award CHE-1230603) under the leadership of ASU, which will backstop the activities and assist in knowledge dissemination.
A longer term impact is expected in view of food security and environmental protection, including empirically based recommendations for addressing the looming crisis of dwindling phosphorus reserves. Phosphorus recovery from otherwise wasted resources is important for sustainable land management and food security. Introducing cost recovery options into the sanitation service chain would have positive spill-over for community, public health and the environment, as uncontrolled use of fecal sludge is a major source of water pollution and a key public health threat.
Summary of Recent Activities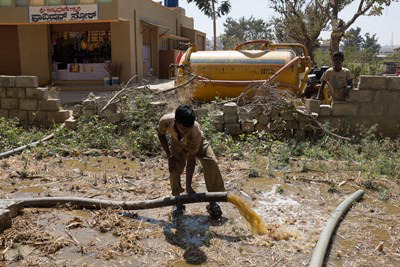 A worker pours fecal sludge onto farmland (Photo courtesy Dr. Drechsel).
As noted in previous updates, IWMI researcher and PhD student Sharada Prasad initiated a survey of farm owners and farm workers regarding their attitudes towards working with fecal sludge. The initial plan was to sample 19 villages surrounding Dharwad city and interview 2,200 farm owners and 700 farm workers. The survey was later expanded to include 27 villages, and ultimately a total of 2,300 farm owners and 850 farm workers participated in the survey. The survey was piloted in August 2015, and enumerators were recruited and trained during the first half of September. The survey was launched in late September and ended on December 28. Despite the training provided for the survey takers, a few difficulties were encountered due to the need for extreme sensitivity in posing certain questions related to caste beliefs and practices and economic activity. This required the occasional intervention of supervisors to explain the questions to respondents, and some survey takers even had to be reassigned to other data collection duties not involving public contact. Other difficulties arose because the list from the local revenue office that was used in making the random selection of survey respondents was found to be out of date, so some of the farmers on the list had sold their land or moved away. In addition, about 15% of respondents contacted were either unwilling to participate or unable to do so because of vision or hearing problems. Mr. Prasad and his team added eight more villages to the sample in order to get to the required number of surveys completed. As a result, they have some very interesting preliminary findings regarding people's willingness to use fecal sludge in various forms for fertilizer and their requirements for doing so (for example, higher wages or guaranteed smell or texture of the material). In the first quarter of 2016, Mr. Prasad will be analyzing the data and completing first drafts of two papers, one on health risks to sanitation workers and the other on willingness to pay for fecal sludge.
In November 2015, a manuscript entitled "Total Value of Phosphorus Recovery" has been jointly prepared with the U.S.-funded Phosphorous Research Coordination Network (RCN) and is currently under review with the journal
Environmental Science & Technology
. On November 17, Sharada Prasad delivered a lecture at a workshop entitled "Research Methodology Course for PhD Students in Social Science," which was organized by the Centre for Multidisciplinary Development Research in Dharwad, Karnataka. In the lecture, Mr. Prasad discussed the research design and challenges of conducting the current survey at the field level.
In the first quarter of 2016, co-PI Vijayaraghavan M. Chariar will visit Arizona State University January 14-19 to participate in the Phosphorous RCN Annual Global Partners
Meeting. While in Arizona, he will also initiate discussions with Dr. Rajesh Buch of Walton Solutions on establishing hubs of the Resource Innovation Solutions Network in India. Dr. Chariar is also collaborating with ASU to organize an International Learning Exchange on "Circular Economy of Waste for Tier 3 Cities of India," to be presented jointly by ASU, ICLEI, IIT Delhi, and the School of Planning and Architecture and Ministry of Urban Development, Government of India. Dr. Chariar's team will be publishing some of their fecal sludge management survey results and will be working to develop, simulate, and test business models for urine recycling.
Link to video of a January 2015 project presentation by Sharada Prasad:
https://youtu.be/4ZW9jCqvUS8?t=14m50s
.
Back to PEER Cycle 2 Grant Recipients