DSC
Keck Center
500 5th St NW - KWS 502
Washington, DC 20001
USA

Tel: (202) 334-2800
Fax: (202) 334-2139

Partnerships for enhanced engagement in research (PEER) SCIENCE
Cycle 2 (2012 Deadline)
Fecal sludge and urine reuse in agriculture: opportunities for addressing phosphorus needs in India
PI: Pay Drechsel (International Water Management Institute), with co-PI Vijayaraghavan M. Chariar (Indian Institute of Technology)
U.S. Partner: James Elser (Arizona State University)
Project Dates: August 2013 to July 2016


Focus group discussion with farmers. (Photo courtesy Dr. Drechsel).
India's rapid urbanization and population growth have made food security a high policy priority and is putting significant pressure on the agriculture sector, where poor and marginal farmers especially suffer from high fertilizer prices. It is therefore imperative for India like other developing countries to explore alternative nutrient sources. With changing resource flows to cities, urban waste offers a variety of options for resource recovery. While closed-loop processes are promoted across the globe, farmers in the states of Karnataka and Andhra Pradesh, as well as other parts of Southern India, are already using fecal sludge from urban on-site sanitation facilities (Verhagen et al., 2012; Srikantaiah, 2012). The informal sector has turned widespread lack of treatment facilities for sludge derived from septic tanks (CSE, 2011, 2012) from a serious
environmental burden into an agricultural asset. The sludge comes straight from the septic tanks, and instead of being dumped into rivers, is dried ("treated") on farms before use, mostly on plantation crops. Considering the declining global phosphorus reserves (Cordell et al., 2009), treated fecal sludge, and in particular urine, can constitute a significant sources of phosphorus for crops. However, the practice is not without environmental risks. To advise authorities on options for how to safeguard human and environmental health (Drechsel et al., 2010) while also looking at the potential benefits, data are needed to understand the current scale of reuse, its potential benefit, environmental tradeoffs and limitations, and a sensitive approach for moving an informal sector activity into the formal sector.
The latter challenge is currently being addressed by an already-funded IWMI project in Karnataka, in close collaboration with WHO, which will support the establishment of business models for sludge reuse, safe reuse guidelines, and Sanitation Safety Plans through stakeholder dialogues. This PEER Science project will feed data into the dialogue and contribute at the international level to the National Science Foundation (NSF)-funded network on "Coordinating phosphorus research to create a sustainable food system" (NSF award CHE-1230603) under the leadership of ASU, which will backstop the activities and assist in knowledge dissemination.
A longer term impact is expected in view of food security and environmental protection, including empirically based recommendations for addressing the looming crisis of dwindling phosphorus reserves. Phosphorus recovery from otherwise wasted resources is important for sustainable land management and food security. Introducing cost recovery options into the sanitation service chain would have positive spill-over for community, public health and the environment, as uncontrolled use of fecal sludge is a major source of water pollution and a key public health threat.
Summary of Recent Activities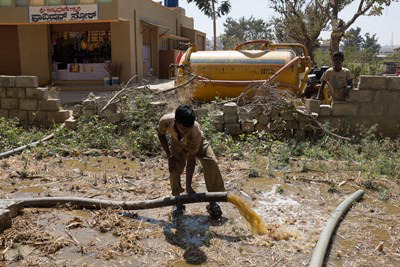 A worker pours fecal sludge onto farmland (Photo courtesy Dr. Drechsel).
In addition to their ongoing research activities, members of this project team participated in several conferences and meetings during the first few months of 2015 to help spread the word about their efforts and bring new partners into their network. Co-PI Dr. Vijayaraghavan M. Chariar participated in the WASH India Meeting in New Delhi on March 26, 2015, which brought together awardees of the Bill and Melinda Gates Foundation Reinvent the Toilet Campaign and selected champions of the sanitation sector in India. On April 17, he took part in the one-day meeting on "Clean India: Stimulating Behavior Change and Usage" at the University of Chicago Center in New Delhi. This event was organized by the Social Enterprise Initiative, University of Chicago Booth School of Business, in partnership with Toilet Hackers and Samhita Social Ventures. Dr. Chariar has also initiated collaborations with partners at academic institutions and companies in India, Sweden, and Finland with a view to achieving the project objectives while also trying to create an impact on sanitation and waste management policy in India and on the practice and business of sanitation in India.
Another member of the project team, Sharada Prasad of IWMI, attended the Fecal Sludge Management (FSM3) conference in Hanoi, Vietnam, January 19-21, 2015. Some 750 delegates from 55 countries participated, and Mr. Prasad was among the 175 speakers. He presented his ongoing research related to the health risks of sanitation workers in India and received valuable feedback from the audience. The video of the presentation can be accessed on YouTube at
https://youtu.be/4ZW9jCqvUS8?t=14m50s
. Four other IWMI staff members also attended the conference to learn about current activities and present their work on turning waste into an asset. In May 2015, Mr. Prasad will be visiting German researchers at the Max Planck Institute in Berlin at the University of Gottingen to understand more about the caste dimension of sanitation work. That same month, Dr. Chariar will be participating in the Phosphorous Research Coordination Network Partners Meeting to be held in Washington DC (May 18-21). This is a meeting of the NSF-funded project partners led by PI Dr. James Elser and co-PI Dr. Helen Rowe of Arizona State University (ASU). He will also participate in the UNESCO IHE (Institute for Water Education) Workshop on "Fecal Sludge Management Online" to be held at Delft, Netherlands, May 25-29, 2015. Dr. Chariar expects to submit a review paper on fecal sludge management in early July, and he, Dr. Drechsel, Mr. Prasad, and co-authors from ASU are preparing another paper on P total value recovery as well. Meanwhile, Dr. Drechsel is co-editor of the recently published book
Wastewater: An Economic Asset in an Urbanizing World
(2015, Springer books,
http://www.springer.com/in/book/9789401795449
).
Back to PEER Cycle 2 Grant Recipients