Partnerships for enhanced engagement in research (PEER) SCIENCE
Cycle 2 (2012 Deadline)
Improving yam (Dioscorea spp.) seed systems through production of dormancy-controlled seed tubers in temporary immersion bioreactors
PI: Morufat Balogun (University of Ibadan)
U.S. Partner: Wayne Curtis (The Pennsylvania State University)
Project Dates: August 2013 to January 31, 2015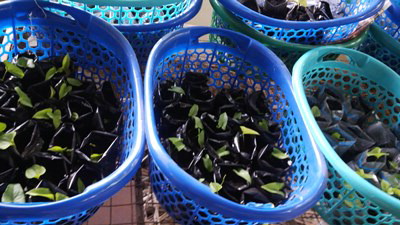 Green yam sprouts are germinating from their beds of corn husks (Photo courtesy Dr. Balogun)
The production of yams, which are food security and poverty alleviation staples in West Africa, is constrained by scarcity of planting materials and low multiplication rates, which account for up to 63% of production cost. Tuber dormancy also hampers out-of-season production, while uncontrolled sprouting after dormancy causes storage losses. Microtubers produced in test tubes (in vitro) have been proposed as alternative propagules whose dormancy can be exogenously controlled (Balogun, 2005). Although the duration of dormancy of microtubers was shown to be affected by plant growth regulators applied at different growth phases, the tuber production rate remains slow, the low yields are not amenable to farm level production, and small tuber size limits direct transplanting to the field. Use of temporary immersion bioreactors in in vitro cultures has been recognized as a means to improve plant propagation in other crops, and the idea is adaptable to hundreds of species. Temporary immersion facilitates scale-up of propagation of large masses of plant tissue, which is useful because it does not require costly agar, reduces contamination in cultures, and provides a means for sequential manipulation of the nutrient medium at different developmental stages with minimal labor input.
The goal of this project is to identify optimum conditions for production of seed tubers of white yam whose dormancy can be efficiently controlled. This research will aid the optimization of protocols for seed yam production and increase seed supply and quantities consumed at lower expenditure levels. The immediate uses of the research results will be micropropagation of disease-free plantlets, in vitro conservation of plantlets without losses associated with field collections, and in vitro evaluation of yield in transgenic yam. The potential uses of the results include out-of-season production and extension of the storage cycle. The overall development impact is that enhanced yam productivity will help Nigeria to feed her people while also empowering them through trade.
Summary of Recent Activities
PI Dr. Morufat Balogun and her team of graduate students from the University of Ibadan collected vines from growing yam plants in three phases from March 24 to April 11, 2014. About 15 percent of the tubers have sprouted and canopy development has been progressing. Some of the samples are to become in vitro cultures, which in turn will be cultivated for introduction to the Temporary Immersion Bioreactor (TIB) system in July at Penn State. The process of testing various TIB systems is ongoing, with Penn State student Matthew Curtis providing documentation of the detailed aspects of bioreactor fabrication and PhD graduate student Sergio Flores working with the parts and materials lists to enhance bioreactor capacity. His work helped develop a reliable gas delivery system within each reactor.
During the summer, the PI and U.S. partner Wayne Curtis will be attending a conference in June where they plan to fine-tune their plans for the bioreactor installation. Later in the summer, Dr. Balogun will visit Dr. Curtis' lab at Penn State so that the yam products may be introduced into the TIB. The PI is also expecting to identify areas of modification of the bioreactor to adapt it to yams. Once the Penn State labwork is done, Dr. Balogun will be purchasing TIB units for later installation at the University of Ibadan so that the project may generate results at her lab.