DSC
Keck Center
500 5th St NW - KWS 502
Washington, DC 20001
USA

Tel: (202) 334-2800
Fax: (202) 334-2139

Partnerships for enhanced engagement in research (PEER) SCIENCE
Cycle 2 (2012 Deadline)
MammalMAP: the African Mammal Atlas Project
PI: Les Underhill (University of Cape Town), with co-PI Robert Millar (University of Pretoria)
U.S. Partners: Walter Jetz (Yale University) and Robert Guralnik (University of Colorado Boulder)
Project Dates: August 2013 to November 2015

Africa is home to an incredible abundance and diversity of life. However, our ability to protect this biodiversity, particularly in the context of global climate change and increasing anthropogenic pressures, hinges on a foundation of knowledge of the current geographical distribution of biodiversity across the African continent. Our knowledge of the distribution of many African mammal species is based on either outdated or unverified information. This compromises our ability to effectively manage and conserve some of Africa's most charismatic biodiversity. To address this information paucity, MammalMAP (the African Mammal Atlas Project) – an initiative of the University of Cape Town (UCT) and the University of Pretoria (UP) in South Africa – aims to generate 21st Century range maps for all African mammal species.Through collaborations with scientists, conservation organizations, wildlife authorities and citizen scientists across Africa, all reliable evidence of current mammal occurrence is consolidated into a single open-access digital database. The database software automatically generates online distribution maps that are instantly visible and searchable. The information within this database is crucial for species and landscape conservation policies and provides an excellent platform for educating the public about the challenges facing Africa's biodiversity. This project involves data sharing and collaboration between MammalMAP and the Map of Life, an online biodiversity integration and visualization infrastructure project headed by the U.S. partners, Prof. Walter Jetz and Prof. Robert Guralnik. The collaboration will also facilitate the integration into the Map of Life database of 15 million records of southern African biodiversity distribution data that are currently curated by UCT.
The information within this database is crucial for species and landscape conservation policies and provides an excellent platform for educating the public about the challenges facing Africa's biodiversity. The work relates to the primary development goals of conserving biodiversity within the context of habitat change and climate change, preventing species extinctions, sustainably managing landscapes, and advancing and disseminating scientific knowledge. In terms of science and technology innovation and education, this research is expected to promote and facilitate interdisciplinary and international collaboration amongst scientists and conservation practitioners, with potential benefits to the advancement of conservation science. Furthermore, both the project input stage (data collection) and output stage (data dissemination) offer interactive, dynamic, and widely applicable education tools suitable for both the formal and informal education sectors. In addition to the informal education of citizen scientists involved in the project, formal training will be provided to project interns in mammal taxonomy, statistical ecology, and conservation education. During the course of the project, through collaboration with teachers, NGOs, and government, this research team aims to repackage MammalMAP data into generic material suitable for lessons and projects for primary, secondary, and tertiary scholars across Africa.
Summary of Recent Activities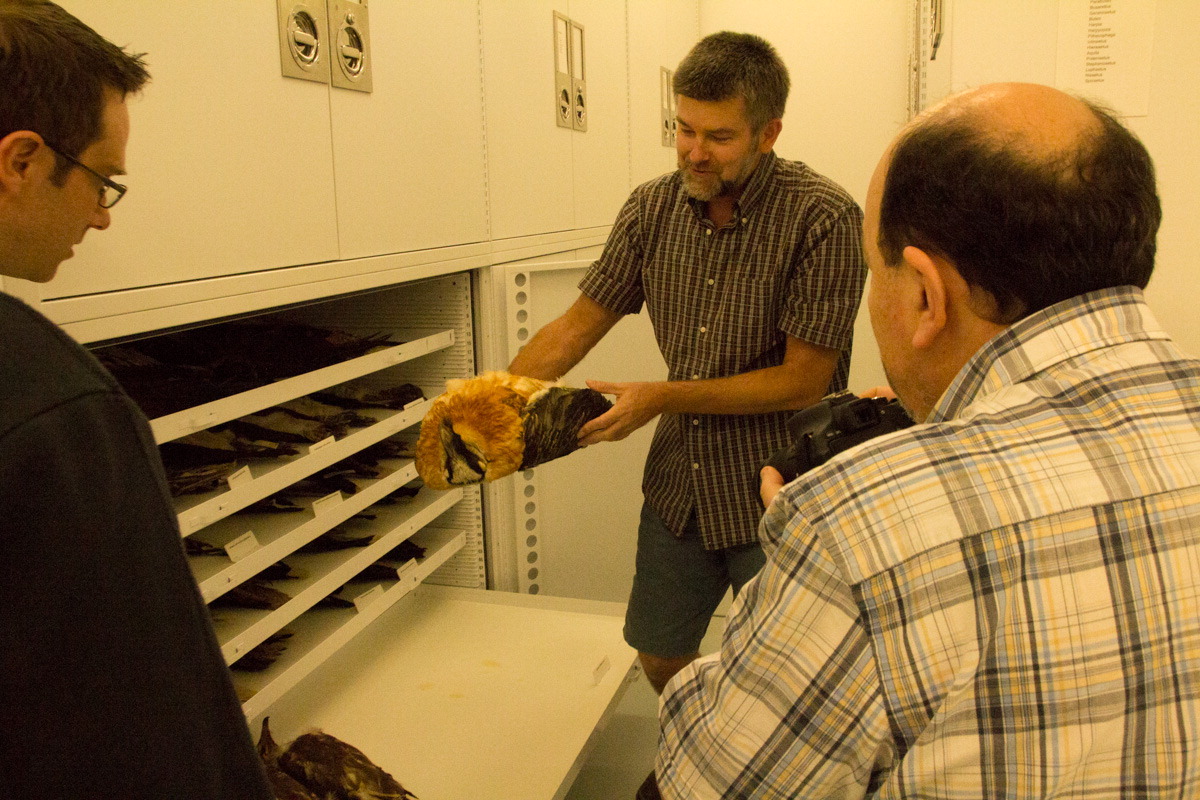 Research team visiting U.S. partner at Yale. Photo credit: Prof. Les Gordon Underhill
The first quarter of 2015, saw the MammalMAP database grow to 568,219 records of mammal distribution in Africa, well over half a million records. The team also made significant progress in correcting and verifying the data for the draft distribution maps which are the team's key deliverables for the Red Listing process for mammals in South Africa, Lesotho and Swaziland, undertaken in partnership with the Endangered Wildlife Trust (EWT) and SANBI. The final maps were turned over to EWT, which now has the responsibility of meeting a hard deadline later this year. While the ADU has now officially completed its contributions, both they, and Project Coordinator Tali Hoffman who left the project in August 2014, continue to support the MammalMAP initiative on an as needed basis.
In March, the team appointed a new Project Coordinator, Megan Lategan. She has prioritized project aspects that were neglected during the intensive Red Listing process, particularly motivating citizen scientists to contribute records to the project via the ADU Virtual Museum. She is working to improve the number of records contributed as this quarter, only a total of 673 records from ten countries (Botswana, Kenya, Mozambique, Namibia, South Africa, Swaziland, Tanzania, Uganda, Zambia and Zimbabwe) were added which is much lower than the 2013 and 2014 quarterly average of 1048. Under her direction, the team has shifted its focus towards improving the quantity of submissions from citizen scientists throughout the region. The team has initiated a plan of coordinating and connecting with previous contributors and the results are already evident. The daily rate of submissions for April, extrapolated for the quarter is 1264 records, 21% higher than the average quarterly rate for 2013 and 2014. Currently, the total number of citizen science records in MammalMAP is now 16550, of which 16064 (97.1%) have formal identifications. Megan Loftie-Eaton produced a brief visual report for 2014 on the ADU Virtual Museum.
In addition to the analytical aspects of the MammalMAP project, the team participated in multiple ADU Citizen Scientist Days in Grahamstown and Port Elizabeth in the East Cape, in Vereeniging in Gauteng, in Polokwane in Limpopo, and in Nelspruit in Mpumalanga. The project was successfully promoted at each of these events and was well received by event participants at each location and the team plans to continue this level of promotion at future Citizen Scientist Days scheduled for Pietermaritzburg on May 8, Durban on May 9, at the University of Cape Town on May 14, an A Rocha-partnered event in Cape Town on May 23, with the Wildlife and Environmental Society of South Africa in Cape Town on June 6 (linked to World Environment Day), and with the Namaqua Bird Club in Vredendal on July 25. The team was also visited by Dr. Dalal Najib from the National Academy of Sciences in February which led to an incredibly valuable exchange of ideas related to the project and its promotion.
With respect to regional and cross-boundary impact and information sharing, the team is networking in Angola, Botswana, Kenya, Malawi, Mozambique, Namibia, Nigeria, Sudan, Zambia and Zimbabwe on behalf of MammalMAP. This includes fostering links with the NGO, African Parks, which runs national parks in seven African countries on behalf of their governments. Extending this African network is one of Megan Lategan's priorities for the next few months. The team also continues to develop and showcase the ADU Virtual Museum. One of the next features to be included will be a system that simplifies the uploading of camera trap records which will be especially beneficial to the MammalMAP initiative.
Back to PEER Cycle 2 Grant Recipients