DSC
The National Academies
500 5th St NW - KWS 502
Washington, DC 20001
USA

Tel: (202) 334-2800
Fax: (202) 334-2139

Partnerships for enhanced engagement in research (PEER) SCIENCE
Cycle 2 (2012 Deadline)
MammalMAP: the African Mammal Atlas Project
PI: Les Underhill (University of Cape Town), with co-PI Robert Millar (University of Pretoria)
U.S. Partners: Walter Jetz (Yale University) and Robert Guralnik (University of Colorado Boulder)
Project Dates: August 2013 to May 2015

Africa is home to an incredible abundance and diversity of life. However, our ability to protect this biodiversity, particularly in the context of global climate change and increasing anthropogenic pressures, hinges on a foundation of knowledge of the current geographical distribution of biodiversity across the African continent. Our knowledge of the distribution of many African mammal species is based on either outdated or unverified information. This compromises our ability to effectively manage and conserve some of Africa's most charismatic biodiversity. To address this information paucity, MammalMAP (the African Mammal Atlas Project) – an initiative of the University of Cape Town (UCT) and the University of Pretoria (UP) in South Africa – aims to generate 21st Century range maps for all African mammal species.Through collaborations with scientists, conservation organizations, wildlife authorities and citizen scientists across Africa, all reliable evidence of current mammal occurrence is consolidated into a single open-access digital database. The database software automatically generates online distribution maps that are instantly visible and searchable. The information within this database is crucial for species and landscape conservation policies and provides an excellent platform for educating the public about the challenges facing Africa's biodiversity. This project involves data sharing and collaboration between MammalMAP and the Map of Life, an online biodiversity integration and visualization infrastructure project headed by the U.S. partners, Prof. Walter Jetz and Prof. Robert Guralnik. The collaboration will also facilitate the integration into the Map of Life database of 15 million records of southern African biodiversity distribution data that are currently curated by UCT.
The information within this database is crucial for species and landscape conservation policies and provides an excellent platform for educating the public about the challenges facing Africa's biodiversity. The work relates to the primary development goals of conserving biodiversity within the context of habitat change and climate change, preventing species extinctions, sustainably managing landscapes, and advancing and disseminating scientific knowledge. In terms of science and technology innovation and education, this research is expected to promote and facilitate interdisciplinary and international collaboration amongst scientists and conservation practitioners, with potential benefits to the advancement of conservation science. Furthermore, both the project input stage (data collection) and output stage (data dissemination) offer interactive, dynamic, and widely applicable education tools suitable for both the formal and informal education sectors. In addition to the informal education of citizen scientists involved in the project, formal training will be provided to project interns in mammal taxonomy, statistical ecology, and conservation education. During the course of the project, through collaboration with teachers, NGOs, and government, this research team aims to repackage MammalMAP data into generic material suitable for lessons and projects for primary, secondary, and tertiary scholars across Africa.
Summary of Recent Activities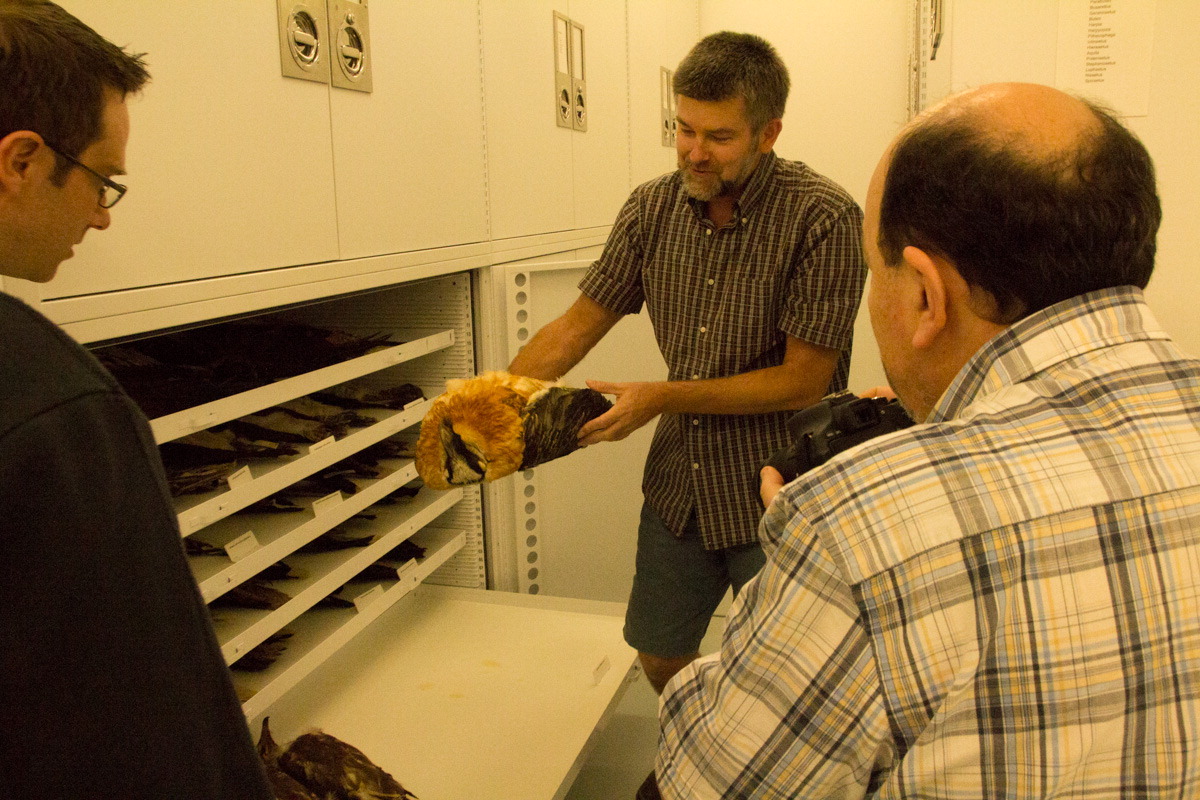 Research team visiting U.S. partner at Yale. Photo credit: Prof. Les Gordon Underhill
The main objective of this project is to consolidate disparately stored information on where African mammal species occur into one digital database. By collaborating with scientists, conservation professionals, and wildlife authorities and by participating in the revision of the Red Lists for all South African mammals during the first quarter of 2014, Dr. Underhill and his group have cleaned, formatted, and consolidated more than 450,000 mammal distribution records from biologists in southern Africa. This is approximately 300,000 more records than they had consolidated by January 2014. In addition, their initiative to recruit citizen scientists into the effort to collect mammal distribution records has yielded remarkable results. The number of records from this crowdsourcing effort has grown from 14,165 at the start of 2014 to 27,621 as of April.
In the coming months, the project team plans to develop standardized data collection protocols, improve data sharing practices, and figure out incentives to get more mammal biologists involved in the MammalMAP project. An IT developer has been hired to help maintain and develop the MammalMAP technology and database, and the project team is planning a workshop later this year with mammal biologists. An exchange visit is planned in September 2014 so that three members of the South African team may meet with U.S. counterparts to share ideas and techniques. A no-cost extension through May 2015 has been requested.
Back to PEER Cycle 2 Grant Recipients