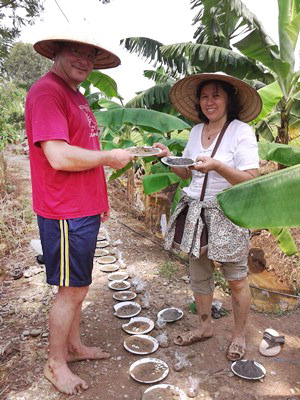 U.S. partner Ben Bostick and PI Pham T.K. Trang with water samples(Photo courtesy Dr. Trang).
Arsenic contamination is heterogeneous but widespread in the Red River and Mekong River deltas of Vietnam, where more than 10 million people depend on arsenic-impacted aquifers for drinking and irrigation water. Many of these wells are private tube wells with dangerous levels of arsenic. The Vietnamese researchers conducting this project have been documenting the extent and nature of this contamination for many years in collaboration with scientists from around the world. Development and urbanization has facilitated the installation of numerous domestic water supplies that draw heavily upon low-arsenic parts of the aquifer. These wells provide safe drinking water but have drastically changed the regional hydrology and are beginning to draw contaminated water into previously uncontaminated areas. The long-term sustainability of these precious water supplies needs to be established. To address this need, the project team will sample these and other groundwater resources regionally around the Hanoi area, with the work to involve training of young scientists and incorporation of a comprehensive suite of quality parameters that are indicative both of current and future risks. This will increase local capacity to evaluate these resources and provide the information needed to effectively recommend solutions for the sustainable use of aquifers.
Capacity building will be carried out through a series of training courses that address critical knowledge gaps in evaluating water quality and the effects of arsenic in the environment. The first course to be presented will be on the chemistry of groundwater arsenic contamination. This course would consist of background information about sediment processes, adsorption, and a description of the factors that affect arsenic retention, as well as a discussion of potential remediation options, with a focus on sand filters and others that are locally widespread and useful. These programs will increase the capacity to interpret regional geochemistry and provide students with the knowledge and critical skills needed to make decisions about the sustainable use of their groundwater resources. The results will provide a regional picture of the impacts of large scale regional groundwater withdrawal in one of the most extensively used, and thus possibly one of the most threatened, aquifers in the region. Mutual collaborations that will arise from this work will be invaluable in developing future research projects for this and other pressing issues related to the sustainable use of our environment.
Summary of Recent Activities
During the first quarter of 2015, Dr. Trang and her group drilled two wells, one on each side of the Red River Delta. Water samples and 30 sediment samples were collected and measured for arsenic, barium, calcium, and other elements in the field using a portable X-ray fluorescence spectrometer for screening. All the samples were subsequently transported to Columbia University for further study. By comparing the water parameters from both sides, the team hopes to determine if water abstraction from one side of the river can influence groundwater quality. Also in early 2015, Dr. Trang reports that one of her master's students has graduated after completing research as part of this PEER project.