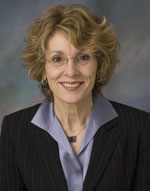 DR. MELBA CRAWFORD
School of Civil Engineering, Purdue University
Bio
Dr. Crawford is currently the Interim Associate Dean of Engineering for Interdisciplinary Research, as well as the Director of the Laboratory for Applications of Remote Sensing, Professor of Agronomy, Civil and Electrical and Computer Engineering, and Chair of Excellence in Earth Observation all at Purdue University. Dr. Crawford's research interests include studying the methods in statistical pattern recognition for high dimensional data analysis, data fusion techniques for multisensor problems, multiresolution methods in image analysis, and knowledge transfer in data mining. She has a Ph.D. in Industrial and Systems Engineering from Ohio State University and an M.S. in Civil Engineering and a B.S. in Civil Engineering both from the University of Illinois - Urbana-Champaign.
State Department Profile
Dr. Crawford divided her time between the International Organization Affairs Bureau (IO) and Intelligence and Research (INR). For IO, Dr. Crawford served as the Science Committee Coordinator for the U.S. National Commission to UNESCO. In this capacity, she advised the National Commission, and also the U.S. Mission to UNESCO in Paris, on U.S. priorities and objectives in re-establishing close linkages to the UNESCO science section. Dr. Crawford's principal focus with INR was disaster mitigation. In this role she was a delegate to the World Conference on Disaster Reduction in Kobe, Japan, and she took a leading role in U.S. efforts to establish a more effective tsunami early warning system for the Pacific Rim.