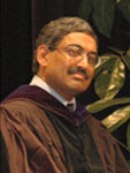 DR. KALIDAS SHETTY
Microbiology and Food Safety, University of Massachusetts, Amherst
Bio
Professor Shetty's teaching focuses on food biology, food biotechnology, functional foods, and world food habits. His research centers in biotechnology and the metabolic biology of functional foods, and more specifically on innovative advances in ingredient biosyntheses, food safety, nutrition, functional foods, and the environmental adaptation of biological systems. He graduated from the University of Idaho with a Ph.D. in Microbiology and an M.S. in Bacteriology, and from the University of Agricultural Sciences in Bangalore, India with a B.S. in Agricultural Science. His postdoctoral training was at the National Institute of Agro-Biological Research in Japan and at the University of Guelph, Ontario, Canada. He has three published books, many published articles, and several awards in the field of food biology in both the United States and abroad.
State Department Profile
Dr. Shetty worked with the Bureau of Economic and Business Affairs (EB), where he focused his efforts on promotion of U.S. agricultural biotechnology. He acted as adviser on intellectual property pertaining to genetically-modified crops, food safety issues such as BSE and soy rust, and agricultural terrorism, and he traveled extensively to present the benefits of agricultural biotechnology. He served as the State Department representative on the USG Interagency Working Group on Biotechnology Risk Assessment.