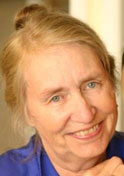 DR. ELSA GARMIRE
Department of Engineering Sciences, Dartmouth College
Bio
Dr. Garmire is Sydney E. Junkins Professor of Engineering Sciences. She received her A.B. at Harvard and her Ph.D. at M.I.T., both in physics. After post-doctoral work at Caltech, she spent 20 years at the University of Southern California, where she was eventually named William Hogue Professor of Electrical Engineering and director of the Center for Laser Studies. She came to Dartmouth in 1995, where she served 2 years as dean of Thayer School of Engineering. In her technical field of quantum electronics, lasers and optics, she has authored over 250 journal papers, obtained nine patents, and been on the editorial board of five technical journals. She has supervised 30 PhD theses and 14 MS theses. Garmire is a member of the National Academy of Engineering, serving presently on its Governing Council, and the American Academy of Arts and Sciences. She is fellow of the Institute of Electrical and Electronic Engineers, the American Physical Society, and the Optical Society of America, of which she was president in 1993. She has served on the boards of three other professional societies. In 1994 she received the Society of Women Engineers Achievement Award. Garmire has been a Fulbright senior lecturer and a visiting faculty member in Japan, Australia, Germany, and China. She chaired the NSF Advisory Committee on Emerging Technology and served on both the NSF Advisory Committee on Engineering and the Air Force Science Advisory Board. She teaches two courses at Dartmouth on Technology Literature.
State Department Profile
Dr. Garmire was advisor to the Bureau of Economics, Energy and Business under the U.S. Coordinator for International Communications and Information Policy. In this capacity, she reviewed U.S. telecommunications policies, provided analysis and recommendations to the U.S. coordinator and U.S. delegations, identified and developed policy initiatives for international strategy, and represented U.S. information and communications technology policies in interagency, academic, and private sector meetings. Additionally, Dr. Garmire participated in conferences and workshops such as the World Radio Conference, OECD's Ministerial Meeting, U.S.-India ICT Working Group, and the West Africa ICT Road Map to Opportunities, among many others, and presented a series of seminars to teach the technology of telecommunications to U.S. officers with the goal of establishing a strong knowledge/resource base for information and communications technologies within the U.S. Department of State.