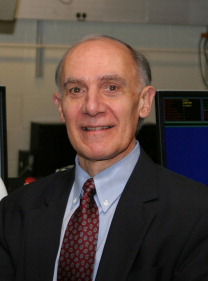 Dr. Arthur C. Sanderson is Professor of Electrical, Computer and Systems Engineering at Rensselaer Polytechnic Institute in Troy, N.Y. His research on the theory and development of robotics and intelligent systems includes fundamental contributions to sensor-based robotic control, planning and reasoning for intelligent systems, and distributed sensor networks. He has applied his research to manufacturing, biomedical engineering, environmental monitoring, space exploration, and security and defense systems. Dr. Sanderson received his B.S. degree from Brown University and his Ph.D. degree from Carnegie Mellon University. He has held faculty positions at Carnegie Mellon University, where he was Co-Director of the Robotics Institute, and at Rensselaer Polytechnic Institute where he has served as Department Head and as Vice President for Research. He has collaborated extensively with industry and was the Director of Information Sciences at Philips Laboratories, Briarcliff Manor, NY, from 1985-1987. He was instrumental in establishing the IEEE Robotics and Automation Society and served as its President. He is a Fellow of the IEEE and recipient of the IEEE Millennium Medal. From 1998-2000, he was Division Director of Electrical and Communications Systems research at the National Science Foundation. He has held international visiting positions at Delft University of Technology in the Netherlands, Universidad Iberoamericana in Mexico, and the University of Tsukuba in Japan. He has recently worked on the development of autonomous underwater vehicles and distributed sensor networks with application to environmental monitoring and security and defense systems. He has served as a Visiting Research Fellow of the Autonomous Undersea Systems Institute and Senior Research Advisor for The Beacon Institute for Rivers and Estuaries. Dr. Sanderson is the author of six books and more than 250 publications.
Dr. Sanderson's selection as a Jefferson Science Fellow was featured on Rensselaer Polytechnic Institute's website.
Read the article here
.