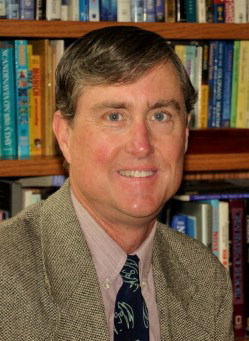 Darin Toohey is a professor of Atmospheric and Oceanic Sciences at the University of Colorado Boulder, where he also serves on the faculty of the Environmental Studies Program and as an affiliate of the Renewable and Sustainable Energy Institute (RASEI). Previously, he helped establish the Earth System Science Department at the University of California at Irvine, where he served as assistant and associate professor from 1991 until 1998. His research addresses the chemistry and dynamics of Earth's atmosphere, with particular emphasis on observations of trace gases and aerosols and their impact on stratospheric ozone, the oxidative capacity of the atmosphere, and radiation balance. He has participated in over 40 field campaigns, most involving research aircraft and scientific balloons. He has conducted field work around the globe, including in remote locations such as Antarctica and Spitsbergen. His work helped demonstrate the link between chlorine-containing and bromine-containing compounds on the destruction of ozone over the Arctic and Antarctic. His work has been funded by the National Science Foundation (NSF), the National Aeronautics and Space Administration (NASA), the Air Force Office of Sponsored Research (AFOSR), and the Methyl Bromide Global Coalition. He has coauthored 100 publications, reports, and chapters, and he has served on numerous scientific assessments, including the 2010 WMO Scientific Assessment of Stratospheric Ozone Depletion. Prof. Toohey has bachelors degrees in physics and in chemistry from the California State University at Fullerton, with masters and doctorate degrees in applied physics from Harvard University. He has received a number of awards, among them a National Science Foundation National Young Investigator Award (NYI), the Procter and Gamble award for outstanding student publication by the American Chemical Society, multiple NASA group achievement awards, and multiple teaching awards from Harvard University and UC Irvine. He served as editor of Journal of Geophysical Research Atmospheres and Atmospheric Measurement Techniques.
State Department Profile

Office of Economic Policy
Bureau of East Asian and Pacific Affairs
Darin Toohey worked in the Office of Economic Policy in the Bureau of East Asian and Pacific Affairs (EAP/EP). The Office of Economic Policy reports to the U.S. Senior Official for the Asia-Pacific Economic Cooperation (APEC) who coordinates APEC activities for the United States government. Darin covered issues related to energy, environment, and "green growth" (climate-friendly, low carbon and energy efficient technologies), as well as science, technology, and innovation.