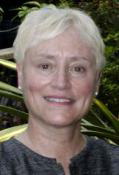 Dr. Maureen M. Goodenow is Professor of Pathology, Immunology, and Laboratory Medicine, holds the Stephany W. Holloway University Endowed Chair for AIDS Research at the University of Florida, and is the Director of the Florida Center for AIDS Research. She received her Ph.D. in molecular genetics from the Sue Golding Graduate School at the Albert Einstein College of Medicine in New York. Following a postdoctoral fellowship in molecular oncology at the Sloan Kettering Institute in New York, she was a visiting scientist at the Pasteur Institute in Paris, where she initiated her studies of HIV. Dr. Goodenow has a research program in molecular epidemiology, pathogenesis, and vaccines for HIV-1 and related viruses, including viruses that cause cancer. Her research program, which has a track record of more than twenty years of extramural research funding from NIH and foundations, currrently involves high-throughput next generation genomics, bioinformatics and systems biology applied to human immunity and pathogen interactions from a global health perspective. Dr. Goodenow has published over 100 articles and book chapters, and trained more than 25 doctoral and postdoctoral fellows. She is on the editorial boards for the Society for Leukocyte Biology, the American Society for Microbiology, and the International AIDS Society, has served as a special advisor to the Vice Chancellor of Research for the City University of New York, and is a member of National Institutes of Health committees, including the AIDS Research Advisory Committee for the Division of AIDS in the National Institute of Allergy and Infectious Diseases, and the Trans-NIH Plan for HIV-Related Research in the Office of AIDS Research. She has provided advice to the combined program between NIH and Department of State for enhancing research between US and Russian scientists, as well as Fogarty Programs in India and Kazakhstan.
State Department Profile

Bureau of East Asian and Pacific Affairs
Office of Economic Policy

Dr. Maureen Goodenow served as the senior science advisor in the Bureau of East Asian and Pacific Affairs in the Office of Economic Policy [EAP/EP] for projects related to global health, science, technology, and innovation for the Asia Pacific Economic Cooperation [APEC]. Dr. Goodenow also served as Chair for the Planning Group for the Life Sciences Innovative Forum [LSIF] and worked with Indonesia as 2013 APEC host economy for a high level dialogue of APEC Health and Finance officials. Dr. Goodenow advised LSIF and the Health Working Group on issues related to cancer, mental health, health-care associated infections, and HIV/AIDS in the region, the Policy Partnership for Science, Technology, and Innovation, and committees for women's role in the economy and for travel facilitation in the APEC region for U.S. business and higher education mobility. She guided international groups of experts, who represent divergent perspectives and interests, as well as U.S. Government interagency, academic, and private sector groups, in development of policy statements for APEC leaders will set the framework for projects in the APEC region.