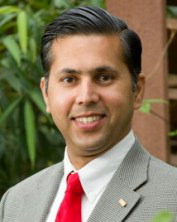 Dr. Raj Khosla is a Professor of Precision Agriculture at Colorado State University. In 2009, he was named the Colorado State University distinguished Monfort Professor. In addition, Dr. Khosla is an "Adjunct Scientist/Visiting Professor" at the National Engineering Research Center for Information Technology in Agriculture (NERCITA), in Beijing, China. In 2011, Dr. Khosla was appointed by NASA to the US "Presidential Advisory Committee on Positioning, Navigation and Timing" to work on US Space based PNT policy. Dr. Khosla's main research focus has been on "Management of in-field soil and crop spatial variability using innovative technologies (such as Global Positioning Systems or GPS, Geographic Information Systems or GIS, and Remote-sensing) for enhancing efficiency, productivity, profitability, and sustainability of large and small scale agricultural production systems. He has co-authored over 275 publications (book chapters, refereed journal articles, extension articles, proceedings, bulletins, reports, popular press articles and others). In addition, he has been invited to deliver Keynote addresses and invited lectures at national and international conferences in numerous countries around the world. Dr. Khosla has been recognized with several national and international awards, including the 2012 Soil Science Applied Research Award. He is a Fellow of American Society of Agronomy; Fellow of Soil Science Society of America and Fellow of Soil & Water Conservation Society. He is the current President of International Society of Precision Agriculture.
State Department Profile

Office of Economic Policy
Bureau of East Asia Pacific Affairs

Dr. Khosla served as a senior science advisor in the Bureau of East Asia Pacific Affairs, Office of Economic Policy where he was the Lead US government (USG) representative on the Policy Partnership on Food Security (PPFS) for the Asia-Pacific Economic Cooperation (APEC). In that capacity he represented the U.S. at the formal APEC PPFS meetings and engaged in discussion among 21 APEC economies. Dr. Khosla co-led the PFS Working Group 1 as U.S. Co-Chair along with Japan and Russia, where he was engaged in the development of a long term strategic plan called the "Roadmap towards 2020" to establish a secure food system within APEC. In addition, he worked on a portfolio of issues including food safety, agricultural biotechnology, environment and sustainability issues, forestry and illegal logging, oceans and fisheries, etc.