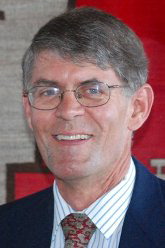 Dr. Brook Milligan is Director of the Conservation Genomics Laboratory and Professor of Biology at New Mexico State University. After earning a B.A. in physics from Dartmouth College and a Ph.D. in ecology from the University of California, Davis, Dr. Milligan worked at the University of Michigan as an N.S.F. Postdoctoral Fellow in Plant Biology. Subsequently, he has held academic positions at the University of Texas at Austin and New Mexico State University. Throughout his career, Dr. Milligan has focused his attention on the interface between population genetics and ecology/evolution, applying skills ranging from mathematical modeling to molecular genetics to field demography. Of particular interest is the challenge of extracting useful information about natural populations from patterns of genetic variation. This requires overcoming the limitation that there is little genetic information available for most natural populations, resulting in methodological, quantitative and mathematical challenges. Dr. Milligan's recent work in genomics focuses on harnessing biomedical and other innovative technologies to achieve rapid and inexpensive processing of genomes. This allows analysis of both a larger number of samples and of a larger proportion of each sample. This expansion provides a far more robust basis for identifying distinctive genetic markers for certain species or populations. These markers drive the development of practical applications to track specimens for conservation and management, and for enforcement of policies for particular species or populations. Currently, Dr. Milligan is collaborating with the U.S. Forest Service, the Department of State and USAID to apply genetics technology to tracking the origin of legally and illegally sourced timber products. In connection with this, Dr. Milligan has represented the United States at an international meeting on timber tracking technologies.
State Department Profile
Bureau of Oceans and International Environmental and Scientific Affairs
Office of Conservation and Water
Brook Milligan served as a Jefferson Science Fellow in the Office of Conservation and Water, a unit that oversees and promotes U.S. foreign policy objectives related to conservation and sustainable use of natural ecosystems, biological diversity and water, working through both bilateral relationships and multilateral conventions and institutions at global and regional levels. Brook contributed his expertise to a variety of interagency committees charged with implementing international trade laws and agreements governing rare and endangered species. In this capacity he participated in a delegation led by the U.S. Trade Representative to Peru regarding forest sector compliance with the requirements of the Peru Trade Promotion Act. As part of a strong and collaborative interagency group developing technologies to reduce illegal logging and deforestation, Brook helped the State Department, USAID, the U.S. Forest Service International Programs, and the Department of Justice design projects to improve the tracking and identification of timber. Finally, Brook shepherded an effort to enable emerging genomics technologies to be applied as tools combating conservation crime (e.g., wildlife trafficking, illegal logging, and IUU fishing). To this end he initiated outreach efforts to the interagency, to international conservation and civil society organizations, to foreign governments, and to the private sector in order to establish the coalitions and trust required to advance conservation genomics as a practical tool. Throughout both these efforts and his strong support of colleagues in the office, Brook helped bridge the technical intricacies of science with the sensitivities of international policy negotiation to ensure that policy and strategic decisions are well-informed.