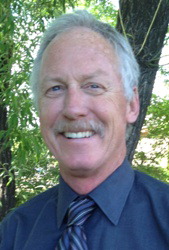 Dr. Roger Kjelgren is a tree physiologist spanning urban horticulture, forestry, and agriculture. After undergraduate and master's degrees in soil science from Washington and Oregon state universities, he completed his Ph.D. at the University of Washington in forestry, worked at Southern Illinois University for several years before joining Utah State University. His assignment at Utah State University has revolved around teaching and research regarding efficient water management for a range of plant types and situations, primarily for irrigated urban landscapes. From this evolved a cross-disciplinary effort developing quantitative GIS tools for urban water agencies to mine their data for capacity to conserve. From a supply angle, he coordinates a cross-disciplinary dendrochronology team to reconstruct paleo hydroclimate in the interior West with a focus on delineating rhythmic wet/dry cycles that interact with downscaled climate change scenarios. Professor Kjelgren served a Fulbright fellowship in Thailand that led to developing academic relationships with partner Thai and Chinese universities, promoting study abroad opportunities for undergraduate students in agriculture and natural resources, and collaborative research efforts.
State Department Profile

Office of Economic Analysis
Bureau of Intelligence and Research

Roger Kjelgren participated as science advisor in the State Department Bureau of Intelligence and Research office of Economic Affairs. In that capacity, he engaged in free trade discussions with his colleagues and writings on how climate volatility impacts on agricultural and natural resource issues interact with economic factors in developing countries. This focus included exploring common interests with other bureaus in State Department and the Agency for International Development.
Read Dr. Kjelgren's co-authored article in Science Diplomacy, "Tacit Diplomacy in Life Sciences."