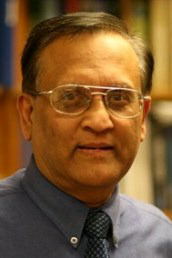 Dr. Rajan Sen is Professor of Structural Engineering at USF where he held the inaugural Samuel & Julia Flom Chair and joint appointments at the schools of Engineering and Architecture. Born in Cambridge UK, he attended Indian Institute of Technology, University of British Columbia and is a PhD from SUNY Buffalo. He started his career at Department of Transport, London where he worked extensively in developing design software and British Bridge Code BS 5400, complemented by experience at Freeman Fox & Partners. Dr. Sen's research focuses on developing cost effective solutions for solving infrastructure problems using fiber reinforced polymers (FRP), promoting their implementation through field studies and advancing design concepts which led notably to the construction of Florida's first post-tensioned voided slab bridge in Miami. Pioneering contributions are on the durability of FRP, its application in strengthening steel and underwater repair of corroding piles. Research was funded by FDOT, NSF, TRB, the US Army Corps of Engineers, featured in Steel Bridge News and Composites Technology, and at plenary presentations at IIT and the Masonry Society. Dr. Sen has authored over 200 journal papers, book chapters, conference proceedings, technical reports, edited two books and holds a US patent on underwater repair. He has chaired international conferences sponsored by ACI and ASCE, made research presentations worldwide, served as NSF sponsored delegate to Europe, Japan and India, an invited speaker to the Caribbean hosted by the US Southern Command, and as USF visiting delegate to South Africa. Dr. Sen is a licensed professional engineer and has mentored USF students to national championships at PCI sponsored events. He is Fellow of ACI and ASCE, on the Editorial Board of ASCE's Journal of Composites for Construction, and invited guest editor at International Journal of Materials & Product Technology. He serves on FRP committees at ACI, TRB, RILEM, and on the International Advisory Board, FRP Institute India.
State Department Profile

Bureau of International Organization Affairs
Office of Global Systems
Prof. Rajan Sen was a science & technology advisor at the Bureau of International Organization Affairs, Office of Global Systems (IO/GS). His portfolio incorporated projects from multiple agencies: disaster risk reduction (IO/HS); urban resilience, international codes, monitoring exploitation of land resources (IO/GS); curriculum development (OAS); Himalayan glacial lake over burst flooding (SAT/OES). He served on the National Science &Technology Council's subcommittees on Infrastructure (ISC) and Disaster Reduction (SDR) and its International Working Group (IWG) facilitating international cooperation in science and technology relating to all aspects of natural disasters. He contributed to the current Presidential Policy Directive consultative process document and to ISC's ongoing research agenda with a presentation on the use of emerging technologies and design to enhance infrastructure resilience. He was a member of an inter-agency Science Coordination Group for the Presidential Sandy Task Force providing recommendations on hurricane rebuilding efforts. As U.S. delegate to UNISDR he attended the Global Platform on Disaster Risk Reduction at UN Geneva. He consulted with UN-Habitat officials and UNDP officials at UN headquarters in Nairobi and New York. In both instances he gave presentations on sustainable cities- at the U.S. Embassy Nairobi and at UNDP offices in New York. He was also invited presenter at international conferences on advanced composites in Mumbai (CONMAT) and Jabalpur (ICEMT) - site of India's first FRP bridge.