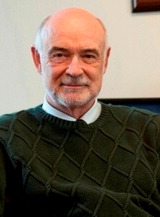 Dr. David R. Benson is Professor of Microbiology and Head of the Department of Molecular and Cell Biology at the University of Connecticut. He received his doctoral degree from Rutgers University in Microbiology and Biochemistry and did postdoctoral work at the University of Wisconsin, Madison in biochemistry before coming to UConn in 1980. Dr. Benson's research and teaching expertise are in the broad areas of bacterial molecular genetics, microbial physiology and ecology. He is particularly interested in genomic and biochemical characteristics that align with the distribution of microorganisms in environments. This interest is manifested in studies on nitrogen-fixing plant symbioses, cheese ripening microbiology and tick-borne diseases. Recent work has used high-throughput DNA, RNA and protein sequence analysis to study microbe plant interactions. The NSF, USDA and EPA have provided support. He is a Fellow of the American Academy of Microbiology and was twice elected as the Chair and Councilor of the General Microbiology Division of the American Society for Microbiology and has served on the Editorial Board of the journal Applied and Environmental Microbiology. He has been elected to the Connecticut Academy of Arts and Sciences and served as visiting professor at the University of Waikato, New Zealand.
State Department Profile

Biological Policy Staff
Bureau of International Security and Non-proliferation
David Benson served as a science advisor in ISN/BPS particularly on issues related to microbiology, molecular biology and academic science. He provided perspectives that complement existing expertise in technical areas related to the Biological and Toxin Warfare Convention (BWC), Dual-Use Research of Concern (DURC), including synthetic DNA and other emerging technology areas that have complex policy implications. In addition to supporting his colleagues in BPS in general, David shepherded the Department of State's response to the Presidential Policy Directive on National Strategy for Countering Biological Threats. He also initiated outreach efforts to raise awareness among scientists about current policy issues implicit in the BWC at an international level, and attended several relevant conferences held by other agencies and NGOs in the DC area and nationally.

Read Dr. Benson's co-authored article in Science Diplomacy, "Tacit Diplomacy in Life Sciences."