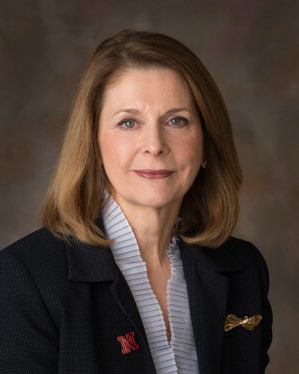 Dr. Concetta C. DiRusso is a Professor of Biochemistry at the University of Nebraska-Lincoln and a Fellow of the American Association for the Advancement of Science. She obtained her BA from Hampshire College, PhD in Cell and Molecular Biology from the University of Vermont in 1982, and completed postdoctoral studies in biochemistry at the University of California, Irvine. In 1986, Dr. DiRusso joined the University of Tennessee Health Science Center where she conducted seminal work describing the mechanistic details of a fatty acid-responsive transcription factor that regulates genes required for fatty acid oxidation and biosynthesis. Following a sabbatical at Odense University, Dr. DiRusso was recruited to Albany Medical College in 1996 where she characterized one of the first eukaryotic fatty acid transport proteins. Using a series of directed mutagenesis studies, she and her colleagues localized the functional domain within this protein required for transport. This foundational work allowed Dr. DiRusso to develop a novel high throughput screening method that identified several small molecule inhibitors that reduce fatty acid transport into human cells. Professor DiRusso holds two patents for these compounds, which are now in preclinical trials. Her expertise in complex lipid metabolism is of national prominence as evidence by an uninterrupted and externally supported research program by the NIH, NSF, USDA and AHA since 1988. She has presented her work at international conferences and served on grant peer review panels for the NIH, NSF, and AHA and as an Editorial Board Member for the Journal of Biological Chemistry, Endocrine Research and Frontiers in Fatty Acid and Lipid Physiology. Dr. DiRusso has spent considerable effort to advance women and underserved minorities in the STEM disciplines, culminating in her work as Chair of the Faculty Committee of ADVANCE-NE, which developed best practices for recruitment, advancement and retention of tenure-track women faculty in STEM.

USAID Profile

Global Health Bureau
Office of HIV/AIDS (OHA)

Dr. Concetta DiRusso serves as a senior advisor in the Office of HIV/AIDS in the PEPFAR Food & Nutrition Technical Working Group. She primarily focuses on the formulation, production and use of Ready To Use Therapeutic (RUTF) and Supplemental (RUSF) Foods. In this position she coordinates between OHA, The Bureau for Food Security (BFS) and Food For Peace (FFP) within the Bureau of Democracy, Conflict and humanitarian Assistance and Missions within USAID, as well as with interagency PEPFAR Country Teams, SAFE/PFS, ENABLE/GAIN and other technical partners supporting PEPFAR and Feed the Future Programming (e.g. FANTA-III and SPRING) to evaluate supplement formulation and to promote expanded production of RUTF and RUSF for the treatment of malnutrition. This work involves policy formulation and planning for the strengthening of regulatory control systems for the production of supplemental and therapeutic foods with governments as well as the commercial food sector and technical partners.