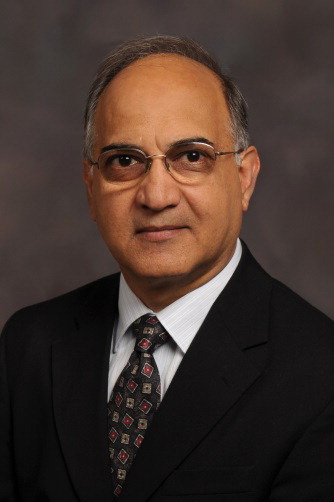 Dr. Anil Pahwa is Logan-Fetterhoof Endowed Chair Professor of Electrical and Computer Engineering at Kansas State University and a Fellow of the Institute for Electronics and Electrical Engineering (IEEE). He received PhD from Texas A&M University in 1983, MS from University of Maine in 1979, and BE (Honors) from BITS-Pilani, India in 1975, all in electrical engineering. He served as Department Head of Electrical and Computer Engineering at Kansas State University from 2004 to 2007. Dr. Pahwa has served as officer in several IEEE Power and Energy Society committees over the past 20 years. He was Chair of Power and Energy Education Committee in 2012 and 2013, and presently he is an Editor of IEEE Transactions on Power Systems. Dr. Pahwa received the Staszesky Distribution Automation Award in 2012 and Prize Paper Award in 2013 from IEEE PES. He received Erickson Public Service Award in 2011 and Frankenhoff Outstanding Research Award in 2012 from the College of Engineering of Kansas State University. His research and teaching interests include smart grid, distribution system planning, intelligent computational methods for power systems, renewable energy, and sustainability. Dr. Pahwa has worked on several research projects sponsored by the utilities in Kansas, the National Science Foundation, and the Department of Energy. His research on power and energy has taken him to several countries including Australia, Nigeria, Kenya, South Africa, Cape Verde, and Turkey. As a faculty adviser for the student chapter of Engineers Without Borders, he has guided students on projects in India, Guatemala, and Ecuador. From 2007 to 2011, Dr. Pahwa served as the electrical engineering coordinator for a World Bank-funded project to strengthen higher education in Afghanistan. In 2007, he spent approximately three weeks at Kabul University to prepare a new curriculum, and mentor faculty and students.


State Department Profile

Office of Economic Policy
Bureau of East Asian and Pacific Affairs

Anil Pahwa works in the Office of Economic Policy in the Bureau of East Asian and Pacific Affairs (EAP/EP). The EAP/EP office is the coordinator for U.S. government participation in the Asia-Pacific Economic Cooperation (APEC) forum, which is an organization of 21 economies, as well as for economic, energy, environment, and science and technology issues in the East Asian region. His work focuses on energy issues, including renewable energy and smart grid, infrastructure financing, and urbanization. Within the State Department he works most closely with the Bureau of Energy Resources (ENR). He also engages with other federal agencies including the Department of Energy and the Department of Commerce.