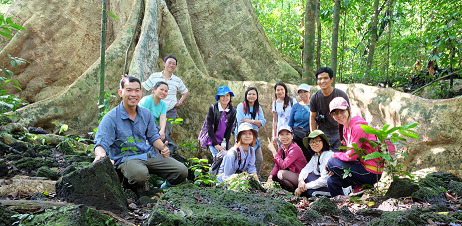 A group photo of the team at Cat Tien Park (Photo courtesy of Dr. Aowphol).
This four-year effort has resulted in many new linkages and capacity building opportunities and has generated interest among other funders and potential users of the team's research findings. Following are summaries of the results for each of the three countries involved:
Thailand
The PEER program provided opportunities for four female students to study herpetology and conservation. Dr. Somphouthone Phimmachak finished her PhD in zoology at Kasetsart University (Bangkok) and began her career as a lecturer at the National University of Laos, where she continues research on herpetology and conservation. She is the first Laotian herpetologist to complete a PhD. Ms. Korkhwan Termprayoon finished her MSc degree in zoology and continues her studies in the PhD program at Kasetsart, where she is conducting research on gecko systematics and conservation. PhD student Ms. Sengvilay Seateun is the second female herpetologist from Laos, and she will continue her career as a lecturer at National University of Laos. She has received additional support for her research from the World Wildlife Fund (WWF). Ms. Siriporn Yodthong is a Thai PhD student who focuses on amphibians on islands. Her ongoing research will provide knowledge on genetic relationships and conservation of amphibians in Thailand. The PEER project has provided the support for building research collaboration among Southeast Asian researchers, and the four students in PI Dr. Anchalee Aowphol's lab had opportunities to visit Vietnam, Laos, and the United States as part of the effort. As of the time the project ended in September 2017, member of the PEER team (including those based in Thailand, Laos, and Vietnam, plus U.S. partners) have published 9 peer-reviewed journal articles and one proceedings and made 21 technical presentations, providing and disseminating knowledge that can be used for conservation applications in collaboration with government agencies.
Vietnam

Led by co-PI Dr. Hoang Duc Huy, the team members in Vietnam gathered and analyzed baseline information for amphibian biology and ecology in Bidoup-Nui Ba National Park, including a list of amphibian species in the park, the first description of the tadpoles of
Leptobrachium leucops
living there, and a description of the dietary patterns of ten local amphibian species, including the tadpoles of
L. pullum
and
L. leucops
. Their research provided information for amphibian conservation in the area, including on changes in amphibian species diversity and abundance, effects of habitat disturbance and other environmental variables, and evidence that the chytrid fungus has not significantly impacted amphibian populations in the region. On the education side, the PEER funds supported the work of two undergraduate students and one PhD student.
Laos
Led by co-PI Dr. Niane Sivongxay, the Laotian team carried out 18 field expeditions. PEER funds supported two projects for students in the Master's program and two for undergraduate students on the following topics:
Amphibian and reptile diversity in Nam Lik Reservoir, Nanxang Village, Feuang District, Vientiane Province
Natural history and distribution of the bent-toed gekko genus Cyrtodactylus Gray, 1827 in Khammouane Province
Species diversity of amphibians and reptiles in four districts, Khammouane Province (two students, one male and one female, finished their final projects)
Diversity of tadpoles at Nam Lik Reservoir, Naxang Village, Feuang District, Vientiane Province (one female student finished her final project)
The PEER support allowed the Laotian team to take part in international collaborative fieldwork both in Laos and abroad and to participate in the 5th Conference on Taxonomy and Systematics in Thailand at Kasetsart University. A study visit to the United States in June 2017 allowed participants to compare their specimens collected in Laos with samples in the collections of the North Carolina Museum of Natural Sciences and the Field Museum, and they also gained experience by taking part in a field survey of salamanders in North Carolina along with their Southeast Asian and U.S. counterparts. The visitors' expertise facilitated the redescription of some Laotian amphibian and reptile species samples that had previously been deposited in the Field Museum.
Thanks to follow-on funding received from the WWF, the Kasetsart University Research and Development Institute, the Center of Excellence in Biodiversity (Thailand), and Vietnam National University, the various participants in this PEER project are continuing their research efforts and their collaboration with their U.S. partner Dr. Bryan Stuart. In addition, the Bidoup-Nui Ba National Park has expressed interest in applying the research results in their ecotourism education program and in future decisions on areas that should receive priority protection for the conservation of amphibian biodiversity.
USAID Interview with Dr. Aowphol on Women Leaders

USAID Women Leaders article featuring Dr. Aowphol

Back to PEER Cycle 2 Grant Recipients