This PEER project covered various aspects of the farmed fish value chain during the three years. Dr. Maina reports that this project got interesting findings and discussions are ongoing with stakeholders on the action to be taken.
The study on profitability of fish farming showed that farmed fish had very short value chains and because of this, fish farmers were also engaged in other enterprises. Fish farmers with 3 or more ponds consistently made profits. Catfish was the most profitable cultured fish and black clay soil sites were the best for fish farming. The study recommended that the county should promote large scale fish farming and fish farming should be integrated with other enterprises. In addition fish farming should only be promoted in areas that have the most potential.
The presence of ecto and endo parasites in farmed fish in Nyeri and the prevalence among different species and production methods has been communicated to stakeholders. A group was formed consisting of University of Nairobi and other stakeholders in Nyeri to continue this discussion and discuss ways of increasing fish productivity to feed into the new Wamagana Fish processing factory in Nyeri. Their evaluation of feed resources in Nyeri led to Othaya feed millers improving the fish feeds that they were supplying to farmers. In their analyses, they found out that some of the raw materials they were using were of low nutritional quality. They also analyzed their fish feed and it had 14% crude protein which was very low. After working with the millers to improve their feeds, the last sample they sent to the PI's lab had 28% of protein level. They used their data to improve the way they made their feeds and will soon be certified by the Kenya Bureau of Standards.
Using molecular techniques, Dr. Maina reports that they found that there is very little variation among brood stock in some of the hatcheries that supply fingerlings to farmers. They have presented papers on this in Nyeri and at the Animal Production Society in Eldoret in April 2017. The way forward is that they have scheduled a presentation with the Aquaculture Round Table where they shall have discussions with policy makers. They also found that there is very little variation among catfish in Lake Naivasha. Their studies showed that the catfish found in that lake may have all come from one pair. They communicated this but have since been requested to do more studies and increase the number of sampling sites.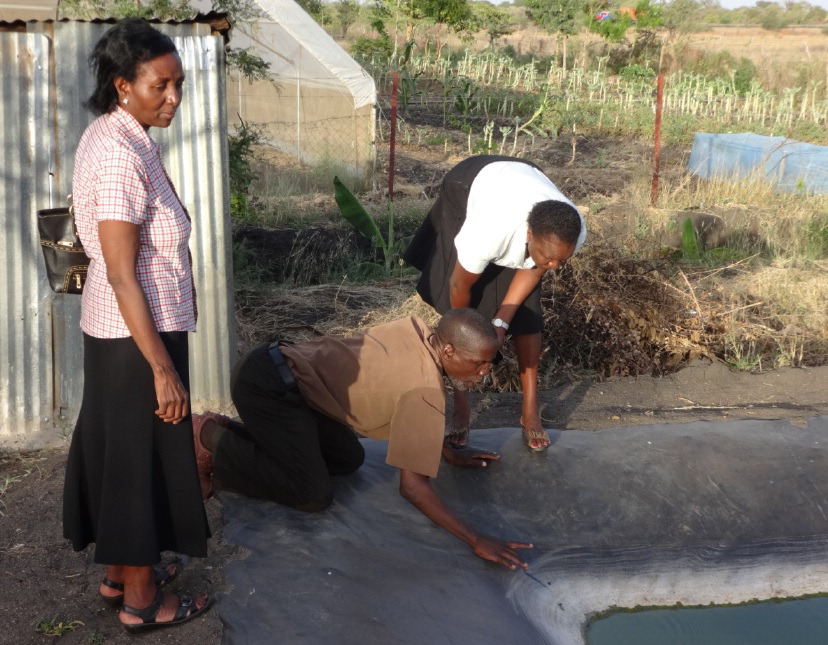 Dr. Maina and Paul Wesonga (PhD student) assessing water levels in a fish pond (Photo courtesy Dr. Maina)
In Kibwezi, the PI and her team did a study on the profitability of fish farming when compared to other enterprises in the region. The student who did that work presented his findings and recommendations to the Cabinet Secretary for Agriculture, Livestock and Fisheries and also to the Principal Secretary in charge of State Department of Fisheries and the Blue Economy. He has been nominated as a board member for the State Department of Fisheries and Blue Economy. In addition, he has received grant from another project to train farmers in 7 Counties in Kenya.
In Migori, they found extremely high levels of mercury in fish and sediments collected in gold mining and adjacent areas. They have requested for money under PEER project cycle 6 to continue with this work and determine the extent of environmental contamination with mercury and the effects on vulnerable populations.
Through this PEER project; capacity has been built among researchers including graduate students and their supervisors on participatory research. This capacity has also been built among researchers at the Kenya marine and Fisheries Research Institute and the Kenya Agriculture and Livestock Research Institution. Increasingly more researchers are using participatory methods in their research than was the case before the PEER project. -2 PhD students were trained who will graduate this year, 4 Masters students were trained who will also graduate this year.
Capacity has also been built among farmers, hatchery managers and feed millers on best practices. Lastly, networks and collaborations have been established.