Partnerships for enhanced engagement in research (PEER) SCIENCE
Cycle 2 (2012 Deadline)
Computational Mathematics, Modeling and Analysis of Biological, Bio-inspired and Engineering Systems
PIs: Madundo Mtambo and Burton Mwamila (Nelson Mandela African Institution of Science and Technology)
U.S. Partner: Padmanabhan Seshaiyer (George Mason University)
Project Dates: August 2013 to September 2014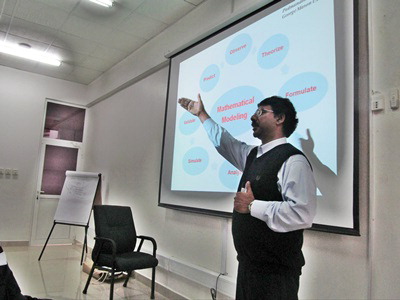 U.S. partner Padmanabhan Seshaiyer leads a talk during the Mathematical Modeling Summer Institute, held September 2013 at the Nelson Mandela African Institution of Science & Technology (Photo courtesy Drs. Mtambo and Mwamila)
There is currently a great need in East Africa to build capacity for educational excellence in science, engineering and technology, which can help play a vital role in the economic and social transformation of East and Sub-Saharan Africa. The ultimate goal of the project is to promote capacity building by creating a broad network of knowledgeable scientists and researchers who will start to collaborate to tackle some of the most urgent problems in food security, environment, education, water and global health affecting Tanzania and neighboring countries. To this end, a three-week course was organized to train 30 members of the mathematical, biological and engineering community in Tanzania, especially early career researchers, graduate and post-graduate students on multidisciplinary applications of mathematics. This effort will help create much-needed awareness to pursue multidisciplinary real-world problem solving using science, engineering, and technology, and, in turn, help increase the number of people involved in science, technology, engineering, and mathematics (STEM) in the country. This program is expected to be well received by the mathematics, biology and engineering communities in East Africa, where there is a great need to expose the next generation workforce of young talent to such multidisciplinary learning opportunities.
The project is modeled after and builds upon a successful National Science Foundation Research Experiences for Undergraduates program that the U.S. partner currently directs. In particular, the selected participants have the opportunity to learn about new content, software, and tools and apply them to solve real-world problems. Some of these projects that the participants are learning about and working on include fish harvesting and its economic impact, social process modeling and bioconservation, optimization models for energy security, enhancing student learning in STEM, sensor networks to detect petroleum adulteration, mutualism models for rhizobia legume interaction, and prediction of tobacco concentrations using contaminant transport models coupled with disease dynamics.
Summary of Recent Activities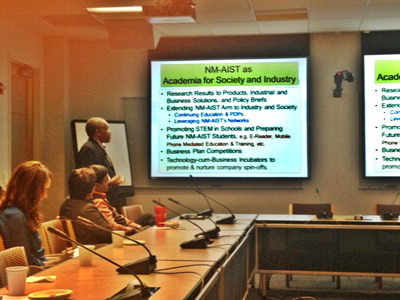 Co-PI Burton Mwamila makes a presentation about the PEER project at the National Academies in Washington, D.C. (Photo courtesy Dalal Najib)
In this final stage of the project, 14 students have developed their research proposals in three thematic areas, including food security, global health and environment. In early 2014 they formalized their research agendas, assembled their research kits and started data collection, except for the four students whose research proposals are on global health. These four students required extra clearances from the Tanzania National Medical Research Institute (NIMRI) and were expected to start collecting data from health facilities after April 30, 2014. The majority of the students are working from the NM-AIST laboratories and respective field areas around the country for their data collection activities, while three students are conducting their data collection outside of Tanzania (Uganda, Germany, and the United States).
During the summer, the students will continue with their data collection and then will move to preliminary analysis and interaction with supervisors, which is expected to lead to the drafting of their thesis manuscripts.
Back to PEER Cycle 2 Grant Recipients