PI: Dorothy Wanja Nyingi (National Museums of Kenya)
U.S. Partner: Henry Bart, Jr. (Tulane University)
Project Dates: August 2013 to February 2016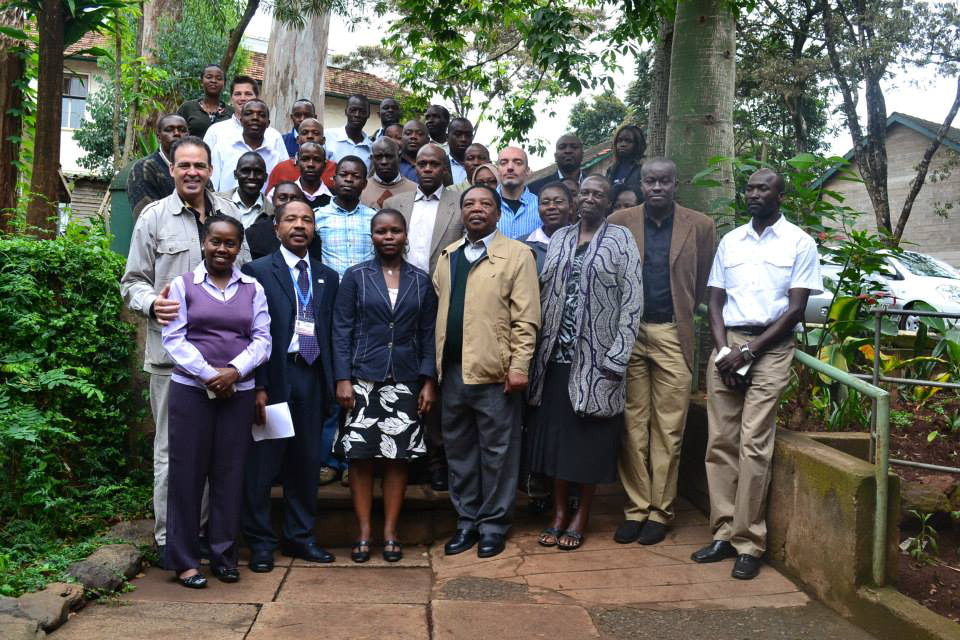 Participants in the Biodiversity and Phylogenetics Research Methods Workshop held September 24 to 27 at the National Museums of Kenya in Nairobi (Photo courtesy Dr. Nyingi).
The ichthyology section is the youngest of all the research collection departments at the National Museums of Kenya (NMK). Founded in 1997, the section holds the largest collection of fishes within East and Central Africa. Despite its potential, however, it has suffered from the lack of adequate funding and human capacity. Previous collaboration with Tulane University with funding from the National Science Foundation has supported field collections, morphological and genetic analyses, and capacity building of local researchers. However, many gaps remain in field expeditions, specimen curation, data analyses, publication, and dissemination. The main goal of the project is to support the Kenyan research team in their work on fish species discovery and creation of checklists and identification keys. Building on progress made with support under the pilot round of the PEER Science program, this new project will involve field excursions in rivers not yet explored, particularly the mid and lower basins of the Tana and Athi rivers and rivers in northern parts of Kenya. The project will also include support for proper curation of fishes at the ichthyology section of NMK, training in phylogenetic analyses, and support for undergraduate and post-graduate student participants.
This project will increase the training and capacity of Kenyan scientists and students by engaging them in important components of biodiversity research, specifically taxonomic revisions and new species descriptions, molecular phylogenetic analyses on DNA sequence data, improvement of the state of preservation of the NMK fish collection, and Web-based dissemination of data from the collection. The additional training and resources provided as part of this project will ensure that Kenyans will have the capacity to conduct biodiversity research in the future and that the NMK fish collection is available to support this research for generations to come. The proposed project will also allow unfinished fish taxonomic work to be completed, greatly increasing knowledge of the Kenyan freshwater fish fauna. It will train Kenyans in fish identification methods and will provide identification keys and guides to aid the identification process. Imparting this knowledge to local indigenous people should increase their desire to protect the species and their riverine habitats.
Summary of Recent Activities
The final reporting year of activities under the PEER grant involved dissemination of results, capacity building in the form of training and supplies for Ichthyological collections and staff and student training.

Dissemination: The team received the opportunity to participate in the Pathways Kenya 2016 International Conference: Integrating Human Dimensions into Fisheries and Wildlife held in Nanyuki, Kenya in January 2016. This conference was organized by Colorado State University and hosted by Conservation Solutions Africa (CSA). The Executive Director of CSA, Dr. Mordecai Ogada is one of the PIs of the NSF and USAID research work.
Dr. Nathan Gichuki (University of Nairobi) and Dr. Wanja Dorothy Nyingi (National Museums of Kenya) organized a special session at Pathways 2016 on: Conflicts between humans and wildlife in water dependent ecosystems of Arid and Semi-Arid Areas held on Wednesday 13 January 2016: 11:00 - 12:50. Seven out of the nine presentations at this session involved work carried out with participation of USAID-PEER funding.

Another level of dissemination in the reporting period involved through publications of research findings. Three peer reviewed publications (one with US participants) and one book chapter by Kenyan PI (with other non-PEER supported collaborations).

The project continued to mentor students and staff affiliated to the research work. In total, 4 mentorships programs were effected. Two involving female undergraduate students supported for internships at Ichthyology Section under the Kenya Wetlands Biodiversity Research Team; one new Msc student was added to the ongoing (2) and a PhD student (formerly Msc in the project), who joined the Chinese Academy of Sciences for joint projects in Freshwater Fish diversity work in Lake Turkana.



Back to PEER Cycle 2 Grant Recipients