Partnerships for enhanced engagement in research (PEER) SCIENCE
Cycle 2 (2012 Deadline)
Integrated humanitarian logistics system for developing countries
PI: Victor Cantillo (Fundación Universidad del Norte)
U.S. Partner: José Holguin-Veras (Rensselaer Polytechnic Institute)
Project Dates: August 2013 - October 2016
Evidence to Action Supplement: August 2017 - November 2018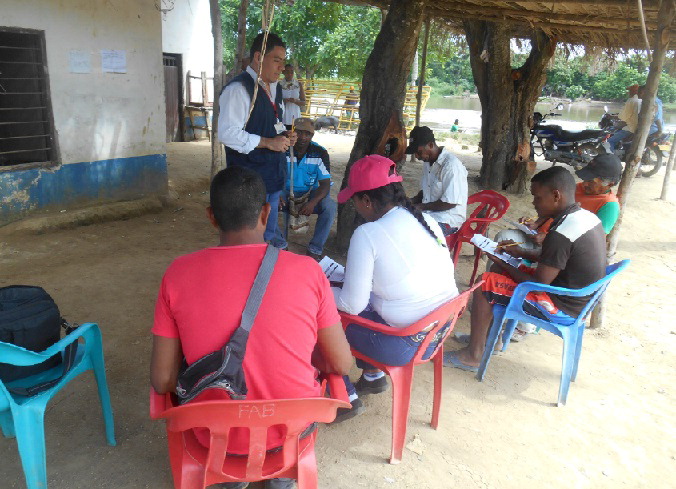 PhD student Luis Macea working with local communities to gather data about disaster management practices (photo courtesy of Dr. Cantillo).
This project aims to contribute to the development of an integrated humanitarian logistics system for post-disaster relief response in developing countries. As part of the work, the research team will collaborate to propose humanitarian logistics models that explicitly incorporate a key aspect that has not been considered before: deprivation costs (i.e., the cost associated with lack of access to life-sustaining items). This is important in order to develop appropriate models capable of representing human suffering. The research is expected to produce algorithms and heuristics to solve and validate the proposed formulations and propose an effective emergency management system for post-disaster relief operations. This will lead to analytical formulations that properly consider the consequences of logistics decisions once populations have been impacted by disasters and, ultimately, to more effective and coordinated strategies to deliver critical supplies in developing countries. This research will be complemented with a plan to enhance project impacts by attracting students to careers in engineering at graduate level, integrating research and education, and reaching out to practitioners with training sessions in disaster response operations.
The importance and relevance of the proposed work has been evidenced by direct observations and field work conducted during recent humanitarian logistics efforts after super-storm Sandy, Hurricane Katrina, and the Joplin tornado, as well as the earthquake response in Haiti and the Dominican Republic and the response to the Japan earthquake and tsunami. Research conducted has highlighted the challenges of disaster relief systems in both developed and developing countries. These findings will be complemented with additional field work to be conducted by the team at ongoing disaster relief operations in Colombia. This proposal includes a close relationship with disaster relief operations agencies such as the local Emergency Disaster Response Office, which will work with the research team and social scientists in data collection regarding the last major disasters in Colombia. This work and coordination provides an excellent and unique opportunity, as the number of disasters in the country has shown a notable increase in the last few years, especially due to climate changes. It is expected that the analysis of the datasets and case studies and a review of best practices will allow the team to adapt them to the needs of developing countries and be able to propose a disaster management system that minimizes human suffering. Furthermore, this system can be used to provide training to relevant agencies to make their response as effective and efficient as possible. In that sense, practitioners will have first-hand exposure to the problem and possible ways to resolve it.
Summary of Recent Activities
[Note: Dr. Cantillo received a PEER Evidence to Action supplement in August 2017 to support a one-year outreach and capacity building effort as a follow on to his PEER Cycle 2 project, which was completed in October 2016. During the final stages of that project, the PI and his team worked on designing a model emergency management system, based on an analysis of current practices in developing countries but extending that to propose a model for the internal organization of the relevant government agencies consistent with the humanitarian logistics models the team had developed. Now, the researchers aim to apply the system they developed and propose specific policy recommendations regarding natural disaster preparedness and response. In particular, they will focus on the communities affected by floods in the Colombian Caribbean Region during the rainy season in 2010 and 2011. The first main objective is to train people in charge of disaster preparedness, mitigation, and response on policies that will ensure humanitarian assistance in areas with high levels of disaster risk, based on the results of the original PEER-supported research. The second aim is to develop a collaborative work plan with municipal and provincial authorities in the target communities in order to introduce the recommended policies in their strategic planning and investment process in preparation for potential disasters.]
Now that this PEER Evidence to Action supplement has ended as of November 30, 2018, Prof. Cantillo reports that it was valuable in allowing him and his team to build and maintain several important relationships with government agencies and other groups interested in disaster and risk management. Working in collaboration with these stakeholders, he and his team had the opportunity to identify specific problems facing the disaster relief system. Through site visits and interviews they collected specific information on the experiences of local residents in areas affected by the 2010-2011 floods. This information was used to design a work plan, lectures, and workshops for practitioners and relevant officials in the areas of risk and disaster management. The training program lasted three sessions (June 22, June 29, and July 6, 2018) for a total of 24 contact hours. The 96 participants had the opportunity to listen to presentations, ask questions, share experiences, give different points of view, and socialize drawbacks faced within disaster events. The last session was intended to provide maximum potential for interaction among the participants, who were invited to take part in developing plans based on real life case scenarios based on actual disaster events that had happened in Colombia, including floods, landslides, and the resulting emergency needs for shelter, food, and other necessities by those affected. This gave the participants a chance to apply all the concepts, tools, and techniques acquired in the course of the training program. More information is available at
https://www.uninorte.edu.co/web/educacion-continuada/gestion-delriesgo-de-desastres
.
Following up on the training sessions, the PI reports that he and his team have produced several research papers and met with local and national disaster and risk planning authorities to recommend ways of optimizing the allocation of financial resources and eliminating some inefficient procedures that the PEER team identified. Basic information derived from this project was used in the formulation of the disaster risk management plan in Barranquilla and the Atlantic Department. Prof. Cantillo also notes that his results have inspired other researchers in the academic community, as the papers he and his team have authored with PEER support are receiving a growing number of citation from others working on the topic of deprivation costs and their estimation. Thanks to two new international research grants obtained, Prof. Cantillo and his group will continue collaborating with their U.S. partner Prof. José Holguin Veras and other counterparts, and they also plan to see additional funding from the Colombian science agency Colciencias. The project web page continues to be available at
https://www.uninorte.edu.co/web/departamento-de-ingenieria-civil-y-ambiental/usaid
.
Dr. Cantillo is pleased to report that he and his colleagues have published five recent papers on the project in international journals, which may be accessed through the links on the journal names to follow:
International Journal of Disaster Risk Reduction
,
Socio-Economic Planning Sciences
,
Transportation Research Part E: Logistics and Transportation Review
,
Networks and Spatial Economics
, and
Journal of Choice Modelling
.
Back to PEER Cycle 2 Grant Recipients