Partnerships for enhanced engagement in research (PEER) SCIENCE
Cycle 2 (2012 Deadline)
Improving yam (Dioscorea spp.) seed systems through production of dormancy-controlled seed tubers in temporary immersion bioreactors
PI: Morufat Balogun (University of Ibadan)
U.S. Partner: Wayne Curtis (The Pennsylvania State University)
Project Dates: August 2013 to July 31, 2015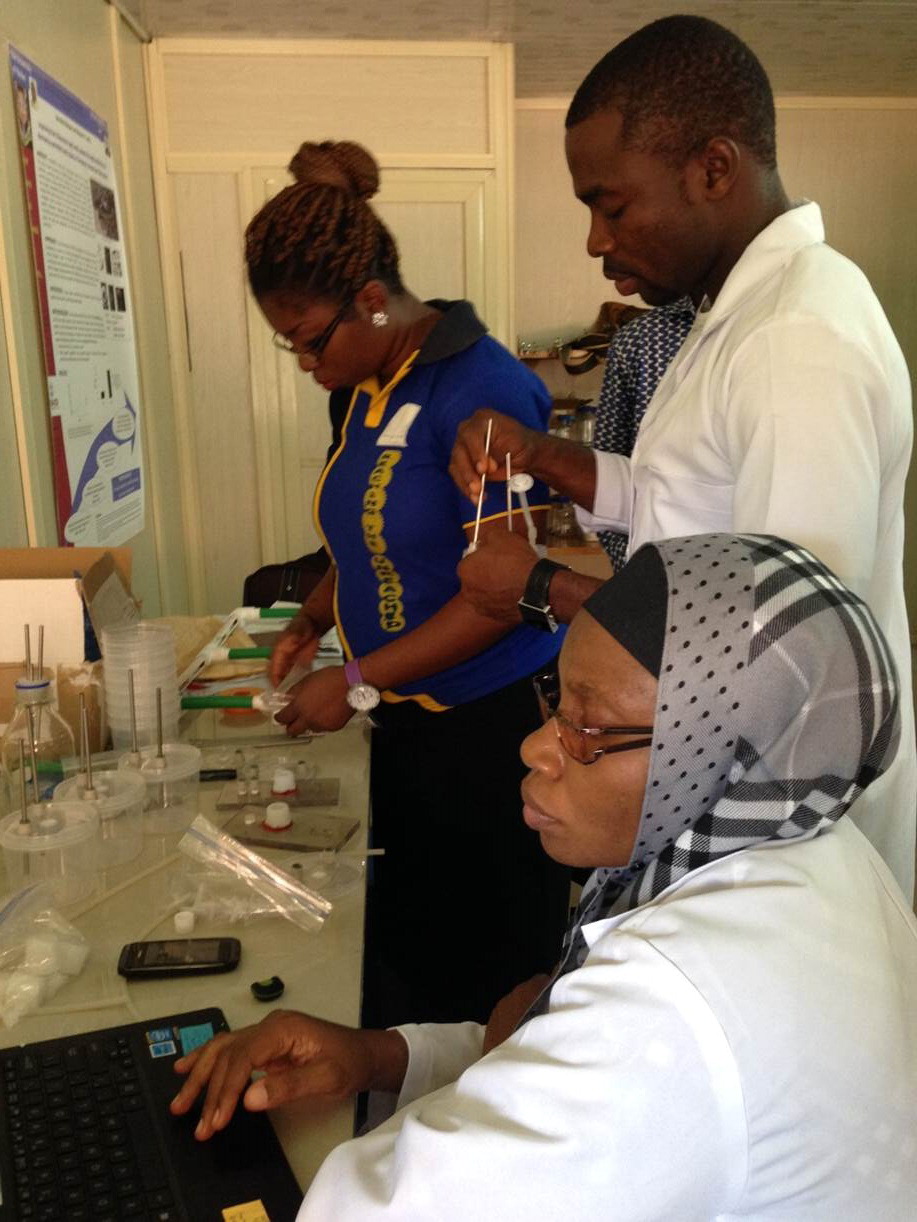 Dr. Balogun and team members set up Temporary Immersion Bioreactors(Photo courtesy Dr. Balogun).
The production of yams, which are food security and poverty alleviation staples in West Africa, is constrained by scarcity of planting materials and low multiplication rates, which account for up to 63% of production cost. Tuber dormancy also hampers out-of-season production, while uncontrolled sprouting after dormancy causes storage losses. Microtubers produced in test tubes (in vitro) have been proposed as alternative propagules whose dormancy can be exogenously controlled (Balogun, 2005). Although the duration of dormancy of microtubers was shown to be affected by plant growth regulators applied at different growth phases, the tuber production rate remains slow, the low yields are not amenable to farm level production, and small tuber size limits direct transplanting to the field. Use of temporary immersion bioreactors in in vitro cultures has been recognized as a means to improve plant propagation in other crops, and the idea is adaptable to hundreds of species. Temporary immersion facilitates scale-up of propagation of large masses of plant tissue, which is useful because it does not require costly agar, reduces contamination in cultures, and provides a means for sequential manipulation of the nutrient medium at different developmental stages with minimal labor input.
The goal of this project is to identify optimum conditions for production of seed tubers of white yam whose dormancy can be efficiently controlled. This research will aid the optimization of protocols for seed yam production and increase seed supply and quantities consumed at lower expenditure levels. The immediate uses of the research results will be micropropagation of disease-free plantlets, in vitro conservation of plantlets without losses associated with field collections, and in vitro evaluation of yield in transgenic yam. The potential uses of the results include out-of-season production and extension of the storage cycle. The overall development impact is that enhanced yam productivity will help Nigeria to feed her people while also empowering them through trade.
Summary of Recent Activities
During the beginning of 2015, the team discovered that yam seeds in Temporary Immersion Bioreactors (TIBs) with a sucrose medium formed more new nodes for a longer time than TIBs containing no sucrose. The sucrose level used is six times lower than heterotrophic propagation and means a significant reduction in cost. With the current regime of carbondioxde, vegetative growth of the yams was enhanced but microtuber formation remained the same and the team found that heterotrophic propagation formed microtubers more readily. The healthy tubers that were positively selected from the December 2014 harvest have broken dormancy and were planted in the screenhouse in March. There are now a total of 1167 plantlets both in conventional tissue culture and in the bioreactors.
The MSc team member graduated during this time and the team is looking for a replacement. The team met with the Agricultural Development Programme office of Ondo, Ekiti and Osun states to facilitate the project dissemination activities and Dr. Balgun was recognized as one of Nigeria's 50 most distinguished professionals in the Guardian newspapers on February 18, along with a significant treatise on yam
The team plans to automate the bioreactors in the next few months and will test microtuber production under different regimes of carbon dioxide and light as well as continue bulking up the plantlets. A workshop for farmers across four states is in the planning phase and the team hopes to begin the workshop in the near future.